Renowned Scholar Lucette Valensi Records Interview for Middle East and North Africa Collection
Wed, 11/29/2017 - 5:00pm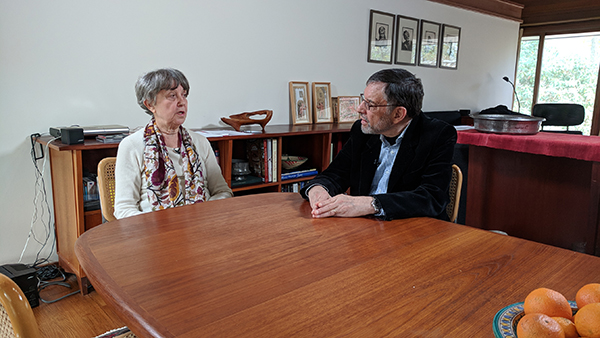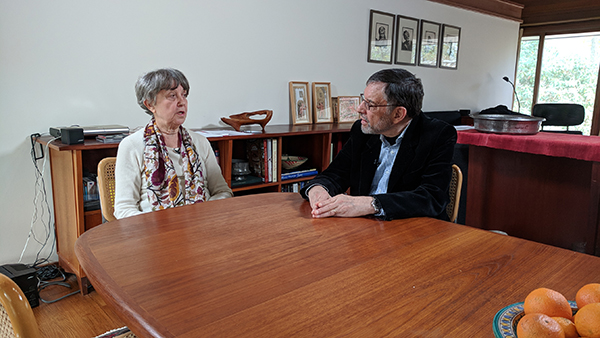 Mark Cohen interviews Lucette Valensi for USC Shoah Foundation's MENA Collection
Lucette Valensi, who lived through World War II in Tunisia as a child and is now one of the most influential scholars of North African history, recorded an interview last week for USC Shoah Foundation's Middle East and North Africa (MENA) Collection.
Mark Cohen, emeritus professor of Near Eastern studies at Princeton University, interviewed Valensi in New Jersey on Nov. 14. Cohen is a longtime advisor to the MENA collection.
Valensi was born in Tunisia in 1936 to a family of respected artisans. She received her doctorate in history from Paris-Sorbonne University and taught at the University of Paris – VIII and the Ecole des Hautes Etudes en Sciences Sociales. She has published numerous books on the history of North Africa and the Jewish and Muslim experiences in North Africa, including The Mahgreb Before the Capture of Algiers, On the Eve of Colonialism: North Africa Before the French Conquest, and The Last Arab Jews: The Communities of Djerba, Tunisia. In 2016, she published Jews and Muslims in Algeria.
USC Shoah Foundation's MENA Collection currently has 50 testimonies – about two dozen recorded in the last three years and the rest from the Visual History Archive's original Holocaust collection – of witnesses identified as born in the Middle East and North Africa and residing there during World War II and/or the surrounding years. New testimonies will be indexed and integrated into the Visual History Archive pending additional funding.
Speaking a few days after the interview, Valensi said that while the Jews of North African countries including Tunisia, Morocco and Algeria did not experience death camps and mass extermination like European Jews, they were still involved in the war.
Germany occupied Tunisia from November 1942 until May of 1943 and arrested leaders of the Jewish community, imposed fines, and confiscated property. Even in the countries that were not occupied, local governments were sympathetic to Nazi Germany and imposed strict antisemitic laws.
"Algerian local authorities were even more vicious in their antisemitism than in France even though they were not occupied by the Germans," Valensi said. "The Jews in Algeria were deprived of the elementary means of existence."
In Morocco, French authorities put Jewish refugees into concentration camps, and in Tunisia, 5,000 Jews – including Valensi's own cousins – were also imprisoned in labor camps.
"It was hardship for everybody," Valensi said.
After the war, many Jews experienced continued antisemitic persecution in their home countries and were forced to flee. 
There are several books and two films about the Jewish experience in North Africa during World War II, Valensi said, but the story is not well known.
"It is very useful to get testimonies of those who lived in that period," she said. "People my age were children during that time and we still have memories. It's good to capture these before we disappear."
USC Shoah Foundation's MENA collection includes testimonies of individuals from several countries including Algeria, Egypt, and Iraq. Testimonies are given in English, French, Hebrew, Italian and Farsi.
Other recent MENA interviewees include writers, artists, scholars and activists who describe Jewish life in the Middle East and North Africa before World War II, experiences of antisemitism and persecution during the war such as the 1941 Farhud pogrom in Baghdad, and the impact of the European Holocaust on their lives. They also reflect on the North African and Middle Eastern Jewish communities today.
"I strongly think that the MENA Collection is of high importance today," said MENA Collection Project Director Jacqueline Semha Gmach. "We at the USC Shoah Foundation are honored to have the testimony of Mrs. Valensi, a world-renowned scholar."
Twelve new MENA testimonies are currently viewable in the Visual History Archive, and Ruth Pearl's testimony is also featured in the IWitness activity Skittles, Deplorables and 'All Lives Matter': Leadership and Media Literacy.
Like this article? Get our e-newsletter.
Be the first to learn about new articles and personal stories like the one you've just read.