First Mandarin-Language New Dimensions in Testimony Exhibit Premieres at Nanjing Massacre Memorial Hall
Tue, 12/12/2017 - 5:00pm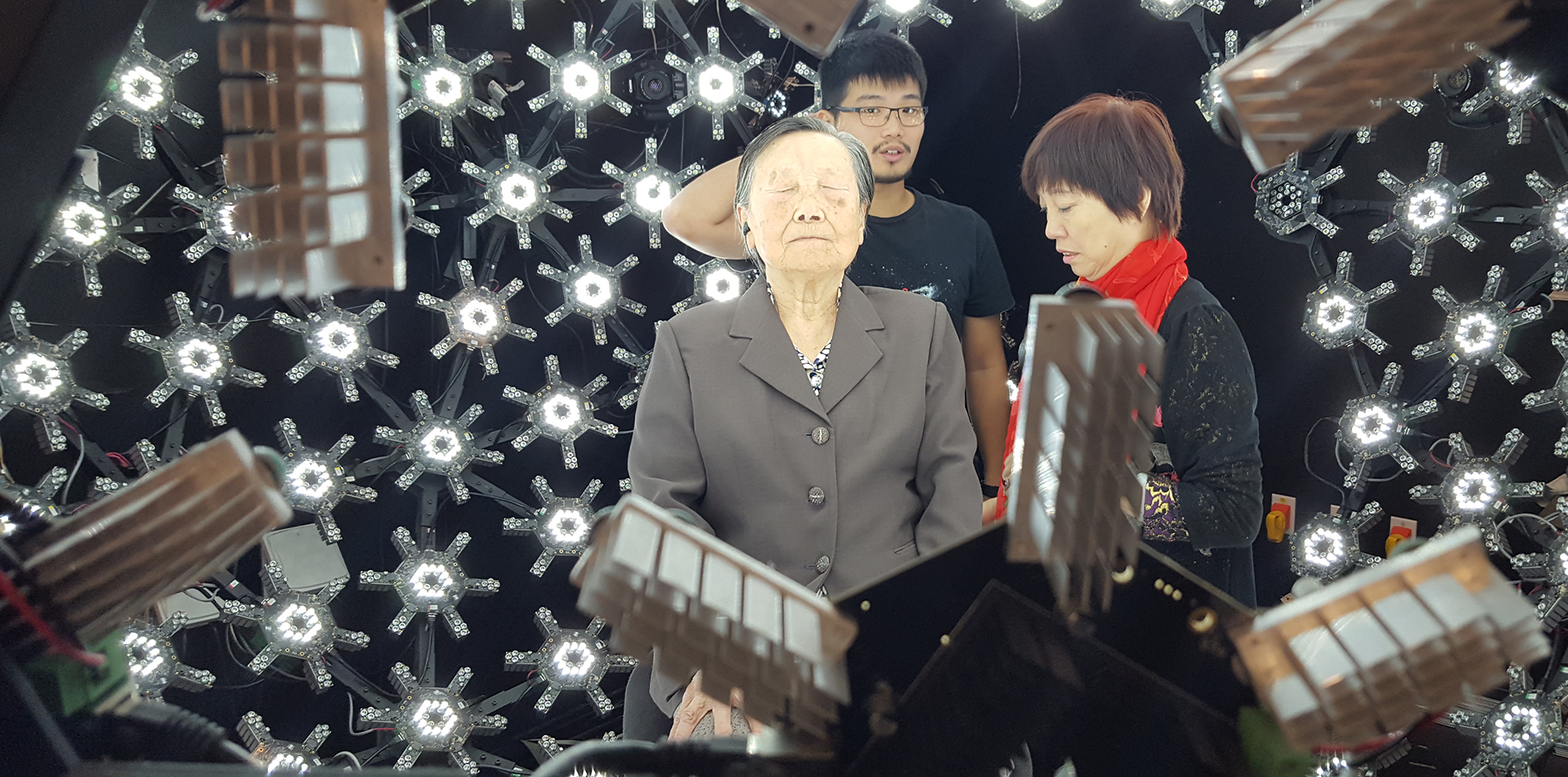 On the 80th anniversary of the Nanjing Massacre today, the Nanjing Massacre Memorial Hall in Nanjing, China, debuted its permanent exhibition of New Dimensions in Testimony (NDT), USC Shoah Foundation's interactive survivor testimony technology.
This is the first permanent museum exhibition of NDT outside the United States and the first exhibit anywhere featuring the Mandarin-language testimony of Madame Xia Shuqin, a child survivor of the Nanjing Massacre. She is the only non-Holocaust survivor who has been interviewed for NDT.
The Tianfu Bank and Tianfu Group generously funded the creation of this NDT testimony.
"With the partnership between USC Shoah Foundation and the Nanjing Massacre Memorial Hall, Madame Xia's story is brought to light through New Dimensions in Testimony," said Mr. Yi Huang, President of the Tianfu Bank. "Madame Xia will continue to educate, to inspire and to preserve memory of the atrocities of the Nanjing Massacre for future generations so people around the world will learn from history long after the survivors are gone."
The exhibit is a featured part of the newly reconstructed Nanjing Massacre Memorial Hall. NDT uses groundbreaking natural language software to allow audiences to interact with the recorded image of a genocide survivor, who responds to questions in real time, powered by complex algorithms providing realistic conversation.
The Nanjing exhibit is the first NDT exhibit to be powered by the IBM Watson computer software system, a computing system that utilizes natural language processing to allow a computer to answer questions in real time.
Xia traveled to Los Angeles in October 2016 to be interviewed by Cheng Fang for the NDT interview. Fang, a USC Film School graduate and USC Shoah Foundation research fellow, interviewed her over five days on a 60-degree "light stage" at the USC Institute for Creative Technologies. High definition cameras and lights captured the interview from all angles as Xia answered hundreds of questions about her life before, during and after the Nanjing Massacre.
Xia was eight years old when Japanese soldiers stormed into her family's home on the morning of December 13, 1937, and murdered 11 of the 13 people in the house – Xia's parents, grandparents and siblings and their neighbors. Only Xia and her four-year-old sister survived. About 300,000 civilians and unarmed soldiers were killed over the course of two months during the 1937 Nanjing Massacre, also known as the Rape of Nanjing.
Mr. Hao Wu, President of China Tianfu, said:" When I first saw a demonstration of New Dimensions in Testimony with a Holocaust survivor, I quickly understood how important it would be to bring the technology to the people of China," he said. "A lot of people worked hard to make this happen, but without the generous cooperation of Madame Xia, this would not have been possible."
Xia filmed her testimony for USC Shoah Foundation's Nanjing Massacre Collection in 2012 at the Nanjing Massacre Memorial Hall. Her Mandarin-language testimony is part of a collection of over 100 Nanjing survivors' testimonies collected by USC Shoah Foundation, 30 of which are already preserved and subtitled and accessible in USC Shoah Foundation's Visual History Foundation Archive.
In October, USC Shoah Foundation staff traveled to Nanjing to introduce students in Nanjing University's Oral History Association to the indexing methodology of the Visual History Archive. The students will use USC Shoah Foundation's new online indexing training course to learn how to index Nanjing survivor testimonies that have been recorded but not integrated into the Visual History Archive yet.
The people who first imagined the possibilities of creating something as advanced as New Dimensions in Testimony when the technology didn't even exist are thrilled to see it reach fruition.
"It's incredible to see how far this has come in just a few short years," said Heather Smith-Maio, who came up with the concept for New Dimensions in Testimony. "Madame Xia's important life story will now be able to inspire people across China – and the world – long into the future."
Like this article? Get our e-newsletter.
Be the first to learn about new articles and personal stories like the one you've just read.