New Dimensions in Testimony on NPR
Wed, 12/20/2017 - 6:01pm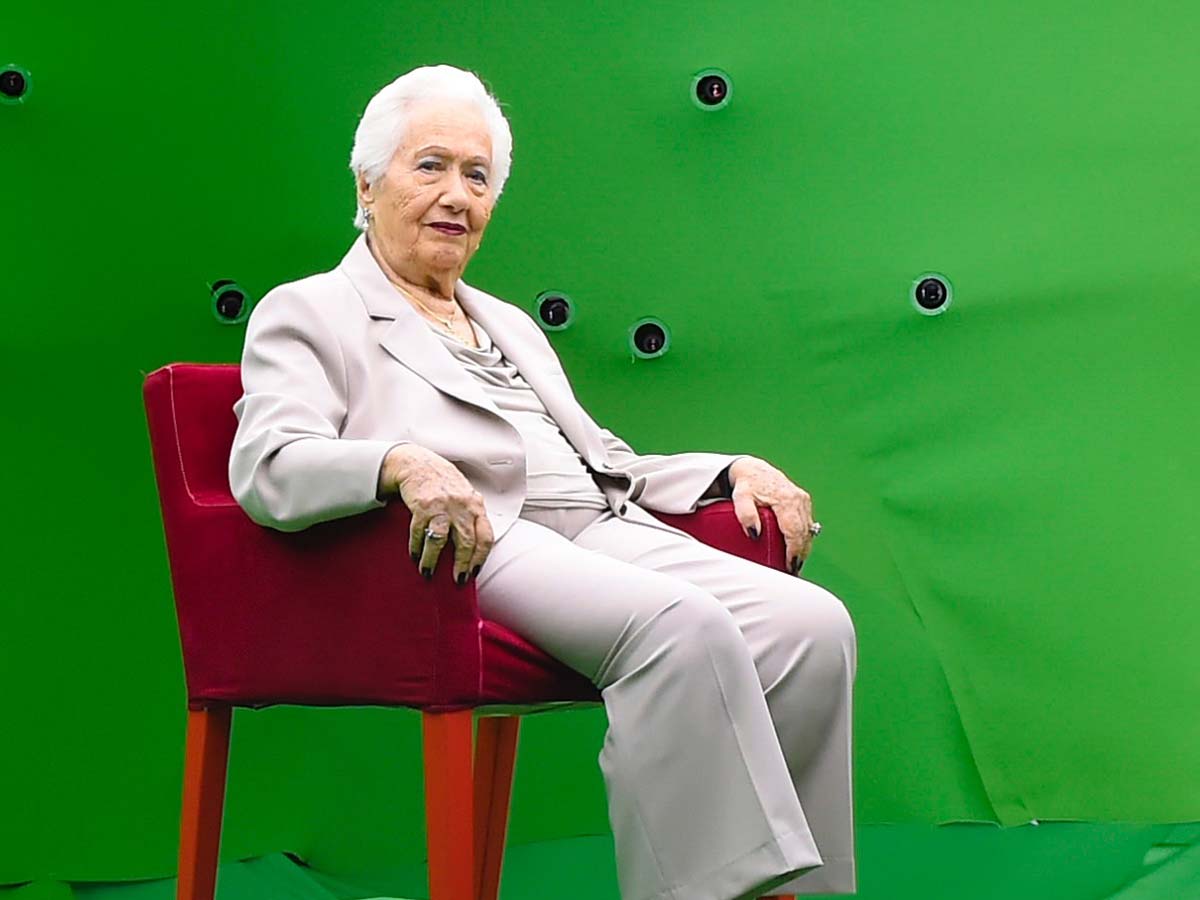 (From left to right: Renée Firestone, Sam Harris, Madame Xia Shuqin, and Pinchas Gutter)
New Dimensions in TestimonySM has been a work of passion for USC Shoah Foundation since 2010. After years of development at the University of Southern California including with USC Institute for Creative Technologies and with content developer Conscience Display, the program is now reaching audiences in museums around the world.
The recent opening of the permanent exhibit at the Illinois Holocaust Memorial Museum and Education Center in their Take a Stand Center, as well as at Nanjing Massacre Memorial Hall in China, and pilot efforts at several other key museums, are the beginning of our efforts to bring this invaluable experience to the public, enabling people to see how remarkable it is to have real-time conversations with Holocaust survivors and other witnesses to crimes against humanity.
On Monday, National Public Radio broadcast another in a string of articles about New Dimensions in Testimony. A few clarifications will help fill out the story:  
New Dimensions in Testimony is not displayed as a hologram, which is a 3-D display technology that does not yet exist, though many institutions worldwide are developing this technology, including teams at the University of Southern California.  The current New Dimensions in Testimony display uses a 2-D technology, including the Pepper's ghost installation at Illinois Holocaust Museum and Education Center.
A total of 16 interviews have been completed, with 15 Holocaust survivors including one in Hebrew, as well as one testimony in Mandarin.
A proof of concept for New Dimensions in Testimony was created in 2012, and production began in 2014, recording in 360.
As mentioned by Holocaust survivor Sam Harris, he and other participating survivors in the New Dimensions in Testimony program were hosted by USC Shoah Foundation for several days of interviews which took place on a light stage at the University of Southern California's ICT facility in the Playa Vista section of Los Angeles.
Several types of testimony are recorded and developed by USC Shoah Foundation, from the original collection of 55,000 videotaped interviews to interactive biographies such as New Dimensions in Testimony and immersive experiences that utilize testimony in virtual reality. Each form of testimony offers unique ways to engage with the witnesses' story. Every survivor who participates in New Dimensions in Testimony has also given testimony to USC Shoah Foundation's Visual History Archive.
Collaborating within the project are Illinois Holocaust Museum and Education Center, with technology by USC Institute for Creative Technologies, and concept by Conscience Display. Funding for New Dimensions in TestimonySM was provided in part by Pears Foundation, Louis. F. Smith, Melinda Goldrich and Andrea Cayton/Goldrich Family Foundation in honor of Jona Goldrich, and Illinois Holocaust Museum and Education Center. Other partners include CANDLES Holocaust Museum and Education Center.
Like this article? Get our e-newsletter.
Be the first to learn about new articles and personal stories like the one you've just read.