Liberator Jim Sanders Passes Away at the Age of 93
Tue, 03/06/2018 - 3:44pm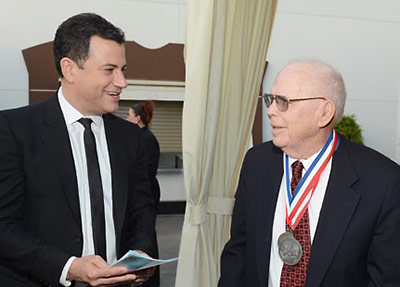 We are sorry to hear about the recent passing of Jim Sanders, who wrote a book chronicling his experience liberating Nazi concentration camps during World War II.
Sanders was recognized by USC Shoah Foundation at its 2012 Ambassadors for Humanity gala, and he gave testimony to the Institute's Visual History Archive.
Born Jan 4, 1925, in Omaha, Neb., James Sanders enlisted in the Army and served in an ambulance unit following Gen. George Patton's Third Army across Europe. He wrote about his experiences liberating the Buchenwald and Ohrdruf concentration camps in his book, "Saving Lives, Saving Memories."
He often visited schools to talk about what he saw. He said it was his way of heeding Patton's order to ensure that future generations knew about the Holocaust.
A successful businessman, Sanders loved to see the world. His travels included a 1995 trip to the Normandy beach to celebrate the 50th anniversary of D-Day; a 2002 trip with children and grandchildren to Paris and the Normandy coastline; and a 2010 trip to Weimar, Germany, to mark the 65th anniversary of the liberation of Buchenwald.
He married Marian Gondring in 1948. They remained together until his death.
He is survived by his wife, four children, 13 grandchildren and 12 great grandchildren.
Like this article? Get our e-newsletter.
Be the first to learn about new articles and personal stories like the one you've just read.