The Otherworldliness of the Holocaust
Mon, 03/26/2018 - 3:21pm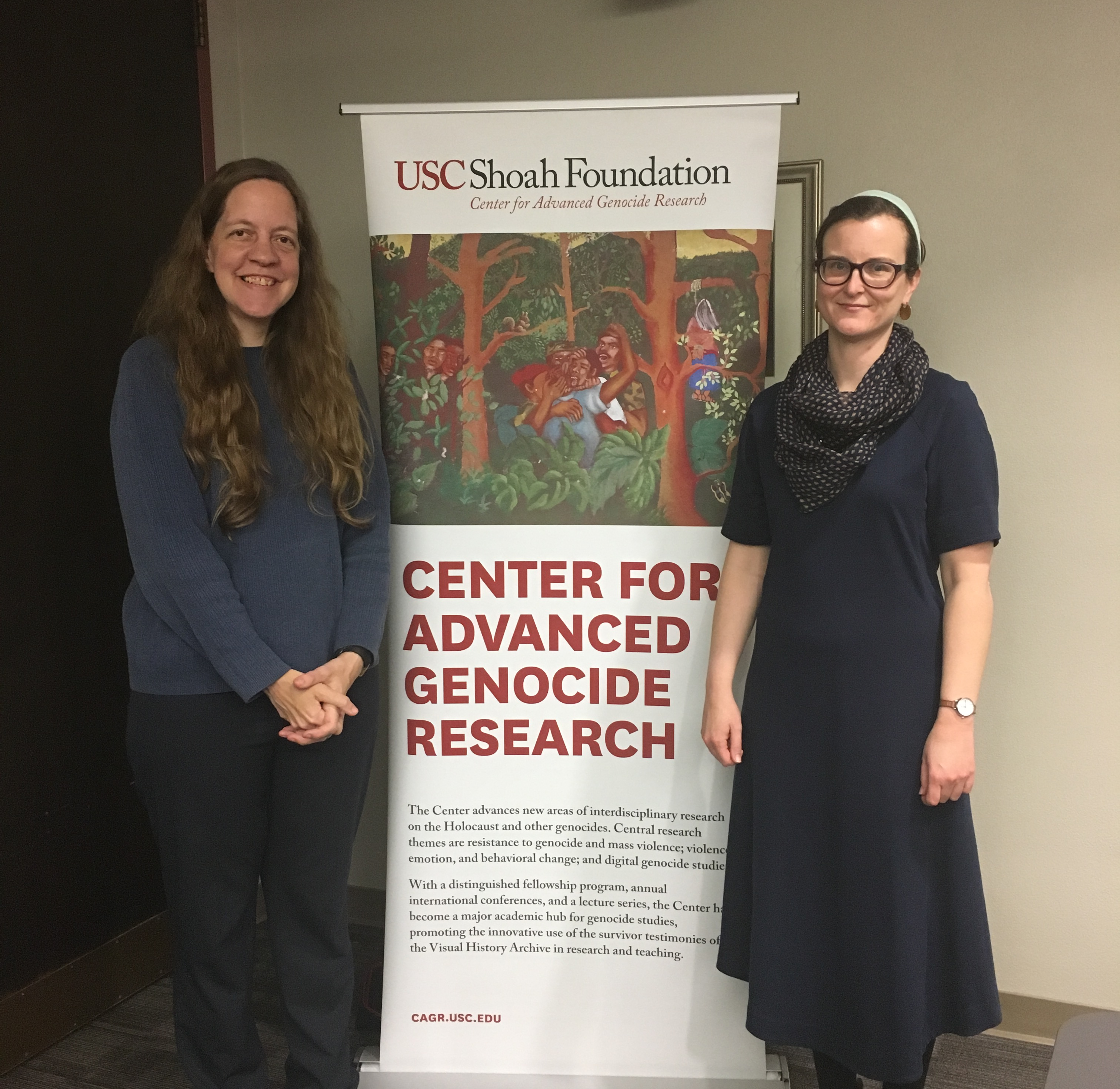 Living through the Holocaust was such a strange and overwhelming experience, survivors often found it difficult to find ways to describe it.
In her lecture "Phantom Geographies in Representations of the Holocaust" hosted by USC Shoah Foundation Center for Advanced Genocide Studies on March 22, Kathryn Brackney identified survivors who talked about living in a world outside of time and place, where even the laws of nature fell apart. The reality of the situation was too horrible; they had to rely on metaphors to describe it. One survivor called himself an "interstellar anthropologist." Others used the imagery of animals or being lost in an ocean to describe their situation. The word "alien" is used a lot, both to describe life during the war, but also to describe how survivors felt about themselves in the world after the war.
Brackney, a Yale PhD candidate, is the 2017-18 Katz Fellow in Genocide Studies. She spent a month at the Institute using testimony in the Visual History Archive to find instances of what she calls "otherworldliness," a term survivors use to describe their experiences as being from an entirely different dimension.
"I found that even among survivors who do not discuss this kind of material in their testimony, this language of otherworldliness comes up quite frequently when they describe certain kinds of memories," she said. "It comes up when they discuss their transition to the camp system or out of that system into liberation. It appears again when they discuss their immigration to other countries and their struggle to adapt."
Brackney also studied the transformation they underwent – both physical and emotional – in the decades since World War II.
One survivor described herself as a "living fossil." Another told how she grew used to the putrid smell of the Auschwitz death camp, only later to realize that she had lost her sense of smell altogether. Another talked about how she was unable to ever cry because, when she was a little girl, she was told not to cry when her father was killed.
Brackney expanded her research at the Institute to examine how survivors transitioned into a more normal life in the decades after the work. She looked at testimony with survivors talking about being changed by telling their stories – sometimes with mixed results. In one clip, a survivor talked about a rage he discovered inside himself. Another talked about feeling anger at her family for not understanding her life.
Like this article? Get our e-newsletter.
Be the first to learn about new articles and personal stories like the one you've just read.