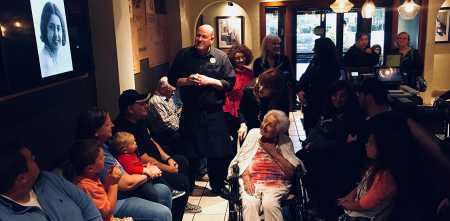 Frieda E. Roos van Hessen was born five years before women won the right to vote, 12 days before Babe Ruth hit is first major league home run and 13 days after Charlie Chaplin released "The Tramp."
She was born on April 24, 1915 – the day the Armenian Genocide started – and survived the Holocaust by going into hiding in her native Netherlands.
On Tuesday, she turned 103 surrounded by friends and neighbors at the same place she celebrates every year: the Olive Garden restaurant in her home city of Pineville, North Carolina.
"It was a good day," she said. "So many people, so much going on."
She still lives in her longtime home, albeit with some assistance. Her husband passed away several years ago and a daughter lives out of state.
"She's very spunky," said Cheryl Ramskill, who has known Frieda since 2009. "If she has a challenge in front of her, she figures things out. She just doesn't quit. She doesn't rely on other people to do things for her."
Still alert and inquisitive, she only gave up driving a few years ago.
"I was driving until I was 100, Frieda said. "But then I had to get my license, but I couldn't be bothered. That's the way the cookie crumbles."
Her life has been filled with accomplishment. As a teenager, she was already one of Holland's most respected opera singers. At 19, she sang the lead in the Dutch version of Walt Disney's "Snow White." At 24, she was the soloist in a performance of Verdi's "Requiem" for the Dutch royal family.
She managed to survive World War II by going into hiding with a friend, even while many in her family perished. She wrote about her life in a book "Life in the Shadow of the Swastika," which has been translated into several languages. She gave her testimony to USC Shoah Foundation in 1998.
Spending her birthday at the local Olive Garden is a tradition that goes back years. She has been greeted by the same server, Derrick Aiken, for 13 years.
"She's just part of our family," said general manager Jeff Holloway. "She's just an amazing woman. She dines here all the time."
Ramskill and other neighbors formed a group called "Team Frieda." They take turns checkup up on their friend and help with chores and trips to the doctor.
"She's got a circle of friends who help her," Ramskill said. "We learned lot of things from her. She's got a don't-quit attitude. It's very good to watch. None of us are Jewish or have the history she has, but it's a way we can give back to her people. We couldn't affect what happened, but we can help one person who went through it."
A little slower now, Frieda enjoys painting pictures of birds. She says her house looks like a museum.
She had a great time on her birthday and enjoyed all the attention she received.
"The house is full of flowers," she said. "I had telephone calls from Europe, all over America. In my own little way, I've become famous."