In Memory of Sara Shapiro
Thu, 05/17/2018 - 3:54pm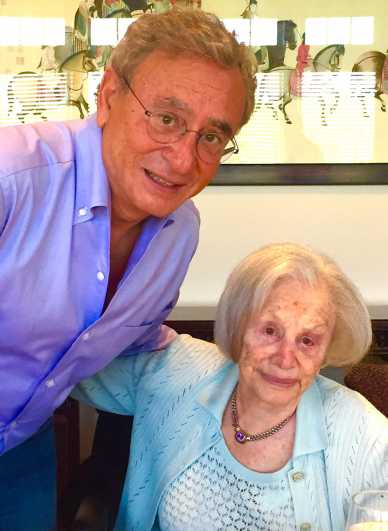 USC Shoah Foundation mourns the death of Sara Shapiro, a Holocaust survivor and mother of board member Mickey Shapiro.
Born Sara Guralnik in 1930 in Korets, Poland, she was expelled from school for being Jewish. After her family moved to a ghetto, she escaped when her mother arranged a hiding place with a non-Jewish acquaintance. She later pretended to be a Ukrainian orphan and worked for a family that did not know she was Jewish.
She returned home after the Holocaust, only to discover that most of her family had been killed. But while there she met Asa Shapiro, who also lived in Korets. They soon married in a displaced person's camp in Germany, where their first son, Mickey, was born. They moved to the United States and settled in Detroit, where their two other sons, Eddie and Steven, were born. The three sons all continue to make their home in and contribute to the Michigan community.
The young family came to the United States with virtually no money. Arriving in Detroit, Asa Shapiro worked hard loading trucks at a lumberyard. Three years later, in 1952, he bought the yard and opened two businesses, Asa Building Supplies and Asa Cabinets, both of which are still in operation today and owned by the family. Asa Shapiro died in 2017.
Sara Shapiro gave her testimony to USC Shoah Foundation in 2012.
"Sara was a woman of quiet courage and grace," said USC Shoah Foundation Finci-Viterbi Executive Director Stephen Smith. "Sara and Asa both survived the Holocaust and have led by example, living their lives contributing to the wider community. Sara's legacy will live on through her children and grandchildren."
She will continue to inspire people for generations to come through her testimony and a research fellowship at USC Shoah Foundation endowed by her son Mickey and named for his parents in 2016. The Sara and Asa Shapiro Lecture is a prestigious keystone program of the Center for Advanced Genocide Research, which invites a recognized scholar to spend up to one month in residence at USC Shoah Foundation.
And the Institute will soon introduce the Sara and Asa Shapiro Lobby when it unveils its new offices at USC in the fall.
Like this article? Get our e-newsletter.
Be the first to learn about new articles and personal stories like the one you've just read.