Polish educators complete first phase of annual teaching-with-testimony program
Tue, 08/07/2018 - 4:42pm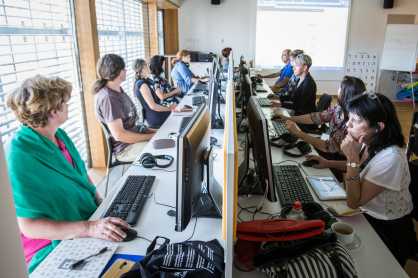 A new group of educators in Poland has completed the first phase of a yearlong training program on how to best use video testimonies of genocide survivors and witnesses in the classroom.
On July 8-13, the sixth edition of "Teaching with testimony in the 21st Century" took place in Warsaw, Poland. The course is organized jointly by USC Shoah Foundation and the education department of the POLIN Museum of the History of Polish Jews.
Over the course of six days, 13 teachers from all over Poland learned how to use video testimonies of witnesses from the Visual History Archive -- the world's largest collection of video testimonies of genocide witnesses and survivors. The entire archive consisting of 55,000 testimonies is accessible at the POLIN Museum. Participants learned how to search through this huge collection of stories for information that interests them and will be useful in new testimony-based classroom lessons they will develop and use with their students.
The annual course familiarizes participants with the educational philosophy of the USC Shoah Foundation, giving them the chance to see how the Institute applies constructivist philosophy of teaching and learning in its activities.
As part of the program, participants also went to the Warsaw ghetto for an IWalk, an interactive educational walking tour that uses tablet computers to connect concrete physical locations with clips of testimonies from Holocaust survivors who share stories about how the locations factored into their experiences.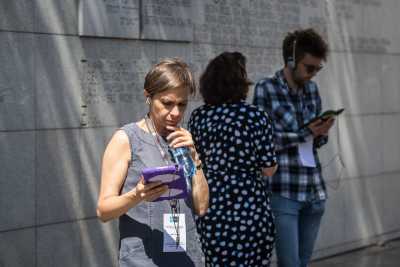 The workshop also provides training on ethical editing of video testimonies and the production of audiovisual material using simple computer programs that allow users to construct their own clips.
An important element of the program was an exploration of IWitness, USC Shoah Foundation's educational website that engages teachers and their students to instill respect, courage, tolerance and a readiness to make a difference.
One year from now, all graduates of the program will gather again at the POLIN Museum to discuss their yearlong experience of bringing testimony into their classrooms and present the results of their newly created lessons to their colleagues.
Like this article? Get our e-newsletter.
Be the first to learn about new articles and personal stories like the one you've just read.