Visual History Archive now searchable on USC Libraries and other catalogues
Wed, 09/12/2018 - 3:21pm
An ITS group has worked since April of 2017 to expand the discoverability of testimonies for students, researchers and anyone else searching for information about specific genocide events.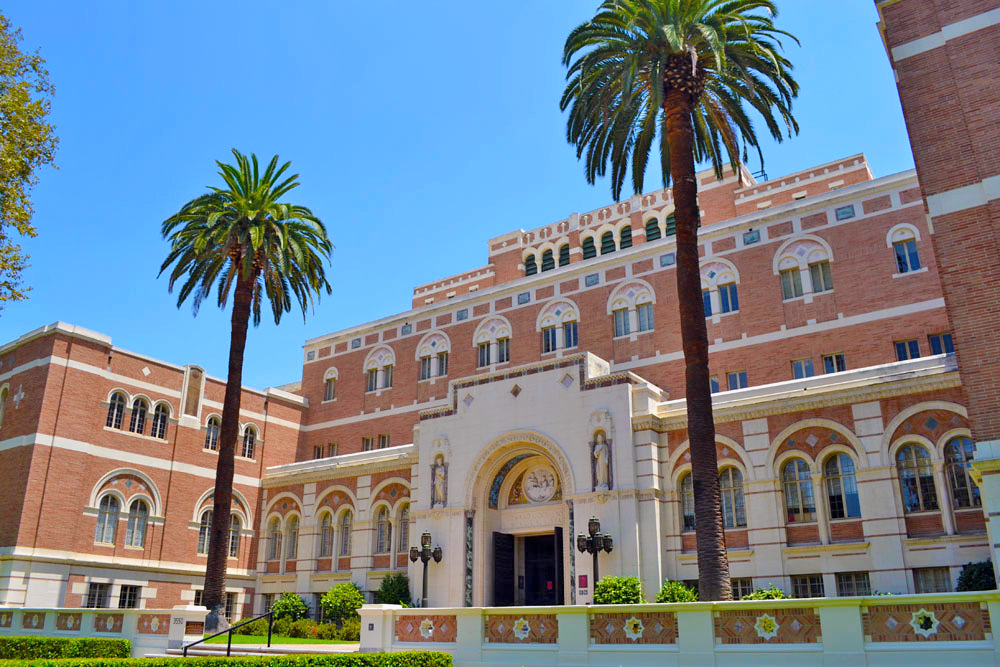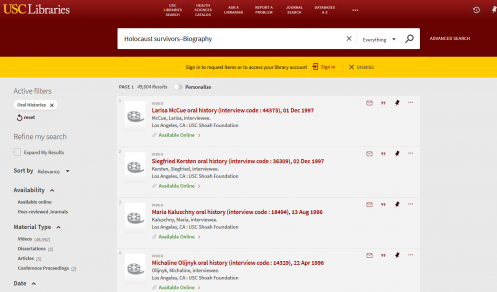 Nearly a year and a half into its long-running cataloguing project, a small team from USC Shoah Foundation's Information Technology Services department has completed a major task: the development of library catalogue records for about 51,500 testimonies in the Visual History Archive.
The Archiving-Indexing-Metadata group has worked since April 2017 to expand the discoverability of testimonies for students, researchers and anyone else searching for information about specific genocide events. Now, those seeking out the stories of survivors and witnesses of all experience groups can do so through the USC Libraries catalogue, the catalogues of partner libraries and the recesses of WorldCat, a catalogue that aggregates records from libraries worldwide.
That more people than ever now have access to information from these testimonies is a direct result of the ITS team's tireless work, inspired by the value of the content of the Visual History Archive.
"There were some very scanty records in the USC Libraries catalogue that really didn't do the testimonies justice," archivist Daryn Eller said. "We want students, researchers and families to be able to find the testimony records, and we've made them much more discoverable by USC Libraries users as well as many other library patrons. All these platforms extensively expand USC Shoah Foundation's reach."
The difficult endeavor – now in its second phase – has been slow-moving. Although ITS began with a significant amount of metadata for each testimony transcribed by USC Shoah Foundation staff, the way this metadata was organized was unique to the Institute and not compatible with Library of Congress standards.
Initially, to map the testimony metadata to the appropriate machine-readable standards, the team used a generic approach, developing subject terms that would be accurate for all of the testimonies in a particular experience group. For instance, all testimonies related to the Nazis' eugenics policies were assigned the subject terms: "World War, 1939-1945–Personal Narratives;" "Nazi persecution;" "Eugenics–Germany–History;" and "Holocaust survivors–Biography."
"Unfortunately, this doesn't tell you too much about the individual," said USC Shoah Foundation Senior Indexer Svetlana Ushakova. "Was he in any camps? Where was she from? What events and places does he talk about in the testimony?"
The team now intends to assign more specific terms to individual survivors that still comply with Library of Congress standards. They've already begun this by adding geographical terms to some of the smaller experience groups, with the rule that only locations mentioned across more than 20 percent of the testimony's segments should be added to the individual's specific terms.
Eller says this process has been more challenging than it seems: "We can't just slap the terms we have into [the Machine-Readable Cataloging Record (MARC). In many cases, the geographical indexing terms we use in the VHA do not conform to the Library of Congress Authority terms, which standardizes terms so that all the records with that term will come up in a search."
For example, if library records call Los Angeles "L.A.," "Los Angeles" and the "City of Angels," it would be impossible to find everything about the city with one search term. That's why, according to Eller, the team has had to spend so much time converting many of the Institute's terms into the Library of Congress compliant ones.
"When we finally had a group of acceptable records, we turned to the USC Library experts," Eller said. "There was a lot of trial and error in finalizing the records, and they were incredibly helpful and patient. When you're dealing with language standards as you are with MARC, and computer systems as you are with the USC Libraries catalogue, there is little room for error."
The ongoing project intends also to add the records of USC Shoah Foundation's partners, such as Jewish Family and Children's Services Holocaust Center and the Armenian Film Foundation, and to enrich the records already created with subject terms specific to each testimony.
"Regarding the end of the project, we are planning to update the records ideally two times a year, every time a new version of the VHA is released, or at least once a year," Ushakova said. "The updates will be mostly about adding the records for newly added testimonies."