First Visual History Archive site in Africa opens in Rwanda along with the launch of the world's first IWitness classroom
Wed, 10/10/2018 - 3:48pm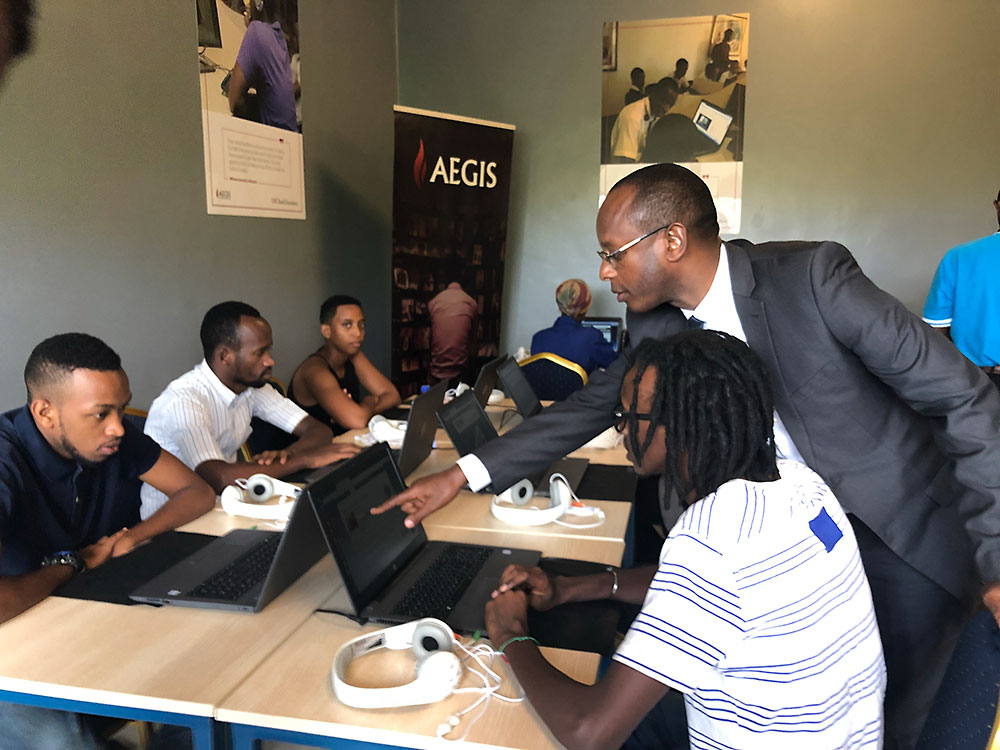 A decade-long alliance between USC Shoah Foundation and Aegis Trust grew even stronger on Tuesday with two important milestones at the Kigali Genocide Memorial: It became to first location on the African continent to make available the entire 55,000 testimonies of genocide survivors in the Institute's Visual History Archive, and it opened the Kigali Peace School Computer Lab – the first-ever classroom dedicated to teaching empathy and respect through the use of the IWitness educational platform.
The additions will enable the people of Rwanda, who are still dealing with the aftermath of the 1994 Genocide Against the Tutsis that left as many as 1 million people murdered over the course of 100 days, to connect with people from the past who shared similar experiences. The installations were a collaboration with the Institute, the Memorial, Aegis Trust and other partners.
Chronicling the dark chapter of Rwandan history has long been part of USC Shoah foundation's mission. It offers teacher training, educational outreach and has a collection of 86 testimonies from Rwandan survivors in its archive.
Attending the opening ceremonies were USC Shoah Foundation Director of Education Claudia Ramirez Wiedeman and Senior Director of Programs and Operations Kori Street.
"The launch of the first VHA site and the Kigali Peace School Computer Lab will enhance peace education efforts in Rwanda and will contribute to similar work on the continent, a truly remarkable achievement," Wiedeman said.
At Tuesday's ceremony, Aegis Trust Regional Director for East Africa Freddy Mutanguha said he felt proud that the 100,000 yearly visitors to the Kigali Genocide Memorial will have access to testimony and a place to study and contemplate. The memorial was erected on the site where 250,000 victims of the genocide are interred.
"It's important for us having it, not only for young people, but also teachers and researches, to learn from the voices of humanity," said Mutanguha, himself a survivor of the genocide. "This is something that is special for us to be the first African country to have the VHA. It's a golden opportunity for us."
Stephen D. Smith, the Finci-Viterbi Endowed Executive Director at USC Shoah Foundation, said the new offerings are an important step in bringing the messages embedded in the testimonies to an ever growing audience.
"The people who witnessed the worst of humanity don't talk about hate or revenge," he said. "They talk about love and hope for a better future. There is so much we can learn from them, if only we take the time to listen."
Like this article? Get our e-newsletter.
Be the first to learn about new articles and personal stories like the one you've just read.