'We are not making progress!' A Holocaust survivor reflects on the Pittsburgh massacre
Mon, 10/29/2018 - 11:14am
A letter from Stephen Smith, Finci-Viterbi Executive Director of USC Shoah Foundation.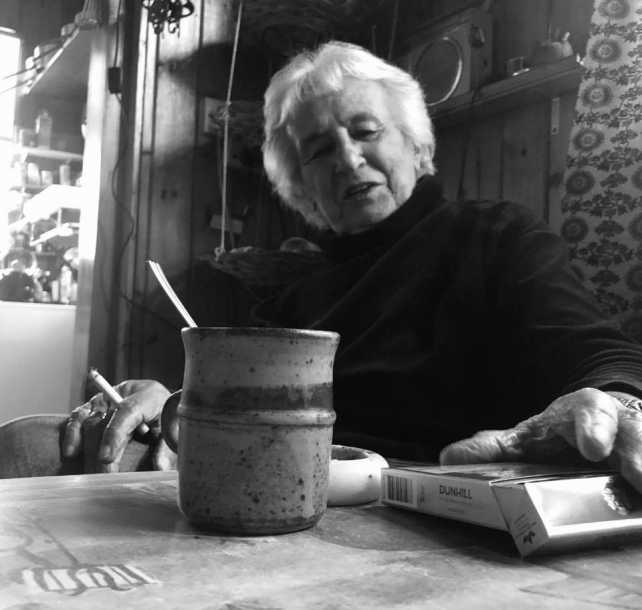 Anita Lasker-Wallfisch lights up a Dunhill. "I hate these notices, 'Smoking Kills!'," she pauses for a second, "Living kills! What more can I say?"
It's the day after Pittsburgh. Lasker-Wallfisch, a survivor of the Auschwitz-Birkenau Nazi death camp in Poland, is the first person I have spoken to since the mass shooting which left eleven dead at the Tree of Life synagogue. She does not waste time greeting me in the doorway of her home in London. "So what are we going to do Stephen? We are not making progress!"
At 93 she is both lucid and engaged as she puts the kettle on the stove in her wood paneled kitchen.
"I am doing everything I can, but I am running out of time."
In the conversation that follows Lasker-Wallfisch appears typically impassive. She has seen too much death to be angry. Everything has a cause, and so she fixates on where the hatred comes from.
"The problem is people do not know who Jews are. If they knew where we came from, that we are only where we are because we were chased out of some other place, maybe they would understand we pose no threat to anyone." She looks at me with a firm gaze, "We have to stop telling sad stories about the past, and focus on what causes these horrific events in the first place.'"
 I don't for a moment think she is suggesting we stop teaching about the Holocaust, but that we reframe why we teach about the Holocaust.
"We can throw our hands in the air and say there is no hope, but this all comes back to the same thing - education, education, education!" she said.
Over the next 20 minutes she laments the knowledge of teachers; doubts the understanding of global leaders; explains that people in general are ignorant of history; provides several solutions on the Middle East; worries that genocide education is confusing learners to think that all events in history are of equal weight; praises the German government for all that it is trying to do, while at the same time concluding that Angela Merkel has "bitten off more than she can chew."
"And as for everyone worrying about Jeremy Corbyn's antisemtism," she continues, "I don't give a damn about that; we have much bigger threats to deal with! There is no time for such hysteria."
 She pauses to light up, smoke smudging the room like the fog in my brain.
"It all comes down to poor education and high levels of stupidity among so called leaders."
At the center of Lasker-Wallfisch's theory in how to combat antisemtism is a firm conviction that if people are taught who the Jews are, that is, what the real lives of real Jewish people are, that the ignorance that allows old wives tales to turn violent will be diminished. I don't disagree with the need to inform the public, but I wish it were that easy to change people's behavior. I suggested to her that we be more circumspect about behavioral change from education.
Over the last two years USC Shoah Foundation has been interviewing people who have experienced violent antisemitism or who are decision-makers in a position to impact public policy or national education programs aimed at reducing its incidence. We have shown these testimonies at the United Nations and at UNESCO, and to leaders at the European Commission and many other organizations. There is a common response from those who watch those testimonies; virtually none of those making decisions that are designed to reduce antisemitism have ever talked to anyone who has experienced it directly. There is usually a stunned silence when people of influence hear that antisemitism has such devastating effects on every aspect of the lives it most effects.
In the collection are a number of people whose families were murdered in shooting incidents that claimed Jewish lives. Sadly, there will be even more people to share the terrifying reality of violent antisemitism in time to come.
"I hope we have not all been wasting our time! You take milk?" she says, pushing the coffee pot across the table.
I find it hard to reconcile that I am sitting with a nonagenarian who has witnessed more Jewish deaths every hour than we have seen in years, not withstanding the horrific nature of what just happened to families in Pittsburgh. She has dedicated the latter part of her life to teaching about the Holocaust, only to see the tide turn badly against us.
Lasker-Wallfisch has done most of her work in Germany, to give an unequivocal warning to her country of origin, that the past is also a possible future. The Germans pay attention to her efforts. In 2018 she addressed the Bundestag among many other venues. But at times she seems weary.
"I am absolutely exhausted!" she says blowing smoke at the ceiling, "I doubt this will ever end."
I tell her she does not sound like someone who has given up.
"That's true. I can never give up. I will be gone soon enough, so over to you."
Like this article? Get our e-newsletter.
Be the first to learn about new articles and personal stories like the one you've just read.