A musical tribute to the victims of the Cambodian Genocide
Tue, 11/27/2018 - 10:08am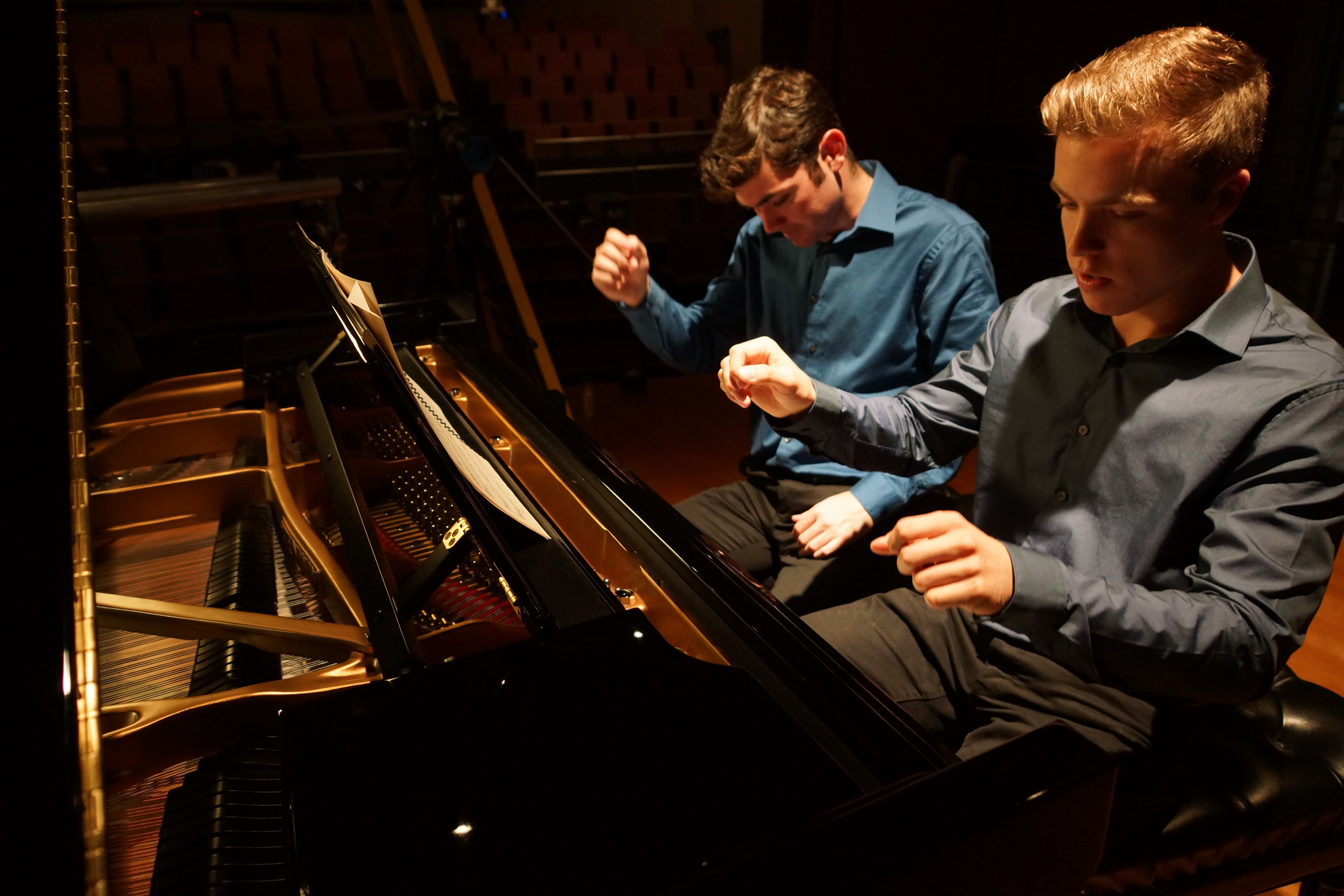 I didn't know my family survived the Holocaust until I was nine years old.
In third-grade homeroom, we learned about the Boston Massacre, and I wondered how people could be so violent.
My mom told me that far worse atrocities had occurred: not to strangers, but to our family. My grandmother, Celina Biniaz, and her parents, Ike and Phyllis Karp, survived the Holocaust.
I had heard of the Holocaust, but did not know many details of the genocide and certainly knew nothing of my family's part in it.
Ten years later, I knew far more about the horrors of the Holocaust. But I didn't know the details of my grandmother's experiences until I began working at USC Shoah Foundation.
When I applied to USC as a prospective piano and business student, I knew my grandmother's story was archived at a nonprofit affiliated with the university. Little did I know then how profound a role USC Shoah Foundation would play in my life.
My sophomore year at USC, I applied and became the Communications Department's first intern. I worked primarily in the Visual History Archive (VHA), researching and editing video clips to distribute via the foundation's social media. I developed a strong connection with the survivors and their experiences.
But there was still one testimony I hadn't seen: my grandmother's.
Until then, she had spared me the details of her past, hoping to normalize our relationship as grandmother and grandson. All I knew was that she was the youngest-living survivor on Schindler's well-known list. I wanted to know more.
At my desk in the Communications office, I watched her testimony through several tears. These details, though difficult to hear, are part of what makes video testimony the most powerful and effective form of historical storytelling.
I hoped there was some way I might use this technology and my platform as a third-generation survivor to spread awareness of the evils of genocide. A revelation came on the Sabbath.
At a Shabbat dinner Stephen Smith hosted in October 2014, he discussed the upcoming commemoration of Auschwitz's liberation in January. Stephen suggested to me and fellow diner musician Ambrose Soehn that we research testimony in the VHA to find music related to the concentration camp.
After discovering a wealth of music referenced in survivors' testimony, we started to write and reinterpret the melodies we heard on piano. These ideas were the foundation for Melodies of Auschwitz, our four-hand piano composition based on music performed in, listened to, and composed in the camp. We performed the piece in front of my grandmother and 100 other Auschwitz survivors at the January 2015 event in Krakow, Poland commemorating 70 years since the camp's liberation.
Since then Ambrose and I had wanted to collaborate on another similar project, but hadn't found source material to which we believed we could do justice.
This year, after months of research and study, Ambrose and I found a new topic that fascinates and challenges us: Cambodian music from before, during, and after their genocide.
After achieving independence from France in 1953, Cambodia experienced a musical awakening: the Golden Age of soul, jazz, and rock & roll. Phnom Penh became the music hub of southeast Asia, where musicians went to become stars.
This renaissance ended abruptly, however, when the Khmer Rouge took power in 1975. The regime sought to eradicate western influence from the country. They considered artists one of their greatest threats, and subsequently killed most of the country's musicians.
Ambrose and I were stunned to learn this powerful yet generally unknown story. We had to share this unique story with the world, to preserve the memory of those who lost their lives in the pursuit of creative freedom using the universal power of music.
We have written Garuda's Song, a composition that references traditional Cambodian music and classics from the Golden Age and incorporates piano, electric guitar, voice, and Cambodian instruments.
We are most fortunate to collaborate with several of Cambodia's best-known, surviving musicians: Hong Samley, So Savoeun, and Sinn Sethakol.
Hong was a founding member and guitarist of Baksey Cham Krong, Cambodia's first rock band, while So and Sinn are two of Cambodia's most renowned singers. Sinn is also the grandson of the "King of Khmer Music," Sinn Sisamouth.
We will perform the composition with Hong, So, and Sinn Sethakol in Cambodia next year to commemorate the end of the genocide.
In order to support this endeavor, we have launched a Kickstarter campaign which will raise the funds necessary to execute the project in January.
Ambrose and I use our musical platform to educate the world about past atrocities that continue to plague modern society. Without USC Shoah Foundation, we would never have found this platform.
Consider our endeavor, as well as those of USC Shoah Foundation, when you exercise your contributions today, Giving Tuesday, the most charitable day of the year that we all empower the voiceless to discover their own.
Like this article? Get our e-newsletter.
Be the first to learn about new articles and personal stories like the one you've just read.