Speaking from the grave
Mon, 03/04/2019 - 5:17pm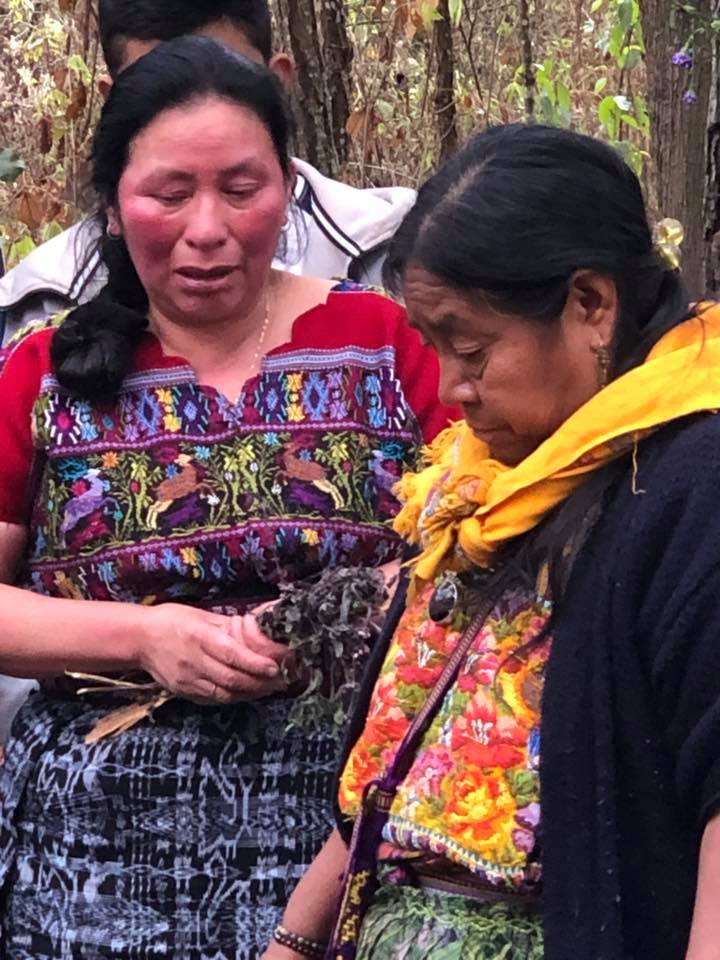 Domitilla remembers her father well. She was the oldest of the 10 children and has strong memories. That is before he disappeared 36 years ago during the genocide in Guatemala.
Part of a large Mayan family, the children lost their father, Francisco Curruchich Jutzuy, and their brother Ceferino Curruchich. Over 200,000 civilians lost their lives in the Guatemalan civil war, most of them in 1982-3 under presidents Romeo Lucas Garcia and Efraín Ríos Montt, the latter of whom was convicted of the crime of genocide in 2013.
Last week a group of us from USC Shoah Foundation were in Guatemala with our testimony partner, the Foundation for Forensic Anthropology in Guatemala (FAFG), and our partner in Mexico, Museo Memoria y Tolerancia.
Near the town of Comalapa there was once a military compound, where  FAFG excavated 223 bodies in 53 separate graves around the site. Of those exhumed, 172 remain unidentified in crypts installed as recently as June 2018. FAFG continues its work of gathering DNA samples from families that come forward. Families that are either looking for their disappeared loved ones, or know where the atrocities took place and the location of the mass graves formerly identified through the prosecutor's office. This means that 36 years later, new identifications are still taking place.
DNA matches are made when human remains are discovered and correlate with families on the DNA database or when families give a DNA sample that provides a direct match to a previously unidentified set of remains.
In November 2018 one of the nine surviving children of Francisco gave a DNA sample. As soon as the FAFG team processed the DNA they saw a 9.9999% paternity link to an unidentified set of bones that until then were only identified as FAFG-317-XXXVIII-10.
We attended Fransicos's funeral, 36 years after his death, surrounded by his children and the grandchildren he never got to meet. It was the first Mayan ceremony I had attended.
Mayan spiritual and political leader Rosalina Tuyuc, told us to switch off our phones and become one with the energy of the fire and the forest. We joined the family for an hour in a beautiful Mayan four-point ritual to honor the life of Francisco. North represented by white flowers is purification; East, red flowers, represent love and life; South, yellow flowers are spiritual guides; West, purple flowers are for protection. In the silence of the forest Tuyuc chanted quietly and continuously, while a traditional marimba band played a piece softly in the background.
It was a remarkable experience to stand and kneel with this family under the trees, sunlight piercing in shafts of gold, on Tuyuc, as fire and incense enveloped the group. It was an honor that the family let us be a part of their pain, a family who had not had opportunity to reflect on the life of their father for almost four decades.
The ceremony over, we moved to a set of crypts in which FAFG had returned the remains awaiting identification. If they are never identified the individual is placed in the above ground pigeon hole crypt as their final resting place. If they are identified the family can come to claim the remains and bury them wherever they chose. In this case Francisco's family want him to remain at the memorial site. His remains were removed from the crypt in a plain wooden box.
Once removed the family gathered around to see the remains and watch as they were placed in the satin lined lacquered box. A commotion and loud shrieks. One of the sisters sees the clothes that were with Francisco's remains, "This is not my father, it is my brother!"She sobs. DNA does not lie, but she finds it hard to accept the explanation. She was seven years old when her father and brother disappeared. Whatever her memories of their clothing 36 years ago, the DNA was clear that the bones in the box are those of her father.
Domitilla is surrounded by her sisters as she sobs and says goodbye to her father. The lid is closed. Francisco can finally Rest In Peace.
We travel down a dirt track to San Martin Jilotepeque. Down a small tree covered ravine brown earth has been uncovered 20 feet below on the dry stream bed. Gathered around the sharply cut rectangular hole are women and children. A couple of elders, a set of archeologists. I look in the hole, and clearly see a skull.
A few days earlier the FAFG archeologists had begun their work. Family members had indicated where they thought their loved ones were buried. Two days later, it was evident from the scene that they were right.
Cousins Don Victorino and Don Victoria stood by the edge of the open grave, each with siblings who were murdered there. I only see one obvious skull, but quickly learn that there are at least five people buried there, this based on the number of partial skulls that can be seen on closer inspection. The forensic archeologist suspects there may be more. The seven-by-three-foot grave was obviously dug deep enough for multiple bodies.
As Victorino and Victoria tell the story of what happened that day in 1983 when their siblings were murdered, I realize that this is probably the most important day of their life. The terrible empty ravine has kept its secrets that only they knew. They had struggled for memory, for Justice, for recognition, but no one was there to answer. Finally, the truth was revealed and surrounding them were scientists to document the evidence, family members and neighbors to witness the truth, scholars and witnesses from around the world, Univision TV to tell the world.
We listen as they implore us to tell their story. Victorino is one of 572 survivors who have already given a testimony as a part of the FAFG / USC Shoah Foundation testimony project. Standing by the open grave I realize that he gave testimony before he found his siblings' remains. I wonder how that testimony will change now.Hansi Yucute Gonzalez is a teacher. We huddled in the education center and exhibition in Guatemala City of the International Institute of Learning for Social Reconciliation (IIARS), which is dedicated to teaching about diversity, confronting the past and providing a foundation for education. As partner to USC Shoah Foundation they have published 10 IWitness activities in Spanish for students in Guatemala. We sit with 25 students as Hansi conducts a testimony-based lesson. They watch testimony of survivors of the Guatemala genocide and the Holocaust, they discuss and share perspectives.
"I cannot believe I am hearing this in Guatemala!" says FAFG founder Fredy Pecerelli. "I would be happy to hear students able to discuss with such openness and clarity anywhere, but hearing it here is really remarkable!"
Like this article? Get our e-newsletter.
Be the first to learn about new articles and personal stories like the one you've just read.