Holocaust Museum Houston opens permanent display of Dimensions in Testimony
Fri, 06/21/2019 - 12:00am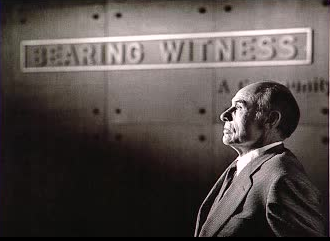 Holocaust Museum Houston this weekend will become the fourth museum in the world to permanently display USC Shoah Foundation's Dimensions in Testimony, which enables viewers to verbally ask questions to a digital projection of survivors, and hear real-time, lifelike responses.
The new exhibit features Houston-area Holocaust survivor William J. "Bill" Morgan, a 93-year-old survivor of the Stanislawow Ghetto in western Ukraine.
A beta version of this exhibition has been on display at a temporary location since January, and its final home will be in the permanent Holocaust Gallery at the Museum's new Lester and Sue Smith Campus, which opens Saturday at 5401 Caroline Street in Houston.
After obtaining a birth certificate from a Polish Christian, Morgan escaped the ghetto and found work as a farmhand in Jezierzany, Ukraine. In 1944, he was drafted into the Russian army and sent to the frontline. He deserted the army and went back to the farm where he worked until his liberation at the end of the war in 1945.
Now, his story will be enshrined for generations at the museum that he helped found. Patrons will be able to interact with Morgan's pre-recorded testimony by asking him questions and hearing his responses. Dimensions in Testimony uses artificial intelligence to improve responses over time as more questions are asked.
"This exhibition will ensure that Bill Morgan's story lives on for future generations," said USC Shoah Foundation Finci-Viterbi Executive Director Stephen Smith. "Our grandchildren and great-grandchildren will be able to personally connect with his story in a riveting, interactive way."
Morgan came to the United States and found work in the Midwest. He ended up in Houston after his car broke down while driving from Kansas City, Missouri to Southern California to see, in his words, "the movie capital of the world."
In his Dimensions in Testimony interview, Morgan describes how he tried to find a room at the YMCA after his car broke down. The lady at the front desk rejected him, saying she needed to be able to call references.
"I kept repeating that I'm a Holocaust survivor and I lost all the family," he said. "She couldn't understand it until she called up the manager and he was skeptical. I tell him, 'Assumingly you don't know history, go next door to the, to the library and open up and you will see it.' He finally let me in."
In Houston, Morgan found a Jewish community, landed a job as a salesman and built a life for himself. He eventually founded a successful construction and real-estate company. He and his wife, Shirley, have five children, 14 grandchildren and three great-grandchildren.
To date, 19 interactive survivor biographies have been captured.
The other three museums with permanent Dimensions in Testimony exhibits are CANDLES Holocaust Museum and Education Center in Indiana; Nanjing Massacre Memorial Museum in China; and the Illinois Holocaust Museum & Education Center in Skokie near Chicago.
To learn more about Holocaust Museum Houston's reopening, click here.
Like this article? Get our e-newsletter.
Be the first to learn about new articles and personal stories like the one you've just read.