Panel: Women in media who have worked in dangerous conflict zones share stories
Thu, 11/07/2019 - 10:53am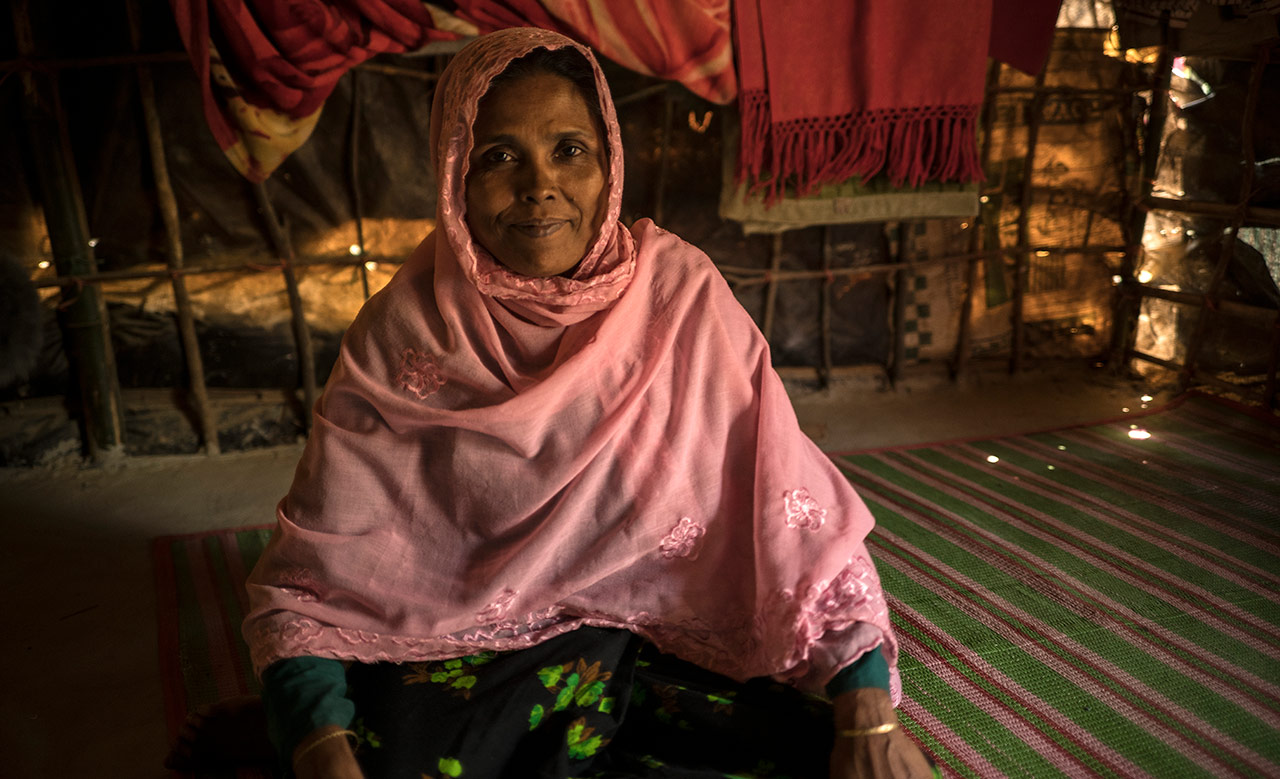 An ISIS commander. Victims of the Cambodian and Bosnian genocides. Inmates at Guantanamo Bay.
They are among the many subjects portrayed in the work of three women who spoke this week about their experiences as journalists and filmmakers working in conflict zones and with traumatized individuals on a USC Visions & Voices panel jointly organized by USC Shoah Foundation and the USC Fisher Museum of Art. 
Called "Behind Enemy Lines: Visualizing Human Tragedy Through Media, Testimony, and Documentation," the Monday afternoon event at Wallis Annenberg Hall Forum featured Andi Gitow, a two-time Emmy-winning journalist and filmmaker, as well as a senior staff member at USC Shoah Foundation; Souad Mekhennet, a reporter covering national security for The Washington Post; and Kirsten Johnson, director of an award-winning autobiographical documentary called "Cameraperson" – as well as a former videographer for USC Shoah Foundation who filmed hundreds of Holocaust-survivor testimonies in the 1990s.
It was followed by a reception and viewing of Facing Survival by artist David Kassan at the USC Fisher Museum of Art. The exclusive exhibition, presented in partnership with USC Shoah Foundation, features Kassan's paintings and drawings of more than a dozen Holocaust survivors, and is supplemented by Dimensions in Testimony, an interactive interview presentation.
The work of the panelists has often pulled them into extremely perilous locations and situations.
Mekhennet remembers a terrifying set of conditions for interviewing the ISIS commander. She needed to get into a car in the middle of the night, sans phone, any electronics or identification – "all I could bring was an old-fashioned pen." The car would contain the commander, whose name would not be made available to her, and they would drive along the Turkish-Syrian border to an undisclosed location, where she would be permitted to  ask questions.
"So you have to make a decision there and then whether to get into the car or not," she said at the event, which was moderated by Christina Bellantoni, a journalism professor at the Annenberg School for Communication and Journalism, and drew about 125 people.
Mekhennet decided to get into that car and was taken to a base where she interviewed the commander in an environment resembling a living room. It was tense.  
"You try to figure out what kind of questions can you ask him," Mekhennet said. "And then you see his hands moving up to the parka, where you know he has a gun. And then you stop a little bit from asking – you're backing up from asking critical questions and go back and talk about the weather."
She got out unscathed, but hasn't always been so lucky. In 2011, Mekhennet was detained and jailed in Egypt while covering protests during the Arab Spring.
To varying degrees, the panelists' own gender has factored into the dynamics of their work.
For Mekhennet, wearing traditional Islamic garb was a prerequisite for meeting the ISIS commander. 
"It's part of the negotiation package," she said.
Gitow, who as a producer at NBC Network News and an Executive Producer at the United Nations, produced and directed hundreds of feature stories and segments in conflict zones around the world. When filming stories about sexual violence in war-torn areas such as Bosnia, Rwanda and Sudan, Gitow was sensitive to retraumatizing victims, and often worked with an all-female crew.
"I hope that that made people feel slightly more comfortable telling their story," she said.
One of Gitow's broadcast features about sexual violence during the Bosnian genocide in the 1990s was ultimately shown to the Bosnian Parliament, which promptly passed a law to extend reparations to women who were raped during the genocide.
Another of Gitow's segments about a Cambodian man who was among a handful of survivors of a notorious Khmer Rouge killing center emboldened him to act as one of the star witnesses in an international trial of his prison tormentor.
The ethics of interviewing or filming victims of trauma was a theme running throughout the discussion.
Johnson, whose documentary credits as a cinematographer include the Oscar-winning "Citizen Four," "The Invisible War," "Pray the Devil Back to Hell" and "Fahrenheit 9/11," adheres to a rule of thumb when deciding whether to film something dramatic: "If you wouldn't want your child's body to be shown in that way – if you wouldn't want your own parent's body to be shown in that way -- slow down."
She remembers a time when she was filming a crisis in Haiti. A journalist approached her, and instead of saying hello, held a photo to her face. It depicted a burning body.
"I was just like … you're not even aware of what you're doing anymore," Johnson said. "There are many powerful ways that we can communicate people's experience and it doesn't have to be through the portrayal of images that will traumatize us all more."
The women also shared words of advice for the many students in the audience.
"Notice where your shame is located," said Johnson. "It's not useful to anyone to pretend to know things."
Mekhennet said to never let anyone say you can't achieve your dream.
"I grew up in Germany, I am the daughter of two Muslim guest workers -- I lived in an apartment building," she said. "When I was a teenager I watched a movie, 'All the President's Men' … Since then I had the dream of becoming a journalist, and I end up working for The Washington Post. So never give up on a dream."
Like this article? Get our e-newsletter.
Be the first to learn about new articles and personal stories like the one you've just read.