Holocaust survivor's family reads family letters from WWII on stage in Germany
Tue, 12/17/2019 - 9:25am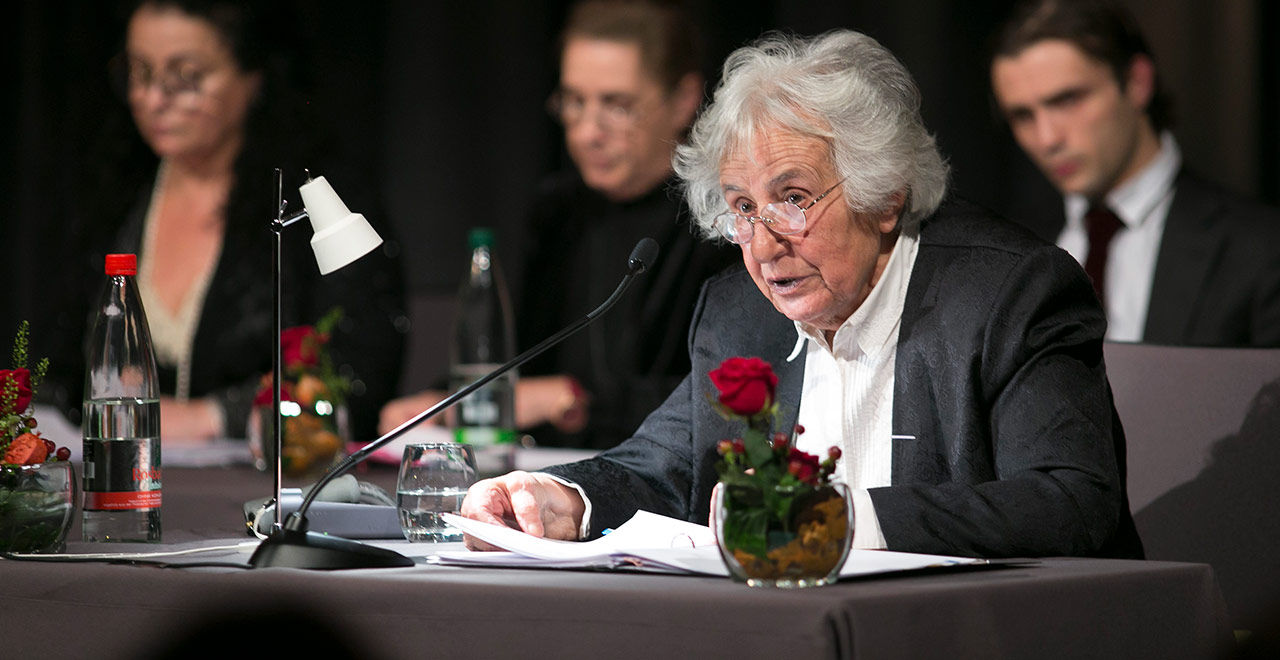 About a month before the Nazis invaded Poland in 1939, sparking World War II, a desperate Jewish father in Germany penned a letter in broken English to a friend in England, Mrs. Wolf.
 "I beg to inform you that we have got a refuse from the Aid Committee in London, owing to our high waiting number for America. … We are very discouraged by this answer and are now forced to get out our children as quick as possible."
Alfons Lasker, an attorney in Breslau, was on a mission to get his two daughters – Anita and Renate – out of Germany. He did not succeed.
On Nov. 10, 2019 – the day of 'Kristallnacht' commemoration in Germany -- Raphael Wallfisch, Alfons's grandson, stood on a stage in Frankfurt am Main (Germany) and read the excerpt to a packed auditorium.
He was one of five members of the same family who, on that afternoon, read letters that were exchanged between their forebears more than 70 years ago -- in the years leading up to, during, and immediately after the Holocaust that swept them up.
Music is a family tradition, and the readings were interspersed with musical interludes, performed by Raphael on cello and the pianist, Edward Rushton.
Called "The Laskers from Breslau," the performance was conceived, written and directed by Maya Lasker Jacobs Wallfisch, Raphael's sister and daughter of Anita Lasker Wallfisch.
Hosted and supported by the Jewish Community Frankfurt a. Main, it was narrated by 94-year-old, Anita Lasker Wallfisch, a cello prodigy who was recruited into the orchestra at the Auschwitz Nazi death camp -- a twist of fate that likely saved her life during the Holocaust.
"It was a family event," said Karen Jungblut, USC Shoah Foundation's director of global initiatives. "And it was the family that brings back the memory of the family that is not."
The recital was initially meant to be a one-off, and occurred at the Jewish Museum Berlin back in January.  Jungblut saw it, and was blown away.
"It was an event almost three-hours long, and I can tell you, during those two hours, you could have heard a pin drop," she said.
Jungblut reached out to Maya to see if they would be interested to bringing it back to a German audience, this time in Frankfurt, and the family agreed.
Told through the voices of three generations, the production is based largely on the letters four members of the Lasker family exchanged with the one child – Marianne – they were able to successfully send to safe harbor in England.
The tone of urgency and despair in the family correspondence intensified as the date drew closer to Sept. 1, 1939 – the day Germany invaded Poland.
In mid-August of that year, it appeared Anita and Renate were going to be sent to England to join Marianne, the eldest of the three siblings. Alfons was ecstatic.
"We are quite embarrassed still by so much goodness and it is not easy for me to find the right words -- especially in a foreign language – expressing our real feelings," he wrote to the reverend who'd agreed to take them in.
And then it fell through.
"A letter followed me to Berlin with a personal guarantee for Anita….. Too late!" Alfons wrote to Marianne on Aug. 26. "In Breslau I found your letter with the idea for Chile….too late! ….Everything was too late! I am sharing Mutti's (mother's) hope that you will manage to get on by yourself."
Germany invaded Poland six days later.
"I remember the day very well," Anita said in her narration. "I looked out of the window and was surprised I could not see any fighting or hear any shooting. In fact everything looked just as it had before."
The Nazis sent Anita and Renate to work in a paper factory that was housing French prisoners of war.
"I am now in fact in a paper factory and serve the multitudes by providing toilet rolls with labels," Anita wrote in October of 1941. "I have attained a dexterity at doing this, which I'll probably never be able to reach on the cello."
The family was separated in 1942. Marianne wouldn't learn the details until June of 1945, in a letter penned by Anita.
"Mutti cried a great deal -- she must have felt instinctively that the end was now coming and that she was seeing us for the last time," Anita wrote. "The only consolation for me is that wherever it was they went, they were together, because Vati (father) wrote us three letters before the news from them came to an end."
They would later learn that Alfons and Edith were deported to a Polish transit ghetto, where they were shot and killed after being forced to dig their own graves.
As for Anita and Renate, they were caught engaging in clandestine activity at the paper factory, forging documents and procuring clothing for French prisoners to escape.
After a stint in prison, they were sent to Auschwitz as 'criminals'. This turned out to be advantageous, Anita later said, as 'criminals' at Auschwitz were treated better than Jewish prisoners. Both survived.
More letters were exchanged in the months after liberation.
Writing to Anita on her 20th birthday in July of 1945, Marianne recalled the day Anita – the youngest -- was born, and the look of resignation on the face of their father, who had "finally given up hope of ever having that long-awaited male heir."
"Since then, 20 years have passed," Marianne continued. "Of those you have spent 12 years living under fascism, and in your 20 years of life, you have experienced more, fought more, than many other people in their entire lives."
Marc Grünbaum, a trustee of the Jewish Community who spoke at event, said he was surprised not only by the large showing – more than 400 people at the Nov. 10 event – but also by how many of them brought their children. 
"(This) is unusual for a commemorative event and showed how this format of an event was able to reach those that we all hope to reach: the young," he said.
The event ended with an epilogue by Maya.
"I often reflect on our grandfather's words, 'you must live as though we can always see you' and I think both he and our grandmother would be proud of their legacy," she said. "We, and our children and grandchildren are the future, the gatekeepers of memory and continuity. We have a huge responsibility to honor the lives of the dead and to contribute to the on-going challenge of race hatred in whatever way we can."
Like this article? Get our e-newsletter.
Be the first to learn about new articles and personal stories like the one you've just read.