Center's Outreach and Academic Cooperation in 2019
Mon, 12/30/2019 - 12:00am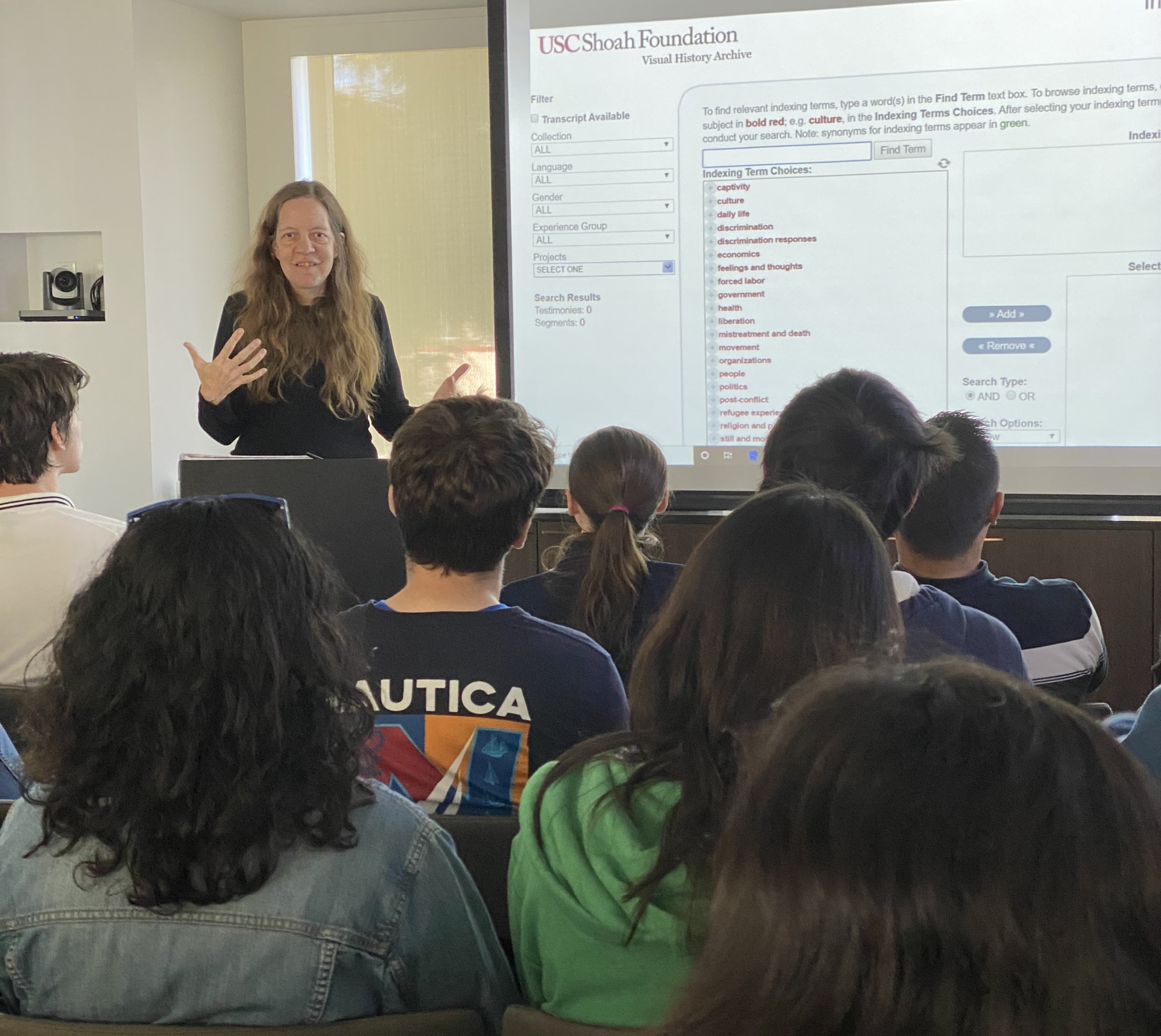 In 2019, the USC Shoah Foundation Center for Advanced Genocide Research conducted deep and wide-ranging outreach, introducing the Visual History Archive to scholars, academic faculty, fellows, librarians, and students through in-depth workshops, demonstrations, consultations, and class introductions.
The Center staff conducted VHA workshops in California (UC Irvine), Connecticut (Yale University), Massachusetts (Brandeis University), New York (Cornell University), as well as in Mexico (Universidad Iberoamericana), the United Kingdom (Oxford University), and Israel (Yad Vashem). In addition, they conducted one-on-one VHA introductions, demonstrations, and consultations to support scholars in discovering the research potential of the archive and to help them with individual research inquiries. Beyond the many individual introductions they provided at the USC Shoah Foundation's global headquarters at the University of Southern California, Center staff consulted with scholars at other institutions in California (Soka University, UC Berkeley, and UC San Diego), Pennsylvania (Pennsylvania State University and University of Pennsylvania), Nebraska (University of Nebraska, Omaha), Mexico (Museo de Tolerancia), and other sites.
The Center also collaborated with the USC Shoah Foundation's Education department to host the first open house introducing USC faculty and librarians to the Visual History Archive and IWitness University. The event was very successful and introduced around 20 USC librarians and faculty members to the research and teaching uses of the VHA and IWitness University.
18 groups of students from 16 undergraduate classes received detailed and tailored introductions to the Visual History Archive at the Center. The classes that received VHA introductions in 2019 represent a wider variety of disciplines than ever before, including:
Arts and Letters 100: Remembering the Holocaust, 
Communications 495: Honors seminar.
French 373: Remembering Loss, Writing Memory, 
Gender and Sexuality Studies 310: Gender and Social Justice, 
General Education Seminar 120g: Eastern European Crime Stories: Legal Fiction from Crime to Punishment,
General Education Seminar 120g: Literature of Resistance,
History 446: Resistance to Genocide,
Jewish Studies 211: The Holocaust,
Religion 359g: Culture in Diaspora: The Jews of Spain,
Religion 462: Religion and Violence,
Slavic Languages and Literature 397: Literature and Film in Eastern European Historical Experience, 
Social Work 634: Global Violence Against Women.
In addition, Visual History Archive Curator Crispin Brooks offered VHA introductions for the following two USC classes – Freshman Seminar 100: Exile and Resistance: Then and Now, and Jewish Studies 211g: The Holocaust.
Class introductions were not limited to USC. The Center's VHA Research Officer Badema Pitic introduced students at Occidental College (Sociology/Latino/a and Latin American Studies 321: Immigration to the United States from Mexico and Central America) and UCLA (Freshman Cluster 48A: Political Violence in the Modern World: Causes, Cases, and Consequences) to the Visual History Archive as well.
The staff of the Center who traveled to the International Association of Genocide Scholars conference in Phnom Penh, Cambodia not only presented their research there but also introduced the Visual History Archive to scholars through one-on-one consultations and demonstrations. Dr. Pitic participated in a panel dedicated to demonstrations and explanations of three multimedia projects focused on genocide education, awareness, and prevention, during which she presented the Visual History Archive, its history, and interface.
Through its VHA outreach alone, the Center introduced 367 students and over 200 scholars and fellows to the Visual History Archive in 2019.
Finally, 2019 marked the first year that the Center offered a live, online version of its introduction to the Visual History Archive, launching a VHA webinar series in October 2019. To view the first webinar, click here.
Academic Cooperation
In another form of outreach, throughout 2019, the Center continued to foster its relationships with other institutes and institutions by partnering on co-organizing conferences together, cosponsoring their events, and welcoming their cosponsorship, support, and partnership on the Center's events. In 2019, the Center's campus partners included:
USC Casden Institute for the Study of the Jewish Role in American Life,
USC Department of Middle East Studies,
USC East Asian Studies Center,
USC Institute of Armenian Studies,
USC Korean Studies Institute,
USC Libraries,
USC Max Kade Institute for Austrian-German-Swiss Studies,
USC Shinso Ito Center for Japanese Religions and Cultures.
Beyond the borders of USC, the Center's institutional partners in 2019 include conference co-organizers at the following institutions:
AGBU Nubar Library (Paris, France),
Center for Judaic, Holocaust, and Peace Studies (Appalachian State University),
George and Irina Schaeffer Center for the Study of Genocide, Human Rights and Conflict Prevention (American University of Paris),
German Historical Institute (Washington DC),
Holocaust Studies Program (Western Galilee College, Akko, Israel),
The Magnes Collection of Jewish Art and Life (UC Berkeley),
Yahad-In Unum.
The Center's cooperation with the Fortunoff Video Archive for Holocaust Testimonies at Yale University continued in 2019, including several visits, a public Visual History Archive workshop at Yale University, and cooperation on a postdoctoral fellowship for a scholar to explore testimonies by survivors who have interviews in both the Visual History Archive and the Fortunoff Video Archive. A little closer to home, the Center partnered with Hebrew Union College and the Louchheim School for Judaic Studies there. The Center staff looks forward to deepening existing partnerships and forming new ones in 2020.
Like this article? Get our e-newsletter.
Be the first to learn about new articles and personal stories like the one you've just read.