USC Shoah Foundation Begins Beta Testing of the First German Language Dimensions in Testimony at Deutsches Technikmuseum
Mon, 03/09/2020 - 11:07am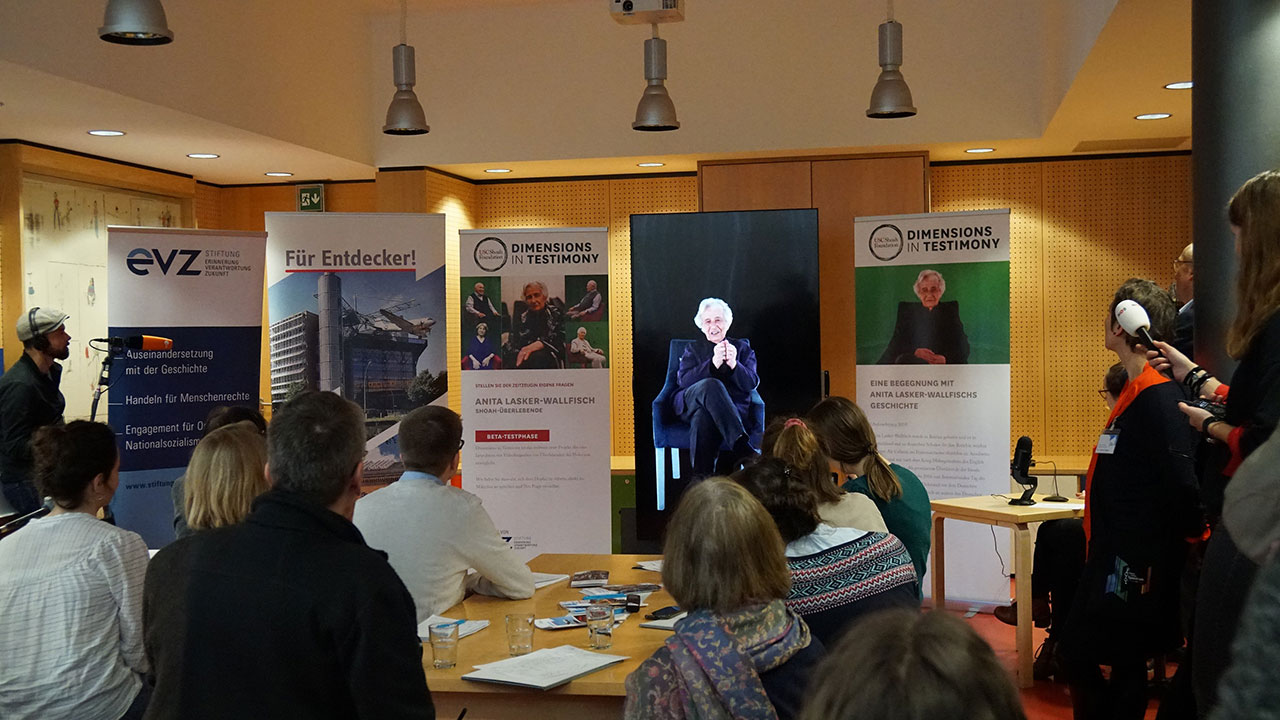 USC Shoah Foundation in collaboration with Deutsches Technikmuseum (German Museum of Technology) began the beta testing phase of the first German language exhibit of the Dimensions in Testimony interactive biography series in Berlin.  Featuring acclaimed cellist and German-born Holocaust survivor Anita Lasker Wallfisch, the exhibit will be open until June, 2020.

The exhibit caters to German students, who are are invited to develop and ask their own questions. Since opening, more than 100 students have already participated in the testing.  


Dimensions in Testimony is an initiative pioneered by USC Shoah Foundation to record and display testimony in a medium that highlights the significance of dialogue among Holocaust survivors and learners, and preserves the ability to do so far into the future. 


Dimensions in Testimony has revolutionized the concept of oral history by integrating advanced filmmaking techniques, specialized display technologies, and next-generation natural language processing to provide an intimate and unique experience. Each specially recorded interview enables viewers to ask questions of the survivor about their life experiences, and hear responses in real-time, lifelike conversation. Questions are answered naturally, as if the survivor is in the room, and through artificial intelligence, the more questions asked, the better the technology becomes.
Dr. Christina Brüning (Üniversität Potsdam) and Sanna Stegmaier, Ph.D. student (Kings College, London), are using the beta test to gather data for an academic study by observing student interactions, focusing on ethical and methodological questions of engaging with Dimensions in Testimony in the context of German memory culture(s) and Holocaust education.


USC Shoah Foundation Director of Global Initiatives, Karen Jungblut, attended the opening of the exhibit beta test.

"So far, among the most common reactions to Anita's story from students were the feeling that the interaction is 'much more personal than reading a history book', and that, although aware of the technology, the feeling of 'having an actual conversation' does seem to emerge," said Jungblut. "We're proud to partner with Deutsches Technikmuseum and hope to not only use these interactions to improve our technology, but to also accumulate knowledge to understand how programs like Dimensions in Testimony impact memory and Holocaust education."

The first German interactive biography and testing at the Deutsche Technikmuseum is supported by EVZ Foundation


About Anita Lasker-Wallfisch:
Born in Breslau in 1925, Anita Lasker Wallfisch grew up in a middle-class Jewish family. She received her first cello lesson at an early age, and from 1938 she studied cello with Leo Rostal in Berlin. In 1942, Anita and her sister Renate had to perform forced labor and in the same year, their parents were deported to Izbica and murdered. After a failed attempt to escape, the sisters were arrested and deported separately to Auschwitz in 1943. As a cellist in the Auschwitz women's orchestra, Anita managed to save her own and her sister's life. After liberation in Bergen-Belsen where the sisters last fought for survival, Anita Lasker Wallfisch immigrated to England and became co-founder of the English Chamber Orchestra.


Like this article? Get our e-newsletter.
Be the first to learn about new articles and personal stories like the one you've just read.