Dario Gabbai, Auschwitz Sonderkommando survivor, dies at 97
Fri, 03/27/2020 - 9:47am
The portrait I have been working on of Dario isn't complete yet, but what an honor it was to have met him and is now to engage with his testimony through the act of painting," said David Kassan of his unfinished portrait of Dario Gabbai. David met Dario in 2018 and was inspired to paint his portrait to honor Dario's life experience—a part of history that is largely unknown to the wider world. "We got dinner and drove to Balboa Park to be in the fresh air. Dario was constantly singing and it was incredible, like he was connecting with memories from before the war, a better time and place."
Our dear friend and inspiration Dario Gabbai passed away peacefully Wednesday 25 March 2020. A gentle soul and figure of resilience, Dario was born in Thessaloniki (Salonica during WWII), Greece on September 2, 1922 and grew up in a close-knit Jewish Italian neighborhood with a full house, including his younger brother Samuel, older brother Jacob, parents and maternal grandparents. Dario was an athlete and clarinetist, and was preparing to study medicine at university in 1938 when such education opportunities were stripped away from all Jews in fascist Italy.
Dario and most of his family were swept up in the destruction of the Holocaust, and he eventually became a prisoner at Auschwitz II-Birkenau with his two cousins, Morris and Shlomo Venezia. All three were among the Greek and Italian prisoners selected by the Nazis to be Sonderkommandos – Jews who were forced to usher people into gas chambers, and then haul out the bodies, take them to the crematorium, and clean up the room for the next group of victims. Most Sonderkommando were murdered by the Nazis; Dario and his two cousins were among the very few to survive the Holocaust.
Dario never wanted revenge on the perpetrators of the Holocaust. He believed it is more impactful to have respectful dialogue to prevent discrimination and genocide, and to promote understanding among humanity. Dario told his story many times in hopes of reaching people, including two testimonies for USC Shoah Foundation and several documentary films. Dario shared that he struggled throughout his lifetime with the terrible truths of his life experiences, but Dario bravely shared his story to educate young people. Dario joined the USC Shoah Foundation delegation during the 70th anniversary commemoration at Auschwitz to shine a light on his experience: he placed a candle on the memorial at the end of the ramp at Auschwitz-Birkenau, just steps from Crematorium II where he was forced to work during the Holocaust. He had a love of life including swimming daily up until very recent years, restaurants, his sidewalk cafe coffee group, being with friends, bringing friends gifts of chocolate. He loved the younger generation and had great appreciation and hope for the future. View Dario's 2015 USC Shoah Foundation testimony here. May his memory be a blessing and an inspiration.
Dario Gabbai on Revenge
Auschwitz Sonderkommando survivor Dario Gabbai says he does not want to get revenge on the perpetrators of the Holocaust. He believes it is more impactful to have respectful dialogue.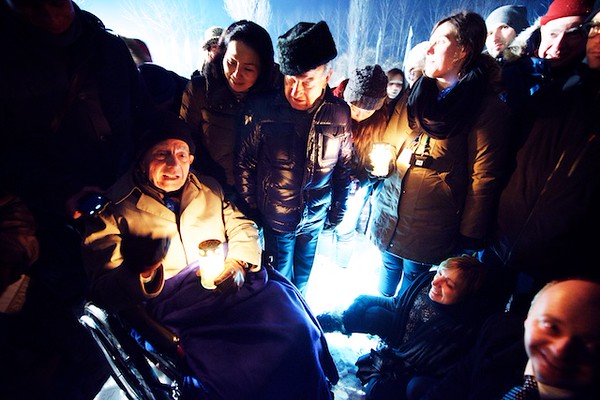 Like this article? Get our e-newsletter.
Be the first to learn about new articles and personal stories like the one you've just read.