Spring Release adds Tutsi, Rohingya, and "Last Chance" Testimonies
Thu, 04/09/2020 - 10:54am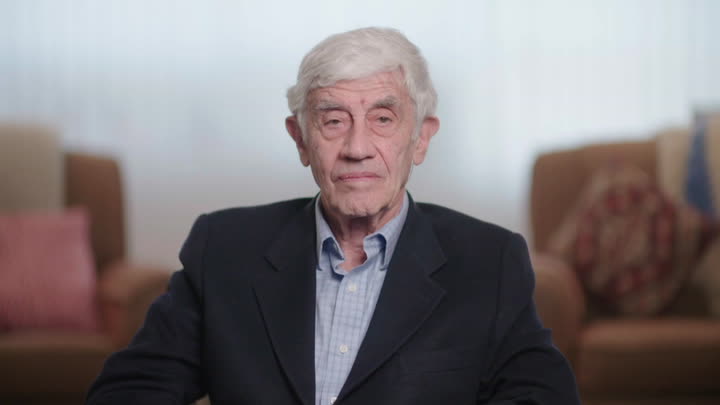 Above: Holocaust survivor Elly Gotz who gave his testimony to the Azrieli Foundation in 2018. His interview is one of 31 new testimonies from the Azrieli Foundation that have been indexed and catalogued in the Visual History Archive.
After years of enduring harassment and violence at the hands of the Myanmar Army, Hansu Mala could see that the roundups in her Rohingya village of Tula Toli on Aug. 30, 2017 were different. She and her husband were barely able to flee across the river with their six children.
From her hiding spot across the river, Hansu witnessed Myanmar soldiers order all the men to lie on the ground, and the women to stand in deep water. She saw the soldiers shoot and kill all the males and most of the children, and she saw them throw babies into the river. The soldiers then broke up into small groups and took the women back to the village, where they raped, tortured and killed many of them. Before the day was out, they burned the village to the ground.
Hansu and her family ran through the hills for six or seven days, before crossing the river into Bangladesh. Sitting on the floor of a tent in Bangladesh in March 2018, Hansu told her story to an interviewer from USC Shoah Foundation.
Starting in November 2017, a USC Shoah Foundation crew collected testimonies of Rohingya Muslim who escaped to Bangladeshi refugee camps. On April 6, 2020, USC Shoah Foundation's Visual History Archive released nine testimonies fully indexed and with English subtitles for the first time.
Today's semi-annual VHA release adds 128 new testimonies to the 55,000-strong collection. All the updated testimonies are available at 163 access sites worldwide.
Among the new videos are interviews with survivors of the genocide against the Tutsi in Rwanda, the Armenian genocide, and 92 Holocaust survivor testimonies. The Holocaust testimonies include 21 interviews produced through the Last Chance Testimony Collection, an effort to capture the stories of the waning population of Holocaust survivors, and 31 new testimonies of survivors who moved to Canada, part of the Azrieli Foundation collection, which partnered with the Shoah Foundation in 2018.
Among the 47 testimonies in the Azrieli Collection is a 2018 interview with Elly Gotz, a retired businessman and grandfather in Toronto, who relates his life story with intensity and eloquence. He recalls holding his arm out as his mother held a syringe above it. On a white cloth next to her, six more sterilized syringes filled with brown liquid were lined up. Through the thick cellar walls, Elly heard German soldiers coming down the passageway. If the Nazis found the door to their hideout behind the heavy cupboard, Elly, his parents, his aunt, and three uncles all agreed: They would commit suicide, rather than allow the Nazis to "liquidate" them from the Kaunus (Kovno) ghetto.
The soldiers banged past the hideout. Elly, then 16, stayed hidden with his family for three more days. Finally, they emerged into the ghetto, only to see Nazi soldiers marching Jews onto a train. The Gotz family boarded the train, and hours later, on July 8, 1944, the entire ghetto was burned to the ground, and thousands of Jews who were hiding were either burned or shot to death.
Elly and his father were transferred to Kaufering work camp near Dachau, where Elly's skills as a metal worker, learned at a school in the ghetto, enabled him to survive. Elly weighed 70 pounds when he was liberated from Dachau, and his father weighed 65 pounds.
They spent six months recovering in a German hospital.
"I was lying on my bed, I couldn't walk, but I was planning to kill Germans," he said in the 2018 interview. But he realized he had to give up hate if he wanted to live. "To hate is like taking poison and hoping the other person will die."
Elly and his father were reunited with his mother and uncles, and the family lived in Germany, Norway, and then Rhodesia. Elly self-educated to complete high school and then entered university in Johannesburg to fulfill his long-delayed dream of earning a degree in electrical engineering. He and his wife and three children later moved to Toronto.
"We continue to expand the Archive with new testimonies and search terms enhancing the experience for scholars, educators and the general public," said Sam Gustman, Chief Technology Officer at USC Shoah Foundation.
 
USC Shoah Foundation releases new videos every six months, using customized indexing terms, or keywords, to identify each minute of testimony of ten historic events. The painstaking process of indexing and then placing the testimonies on several different platforms enables family members, researchers, students and educators to fully access and utilize the testimonies.
Among the other testimonies released today:
The story of Anush Abdalian, who was 11 years old in 1914 when Ottoman-backed militiamen abducted her father and brother as they ransacked her hometown of Artvin, an Armenian city then in the Russian Empire, now in Turkey. Anush's testimony is one of 22 new audio files with accompanying photos from the Richard G. Hovannisian Armenian Genocide Oral History Collection.
Fourteen new testimonies from the Kigali Genocide Memorial in Rwanda, including Albert Nsengimana, born to a Tutsi father and Hutu mother. Albert was 7 years old when Hutu attackers killed his father, and he witnessed his mother order the deaths of his four younger brothers and send his four older siblings to be killed by their Hutu uncles and cousins.
39 testimonies recorded in the 1990s and blocked until 2020; 34 Lithuanian testimonies; 7 Swedish interviews on Countering Antisemitism Through Testimony, documenting contemporary incidents of antisemitism; and 102 newly indexed testimonies for in the Nanjing Massacre. The IWitness platform added 265 testimonies formatted and segmented for use in the classroom. 
Like this article? Get our e-newsletter.
Be the first to learn about new articles and personal stories like the one you've just read.