National Association for Armenian Studies and Research Becomes Visual History Archive Full Access Site
Wed, 04/22/2020 - 9:10am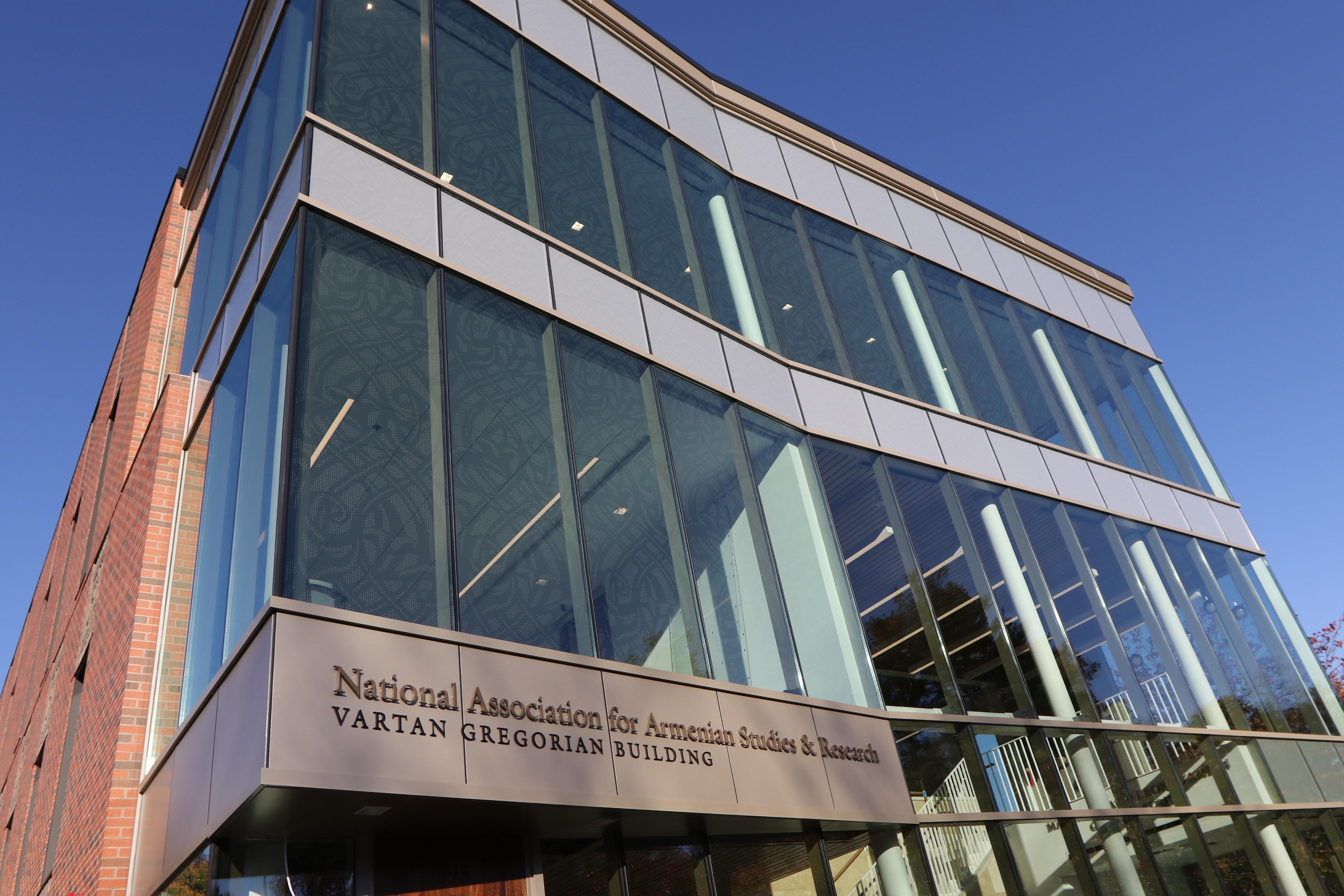 The National Association for Armenian Studies and Research (NAASR) will feature full access to the public of the USC Shoah Foundation's Visual History Archive (VHA) of over 54,000 testimonies. One of the world's leading Armenian Studies centers, NAASR advances education and scholarship through supporting and connecting scholars globally and providing outstanding programming to the general public.  NAASR plans to conduct outreach with schools, colleges, libraries, and other institutions in order to spread awareness about the availability of the VHA at NAASR's headquarters.
A designated room in NAASR's brand new headquarters—NAASR's Vartan Gregorian Building in Belmont, Massachusetts—will have access to all of the testimonies in USC Shoah Foundation's Visual History Archive. These testimonies are from survivors and witnesses to the Holocaust, the Armenian Genocide, the Genocide against the Tutsi in Rwanda, the Nanjing Massacre, Guatemalan Genocide, Anti-Rohingya Mass Violence, and Cambodian Genocide, along with testimonies of survivors of the South Sudan Civil War and Central African Republic Conflict.
"As the collections in VHA continue to grow, especially with its current collection of more than 1,000 testimonies by Richard G. Hovannisian, it is imperative that new avenues in scholarship and education make use of these rich and previously unused resources," said Stephen D. Smith, PhD, Finci-Viterbi executive director of USC Shoah Foundation and UNESCO chair on genocide education. "NAASR's obtaining access has done just that. Our goal is always to elevate these materials through collaboration."
NAASR created this special space in its new headquarters so researchers, family members of survivors, and the public could view these moving, eye-witness testimonies, study their historical contexts, and contribute to the goal of preventing future genocides.
"Fortunately, two inspiring donor families came forward to make the room a reality and to provide permanent access to this vast archive with a perpetual subscription through ProQuest," said Sarah Ignatius, Executive Director of NAASR. "We are extremely grateful to them for their vision and their generosity."
"As the family of Armenian Genocide survivor Andranik Vartanian," said Susan Vartanian Barba, who donated the perpetual subscription to the Visual History Archive in honor of Andranik and his wife Nvart, "we are pleased that his testimony and those of other survivors will be accessible in perpetuity, not only to genocide scholars, but to the general public. Access to the Visual History Archive opens the door to researchers, educators, students, and scholars to study a contextualized history through primary source testimony. In addition, future generations of Armenians will be able to connect with their ancestral past through the voices and memories of survivors, deepening their empathy, understanding, and respect for humanity."
On behalf of the Ajemian family, Lucille Ajemian donated the archive viewing room in memory of her mother Helen Paloian, her husband Gerald Ajemian, and her son John Gerald Ajemian.
"My mother was a genocide survivor who immigrated to this country as a teenager," said Lucille Ajemian, "my husband was a WWII veteran and a first-generation businessman, and my son, an M.B.A. They had a deep commitment to scholarly research and a thirst for continued learning. It is our hope that this viewing room serves as a resource to use the lessons from the past to point towards a better future."
History:
This marks the culmination of more than ten years of conversations and planning at NAASR. In 2009, J. Michael Hagopian, the founder of the Armenian Film Foundation (AFF) as well as NAASR's first West Coast board member in the late 1950's, was working toward having copies of the Armenian Genocide survivor testimonies he had filmed years before digitized and integrated into USC Shoah Foundation's VHA. He expressed his hope to NAASR's leadership that one day there would be a place where this material could be accessed. The idea continued to stay alive in ongoing discussions with the AFF's new leadership, Carla Garapedian and Jerry Papazian. It's also noteworthy that survivor Andranik Vartanian's testimony, whose name is honored by perpetual access, lives in the VHA as part of the AFF's collection.
* NAASR's Vartan Gregorian Building is temporarily closed for the health and safety of the community during the coronavirus pandemic. It will reopen in coordination with future state and municipal level decisions.
Like this article? Get our e-newsletter.
Be the first to learn about new articles and personal stories like the one you've just read.