Inaugural Interviewer Collection Named and Endowed in honor of Anne Bernard longtime Institute Interviewer
Tue, 07/21/2020 - 1:53pm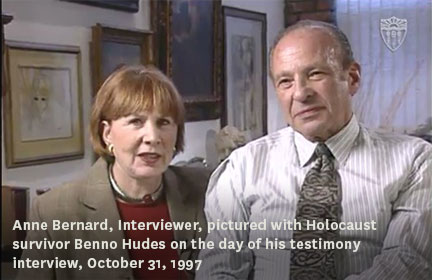 "It is an awesome responsibility to sit across from a survivor and earn their trust so that they can describe intimate patterns of their former life to you," said Anne Bernard of her experiences as a USC Shoah Foundation interviewer. "Each Interview is unique, each crushing emotionally, and each a privilege to listen to."
Anne Bernard interviewed 102 survivors in 56 cities and towns, from 1995 to the present day. This collection of testimonies will now comprise the first Named and Endowed Interviewer Collection in USC Shoah Foundation's 25+ year history.
Upon learning of the collection in her honor, Anne said, "I'm humbled by the whole idea. Shoah Foundation gave me more than I gave it. I was a tiny dot in a huge and impactful organization."
Anne's son, Russ Bernard, a former USC Shoah Foundation Board Member, who along with his wife, Terry, are longtime friends and supporters of the Institute, said, "Along with being an amazing mother and grandmother, my mom is a pioneering educator who has influenced so many young people in marketing, design, fashion and PR, among other roles. One of the many things that stands out, that mirrors the incredible person she is, is her significant work with Shoah Foundation. With prejudice and intolerance dividing the world and antisemitism rising precipitously, mom's work to help survivors have a voice to educate future generations to stand against hate is very meaningful."
The Anne Bernard Interviewer Collection comprises more than 250 hours of survivor testimony. "It is ennobling to be in their presence,"reflected Anne. I've thought about all those interviews and how they truly changed my life. And how they touched me, each one of them, in so many ways. I was, and still am, grateful to the Shoah Foundation for giving me one of the most meaningful experiences of my life."
"The amount of time and care that my mother has invested over the past 25+ years is extraordinary; her compassion, emotional strength, and ability to earn the trust of survivors to share some of the most painful recollections of their lives is a rare gift. It is with all this in mind that we are very pleased to recognize her legacy by establishing this Inaugural Interviewer Collection in her honor," said Russ. Of the 102 interviews Anne conducted, they represent mostly Jewish Survivors, but they also included Rescue and Aid Workers.
In 1996, Anne interviewed Martin Greenfield who became a prominent clothier in New York after the war; he designed suits for six U.S. Presidents and countless other famous people. Martin survived Auschwitz and was liberated by the Allied Forces from Buchenwald concentration camp, but lost his entire family. "…That is why I am doing this interview, because if you don't have history, and nobody follows history, you don't know who the next victims are going to be in the world," explained Martin during his testimony.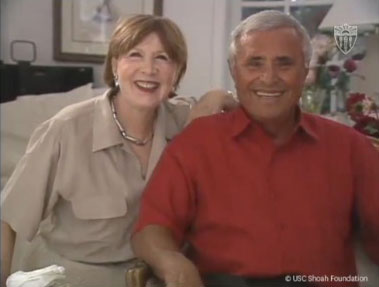 In 2013, Anne interviewed Judith Leiber, the famed international handbag designer who was a favorite among America's first ladies. Judith was joined at the end of her interview by her husband, Gerson, and her sister, Eva Ecker. Judith and her family were able to obtain a Swiss "schutzpass" enabling them to seek refuge in a Swiss protected house in Budapest before being moved to one of the numerous ghettos in the capital city. After the Russians liberated Budapest, the Americans arrived and Judith met her future husband who was an American G.I. They were married within the year and left Hungary to start a new life in New York. She arrived in the Bronx with the green toolbox she earned upon her graduation from the Hungarian trade school she attended during the war years; and the rest is history.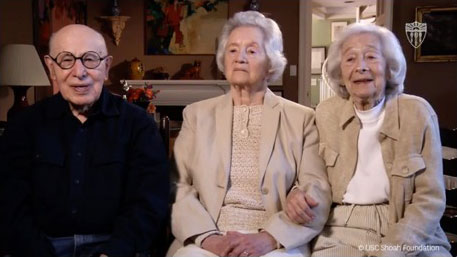 "At the end of the summer, you know, the war broke out and I remember that my father and one of (his) best friends…arranged that I should learn how to make handbags. So, he recommended me to a company who made handbags…My sister and I both said, 'If we want to survive after the war, we have to learn a trade.' So, Eva learned pastry cooking, and I learned the handbag business. And, I was very lucky; we did very well after the war," explained Judith Leiber during her interview conducted by Anne.
And in 1997, Anne interviewed Benno Hudes, a child survivor who was hidden along with his twin brother, Siegfried, in Belgium at a Christian orphanage as well as other locations. They concealed their Jewish heritage and were able to pass as Christians. Ben and Anne made a connection the day of his interview that would last many years; they fell in love and had a 14-year relationship. Ben passed away in 2011.
"I remember the day I interviewed Ben like it was yesterday. I also interviewed his twin brother on the same day; each one with totally different responses for some of the same questions. Ben was initially reticent – it was difficult for him to open up about his story, but he knew it was important to share for future generations, so he had committed to doing the interview," said Anne, reflecting upon that fateful meeting.
In reflecting why Ben felt compelled to share his testimony, he states, "If they ever have a doubt that the greatest tragedy in humankind has occurred, I am a living witness. I have seen it, I have felt it, I have experienced it, and I am also scarred by it. It is absolutely true that those great atrocities occurred. Their (referring to his children) grandmother is a witness; her sons are witnesses. Unfortunately, her daughter (my sister) and my father is [sic] not a witness because they were the victims of these great occurrences. And the world should always remember that it can happen again If we don't watch. Look and see what's going on, so that we can fight that those terrible tragedies can never, never occur again."
When Steven Spielberg established USC Shoah Foundation in 1994 after completing the film Schindler's List, the initial mission was to collect and preserve the video testimonies of survivors and witnesses of the Holocaust. He envisioned that these eyewitness accounts would have a profound effect on education, and that the survivors would become teachers of humanity for generations to come.
In order to realize this vision, USC Shoah Foundation established an interviewer corps made up of individuals from around the globe who volunteered their time and efforts. Eventually, more than 2,500 interviewers would join training sessions in 33 cities in 24 countries. They made a commitment to allow the survivors and witnesses to have a voice. "Without dedicated interviewers like Anne Bernard, there would be no Shoah Foundation Visual History Archive®," said Founding Executive Director June Beallor.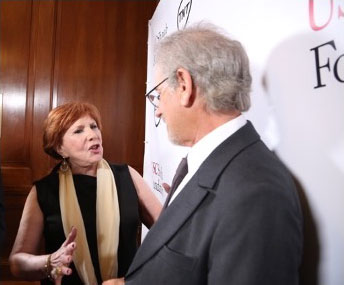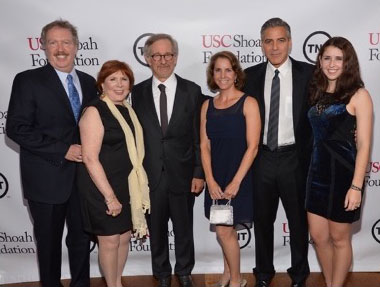 "Anne is amazing!!! She has excellent skills and we are so lucky that she will continue to conduct interviews for the organization as we embark on our Last Chance Collection. She is a true treasure!" said Sandra Aguilar, Manager of Metadata, USC Shoah Foundation.
These precious testimonies that the interviewers captured for all time are being used in USC Shoah Foundation's educational programming in nearly 90 countries, analyzed by researchers and scholars at some of the 160+ locations around the world where the Visual History Archive is fully accessible. They inspire action and engagement through global outreach programming and the Institute's distribution networks. The testimonies are preserved in perpetuity using best-in-class standards.
Finci-Viterbi Executive Director, Stephen D. Smith said, "The efforts to keep the voices of survivors echoing around the world requires significant resources. The Bernard Family gift helps ensure the lasting, sustained preservation of all testimonies that Anne conducted and inspires others to endow collections. Anne and all of the interviewers were instrumental in making history. By naming and endowing this collection and others like it, we will be able to unlock their potential to change the world, one voice at a time, in perpetuity."
Like this article? Get our e-newsletter.
Be the first to learn about new articles and personal stories like the one you've just read.