Florida's Statewide "Willesden READS" attracts Thousands of Students and Educators
Fri, 11/20/2020 - 4:18pm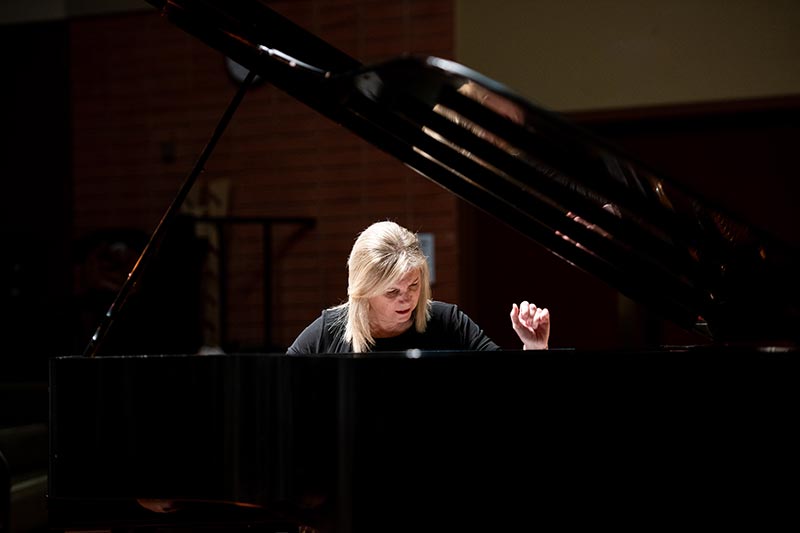 During Florida's Holocaust Education Week, 12,000 students and educators from school districts across the state experienced a livestreamed theatrical performance and concert with author and virtuoso concert pianist Mona Golabek.
A recording of the broadcast can be viewed on Facebook.
The performance was the first statewide "Willesden READS" launched by USC Shoah Foundation, Hold On To Your Music, Echoes & Reflections, and Discovery Education with vision and leadership from The Florida Holocaust Museum and The Holocaust Memorial Resource and Education Center of Florida.
"All of the partners were thrilled Mona was willing to get creative and work with us to bring her award-winning live show to thousands of students and educators in a new format," said Lesly Culp, Head of Programs at USC Shoah Foundation.
In response to the COVID-19 global health crisis, Hold On To Your Music and USC Shoah Foundation are offering Willesden READS via remote streaming instead of a live concert format so this story of resilience and hope can be offered to students at a time when they most need it. Unlimited by the number of seats in a venue, this experience can scale up and extend as a statewide offering.
"I love the opportunity of being able to look straight into a camera and talk. It was as if I was talking to one student [at a time].' said Golabek.
Commenting on how this performance differed from her live, in-person shows, Golabek said, "It's what I do on stage when I do it in front of thousands of kids. In that way, I just channeled it somehow to try to do it through that little camera."
The Willesen READS program is based on the story of The Children of Willesden Lane, the best-selling book about the power of music and how one teenage refugee and Golabek's mother, Lisa Jura, held onto her dreams, survived the Holocaust and inspired a generation of her contemporaries. Today's worldwide humanitarian crises and the importance of standing up against bigotry and hatred are reflected in the continued, growing relevance of this book.
"We were encouraged that so many students expressed a meaningful connection to Mona's performance and are excited to offer this new format to more school districts and cities in the coming year," said Culp.
In January 2021, participating Florida educators will receive professional development from USC Shoah Foundation and Echoes & Reflections to support their teaching of the books with their students. Teachers will explore key historical events and audio-visual testimony from survivors and witnesses of the Holocaust relevant to Lisa Jura's story, all designed to foster cognitive and digital skills, SEL aptitudes and to broaden student perspectives.
Like this article? Get our e-newsletter.
Be the first to learn about new articles and personal stories like the one you've just read.