We Remember George Weiss, Holocaust Survivor, Artist, Institute Volunteer, Friend
Thu, 12/17/2020 - 2:00pm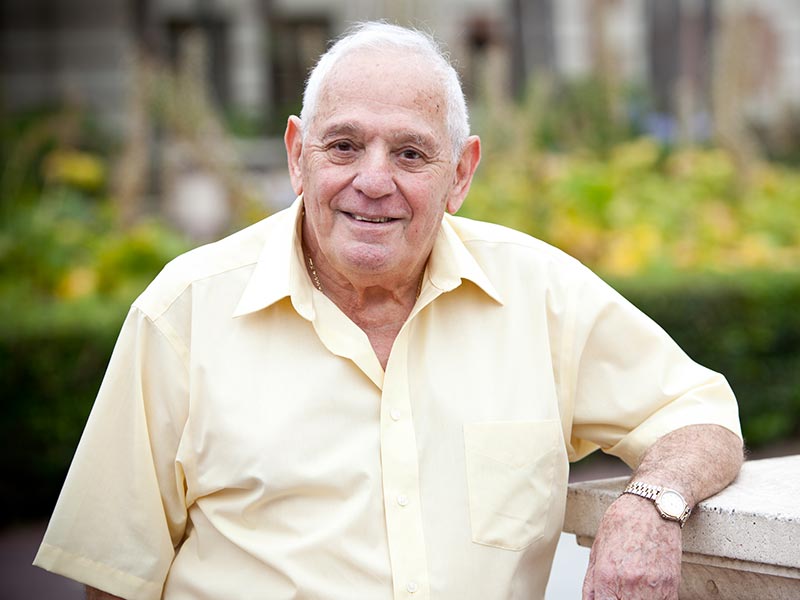 USC Shoah Foundation today mourns the loss of a close friend, George Weiss, a longtime volunteer with the Institute and a Holocaust survivor who endured homelessness and life on the run as a young child separated from his parents in both France and Belgium during the war. He was 87.
Weiss was a familiar and beloved presence at the offices of the Institute, stopping in every week to curate and work with clips of video testimony from the Visual History Archive, which contains 55,000 life stories of survivors and witnesses to the Holocaust and other genocides.
Weiss, whose own testimony is in the Archive, always came to the Institute's office at the University of Southern California bearing chocolates, which he would freely dispense to employees to sweeten their workday.
After the war he served a stint in the Israeli military before immigrating to the United States, settling eventually in Los Angeles, where he ran an auto shop until retiring comfortably.
Born Feb. 2, 1933 in Brussels, Weiss was the son of parents who ran a prosperous Kosher butcher shop. He was seven when the war menaced Belgium, and had yet to complete his first year of school. Knowing that the Germans were fast approaching, his parents pulled their only child out of school and the small family set out to evacuate to England.
In 1940, George and his mother, Julia, boarded a bus that was too crowded for his father, Bernard, who hopped on another one. Unbeknownst to Bernard, the bus carrying Weiss and his mother broke down en route. They wound up in the small city of Abbeville, France, where fierce fighting had broken out.
Bombs were dropping on the town, and one landed in their vicinity, injuring his mother, who as a result would lose a lung. The seven-year-old Weiss was not allowed to stay in the hospital with his mother; for three weeks he had to fend for himself in the streets of the French village.
He remembers eating out of the garbage and sleeping in a stack of hay. And he remembers Germans laying siege to the town.
The Germans tossed incendiary bombs into buildings, including the one he inhabited, forcing him and others to flee.
"When my mother … finally found me, I was in bad shape," he said in his testimony with USC Shoah Foundation. "Full of diseases, filth, lice and everything."
A couple months after their bus broke down, Bernard found his wife and child in Abbeville and the family returned to Belgium. By then, the Germans had occupied Brussels. His parents reopened the shop. At school, Weiss had to wear the yellow Star of David badge, but he tore it off after one day.
In 1942 the Nazis stepped up their campaign to eradicate Jews in the city. Thus began a horrendous two-and-a-half-year period in which the family lived in hiding.
Weiss stayed in a series of orphanages, barely keeping a step ahead of the Gestapo. The Catholic ones were the most difficult for him.
"I was wondering why I couldn't be like the other children -- playing, doing things that the other kids did," he said. "I'm ashamed to say today I felt, 'Why did I have to be Jewish?'"
At one point, a priest tried to convert the 10-year-old Weiss and he ran away to his parents' house.
"When I knocked and my mother opened the door, she almost fainted," he said.
His parents, meanwhile, had their own struggles. In 1943, Bernard was imprisoned for a time in the Drancy concentration camp in France. From here he was placed on a convoy to Auschwitz; he escaped by jumping off the train into the snow near a French village by the German border, breaking several bones. The seriously injured man limped to the nearest Catholic church, where a priest tended to his wounds and sent him on his way back to Belgium.
Briefly reunited, the family assumed the last name Hoffman. For a while, Weiss stayed with his parents, but they had him sleep in the attic for fear the Germans would raid the house.
"I would hear the German boots," he said in his testimony, which was taken in 1998. "I was very scared."
His parents went to live in a cottage in a forest. They sent Weiss to live with a nearby farmer, who treated the 11-year-old boy with kindness.
Not long after, it became plainly evident that the Germans were in retreat.
"I remember walking around with a basket over my head because the Germans were shooting at the planes and pieces of metal were coming straight down," he said.
After the war, which both of his parents also survived, Weiss moved to Israel and served a stint in the military, where he was trained to become a mechanic. During a sabbatical in 1953, he came to Belgium and his mother introduced him to a young woman named Giselle. The pair hit it off and began a courtship, but they had a problem: Giselle's grandmother was ultra-Orthodox, and wouldn't condone the thought of her granddaughter marrying a man from a non-Orthodox family.
Giselle was sent by her grandmother to live with an uncle in Baltimore, primarily to keep her away from Weiss. It didn't work for long. The grandmother joined Giselle in Baltimore, but was unhappy there. She planned to return to Belgium, and wanted Giselle to accompany her. Giselle said she would on one condition: she be allowed to marry Weiss. The tactic proved effective: They married in Belgium in 1955 and immigrated to the United States.
After a brief stay in Baltimore, the Weiss's moved to Los Angeles, where he opened a body shop, which he ran for 30 years before retiring. They had two sons and several grandchildren. In retirement, Weiss took up sculpting and painting.
Weiss had a deep appreciation for the freedom he enjoyed in the United States, where intolerance felt to him like the exception rather than the rule. For instance, he said, in the states, when his wife insisted he wear a yarmulka, he could do so without feeling like he was being stared at. He said he hopes younger generations will continue to appreciate such liberty.
"Keep in mind to always fight for liberty that we have in this country," he said. "This is the most wonderful country in the world. There's no way I would ever live anywhere else."