Remembering Irving Roth
Fri, 02/19/2021 - 3:17pm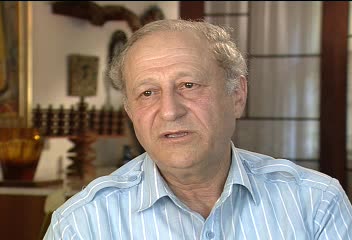 We are very saddened to learn of the passing of Holocaust survivor Irving Roth on February 16, 2021, at the age of 91. A survivor of the Auschwitz and Buchenwald concentration camps, Roth was a dedicated educator and author who taught generations of people around the world about the horrors of the Holocaust.
Roth was born in modern day Slovakia in 1929 to a family that owned a successful lumber business. After the German occupation in 1938, the family fled to Hungary. In 1944, Irving and his brother Bondi were deported to Auschwitz. Both survived the horrors of Auschwitz and then a death march to Buchenwald. At Buchenwald they were separated and never saw one another again.
After liberation, Roth was reunited with his parents and then immigrated with them to the United States in 1951. The family settled in Long Island, New York, where Irving earned a degree in electrical engineering.
He spent much of the rest of his life educating people about the Holocaust and the dangers of antisemitism.
In 1998, after a visit to Auschwitz with a group of high school students, Roth founded the Adopt-a-Survivor initiative. The adoption program pairs Holocaust survivors and their children with "adoptee" students nationwide.
He also served as the director of the Holocaust Resource Center – Temple Judea of Manhasset, New York, and as an adjunct professor at the University of Maine.
Roth was interviewed by USC Shoah Foundation in 1995. In his testimony, Roth describes the importance of storytelling in teaching generations about the perils of antisemitism.
Stephen D. Smith, Finci-Viterbi Executive Director of USC Shoah Foundation, described Roth's contribution to the study of the Holocaust.
"Irving Roth has been ever present for those of us in the field of Holocaust education. At countless conferences and committees Irving would bring his quiet presence, his wisdom and insight. He will be sorely and deeply missed."
We remember Irving Roth in hoping that these words from his testimony continue to propel positive change in the word.
"When I talk to young people, I ask them, when you see injustice, on any level, don't stand by and do nothing…Do something about it. If you do it on small things, you'll learn how to do it on big things too."
The USC Shoah Foundation interview with Irving Roth was conducted by Hilary Helstein, who later co-founded the Los Angeles Jewish Film Festival. In remembrance, Helstein selected the following excerpt from Roth's testimony:
"Some people will tell you the Holocaust never happened. Tell your children, your grandchildren, your great-grandchildren that you met someone, you spoke with someone who was there, who was an eyewitness.

So in effect, I am asking you, the children, to be eyewitness."
Speaking of Roth, Helstein said:
"What Irving said had a lasting impact on me. I learned so much from him about life and resilience. His passion and commitment to ensure the world would never forget and learn from his experience, all survivors' experiences, was inspiring. His determination to leave a legacy was evident in his devotion to his Holocaust Education Center.
I am deeply grateful that I had the opportunity to interview Irving and to help him share his personal story with the world through his USC Shoah testimony. I stayed in touch with him over the years and marveled at the work he did, tirelessly. He invited me to share my own Holocaust documentary, "As Seen Through These Eyes" at Temple Judea for Yom HaShoah and there was standing room only. I knew that was a testament to Irving and his meaningful work.
The world has lost a brightest star. But what I say to Irving Roth now, is this… you have left your imprint on all of us. It is our turn to be eyewitness and we will carry on your legacy."
Like this article? Get our e-newsletter.
Be the first to learn about new articles and personal stories like the one you've just read.