2020 Lev Fellows Present on Their Research with Testimonies
Mon, 05/03/2021 - 3:09pm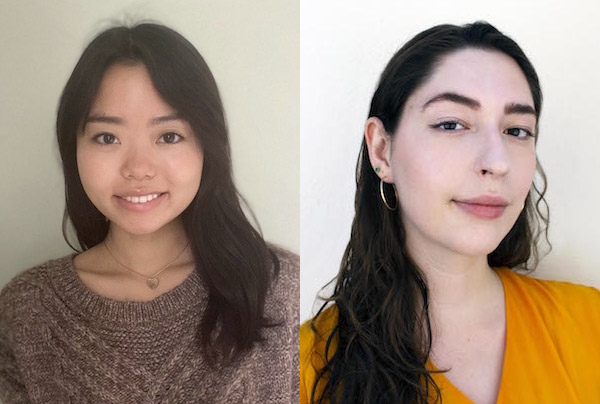 "Research With Testimonies: Featuring the Center's 2020 Lev Student Research Fellows"
Lucy Sun (USC undergraduate student, History major) and Rachel Zaretsky (MFA candidate in Art, USC Roski School of Art and Design)
2020 Beth and Arthur Lev Student Research Fellows
April 14, 2021
Lucy Sun (USC undergraduate student, History major) and Rachel Zaretsky (MFA candidate in Art, USC Roski School of Art and Design), joint recipients of the 2020 Beth and Arthur Lev Student Research Fellowship at the USC Shoah Foundation Center for Advanced Genocide Research, delivered presentations about the research they conducted in the USC Shoah Foundation Visual History Archive (VHA) during their virtual residency at the Center in the summer of 2020. Lucy Sun presented on the resistance of women during the Nanjing Massacre, while Rachel Zaretsky shared a glimpse of her artistic response to the testimonies she explored in the VHA's Holocaust collection.
Lucy Sun: "Chinese Women's Resistance to Sexual Violence During the Nanjing Massacre, 1937-1938"
Lucy Sun started her presentation by providing a brief historical background about the Nanjing Massacre, which took place during the Second Sino-Japanese War that erupted in July of 1937. After the end of the war in 1945, the Communist and Nationalist parties resumed their civil war in China, which obscured the remembrance of the Nanjing Massacre, and it remained absent from Chinese historiography until the early 1980s. Following the release of new Japanese primary sources about the Nanjing Massacre in 1982, scholarship on the subject started proliferating. However, Sun pointed out that this scholarship emphasizes Chinese victimization over resistance, noting that there is little nuance in discussions of Nanjing women's experiences, which are reduced to and defined by sexual violence. To address this gap and include and restore women's agency, Sun's research challenges these one-dimensional portrayals of women's experiences by examining how women reacted to the threats of sexual violence and whether and how they actively resisted this violence.
In her research, Sun relied on several types of primary sources. She pointed out that Chinese-written records about the Nanjing Massacre are scarce. Most existing records are written by Western nationals. She noted that this limits the scope of women's experiences to Western perspectives and also includes only the experiences of women from the urban area while excluding those living outside of the city walls. To remedy this, Sun turned to the Visual History Archive testimonies. She examined 59 testimonies of Chinese women and analyzed them in conjunction with other sources. In analyzing the testimonies, Sun focused on capturing women's agency instead of focusing on the violence inflicted on them. She shared excerpts from a couple of testimonies as illustrative examples. In these excerpts, women recounted their stories of resistance and the tactics they used to escape the violence perpetrated by the Japanese. The most common tactics of resistance Sun identified were hiding, disguise, and escape into refugee camps. Sun argued that despite the common narrative in Nanjing Massacre literature about women as passive sufferers, the stories women tell in testimonies demonstrate that women resisted. In concluding her presentation, Sun pointed out that by filling gaps in literature with women's own voices, we can begin to produce historical narratives with women's agency in mind.
Sun's presentation was followed by a Q&A session, which included the following questions: why were the Japanese soldiers afraid of water (a recurring trope she had identified in the testimonies); how Sun defines resistance and whether she considers the act of testimony-giving as constituting resistance; about experiences of women with children; whether Sun's research can be applied to other cases of mass violence and genocide; and about any patterns in the consequences these women experienced after the massacre.
Rachel Zaretsky: "Mediating Memory"
Rachel Zaretsky began her presentation by sharing her research interests, which include how collective memory is constructed and the role of memorials and monuments in culture. Zaretsky explained that she is particularly interested in the social life of these sites, the way visitors engage with them, and the products of that engagement. She noted that she views archives as places of memory, and that is how she approached the Visual History Archive as well. Next, Zaretsky shared more details about her approach to the VHA testimonies, including how she chose the Holocaust survivor testimonies she ended up watching. After watching the first testimony, Zaretsky said she started thinking more about the specific role of video testimony. As a visual artist, she was keenly attuned to all the information and images that video testimony can offer, such as non-verbal and body language, and she also experimented with the VHA's indexing thesaurus and focused on sensorial cues, such as mentions of taste or smell. While watching testimonies, Zaretsky took notes about survivors' stories. She also experimented with recording herself reenacting survivors' non-verbal gestures. Over her monthlong virtual residency, Zaretsky watched over 100 hours of survivor testimony.
Next, Zaretsky turned to detailing her process of creating an artistic response to survivor testimonies. She emphasized the challenge of working with other people's stories and with such difficult content, and how she considered her own position as a witness to witness testimony. A month after the end of the fellowship, Zaretsky wanted to gauge how much she actually remembered from what she watched and heard so she set out to document everything she could recall from her experience in one sitting. Eventually, she decided to turn this into a practice, recording videos of herself recalling what she can remember of the survivors' stories she watched. She began recording these videos in September 2020 and is still doing so. Zaretsky said that she is interested in seeing how this practice will evolve and how memory evolves in general. To illustrate her process, she shared a couple of unedited videos of herself in which she recounts her memories of the life stories of specific Holocaust survivors. She recorded these videos four and eight months after her residency.
In concluding her presentation, Zaretsky noted that she sees herself as a translator and a mediator interested in developing her project further to bring into focus and almost collapse time between bearing witness to witness testimony and having others bear witness to her witnessing of witness testimony.
Zaretsky's presentation was followed by a Q&A session, which included the following questions: how do stories evolve in Zaretsky's own memory and how does that inform her understanding of collective memory; about the distinction between individual and collective memory; why Zaretsky waits for a specific amount of time to record herself and whether she takes any notes while watching testimonies or consults notes before or during recording the videos; whether Zaretsky considered recording the same survivor's story at different time intervals to compare how she remembers it; whether she tries retelling the entire story or she only records what she remembers, and how much what she remembers is triggered by survivors' body language or influenced by external factors, like what is happening in the world at the time of her recording of the video.
Summary by Badema Pitic
Like this article? Get our e-newsletter.
Be the first to learn about new articles and personal stories like the one you've just read.