Tribute to Roman Kent "Hate is Never Right and Love is Never Wrong"
Fri, 05/21/2021 - 2:16pm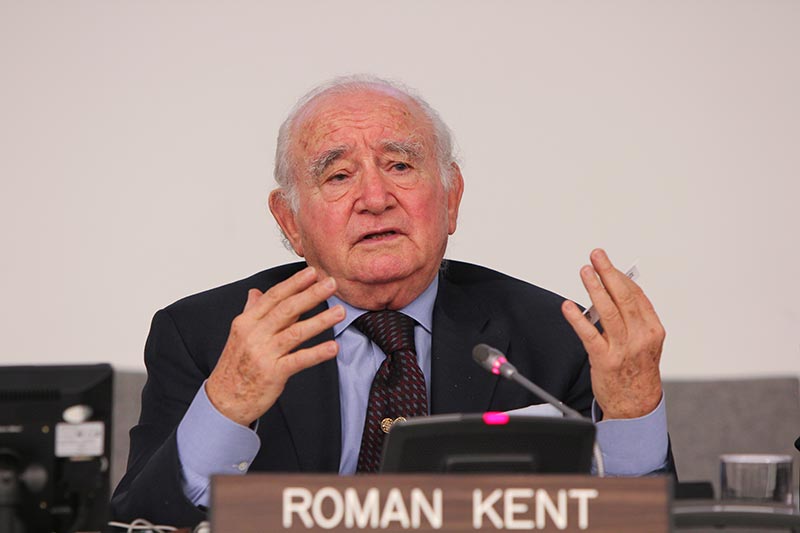 A distinguished voice of history has been lost today in the passing of Auschwitz survivor Roman Kent, who captured the agony of the Holocaust and the power of love in his telling of a simple story about his childhood dog, Lala. Kent was 92.
Born April 18, 1929, in Łodz, Poland, Kent enjoyed an idyllic childhood in a prosperous family before their lives were shattered by the Nazi regime.
Kent shared his life story not only with the testimony he gave to USC Shoah Foundation in 1996, but also a children's book he penned in 2006, "My Dog Lala," and the autobiography he wrote two years later, "Courage Was My Only Option."
An influential member of the survivor community, and a Life Member of USC Shoah Foundation's Board of Councilors, he sat on the United States Holocaust Memorial Council, served on the Claims Conference Board and chaired the American Gathering of Jewish Holocaust Survivors & Their Descendants.
"Roman Kent leaves a lasting legacy of the incredible capacity we all hold to choose love over hate," said Stephen Smith, Finci-Viterbi Executive Director of USC Shoah Foundation. "He was a mentor and a friend who I will sorely miss, yet I'll always remain uplifted by him for the inspiration he has given me and the world in his survival and the many gifts that came afterward, his testimony of resilience, his books, his descendants."
In January of 2015, Kent spoke at the official commemoration of the 70th anniversary of the liberation of Auschwitz-Birkenau, the infamous Nazi death camp in the Polish countryside.
"We survivors do not want our past to be our children's future," he said, speaking to an audience of international dignitaries and 300 survivors from a podium near the brickwork Death Gate on the grounds of the sprawling camp that has become the Auschwitz-Birkenau State Museum.
One of four children in a Jewish family, Kent (born Roman Kniker) experienced a childhood filled with horseback riding, visits from relatives and playing pick-up games of soccer in a field behind his father's textile factory. The golden-haired family dog Lala joined this carefree milieu when Kent was a young boy.
The family was at their summer villa when war broke out in Poland in 1939. They holed up at the resort for a time, but eventually decided to make their way back to their home in Łodz. To travel unencumbered, the Knikers decided to leave Lala with the villa's superintendent. But while the family was at the train station, Lala appeared. She traveled with the family back to Łodz.
They returned to a hometown that had become hostile.
All family members were forced to display the yellow Star of David on their clothing. Jews had to abide by a night curfew.  A German replaced Kent's father Emanuel as the owner of the factory. The family lost their apartment.
Robbed of their home, they found temporary shelter at the factory. Lala was in tow.
When the Knikers were swept into the Łodz Ghetto, Lala stayed behind at the factory; she had just given birth to a litter.
In the ghetto many miles away, the family of six was assigned to a single room with a kitchen. On the first night, they were awakened by a scratching at the door. They opened it to find an exhausted Lala, covered in mud, sleet and snow.
"How she found us, God only knows," Kent said in his testimony.
Lala left the next morning, and returned the next night, a routine she repeated for several weeks. Kent believes she'd return to the factory to tend to the puppies.
"Love is stronger than hate," he said. "No barbed wire, no guns stopped this little dog from loving us."
Lala was eventually confiscated by the Nazis. They never saw her again. Roman published the story of Lala as a children's book and worked with USC Shoah Foundation to record a virtual reality animated story version for primary school teachers and students.
Emanuel died of malnutrition in 1943. The next year, the remaining family members boarded cattle cars to Auschwitz. By the time the doors were thrown open, they were accustomed to the darkness. The sunlight was blinding.
"The noise multiplied: The barking of dogs became louder; the crying of the women and the children penetrate the air," Kent said. "And we started to see -- not only to hear but to see what's going on -- the masses of people being pushed, being beaten by people standing, by Germans sitting on horses."
He and his brother were separated from their sisters and mother.
In April of 1945, Kent and his brother, Leon, were transferred to the Flossenberg concentration camp in southeastern Germany. That spring, they were among about 15,000 prisoners forced to march 50 miles to the Dachau camp. The Germans made the prisoners travel by night in the rain; stragglers were shot.
En route, the U.S. Army attacked the Germans, who fled into the woods. The prisoners – Kent and his brother included – were liberated.
Kent estimated that maybe 5,000 prisoners survived.
After liberation, Kent and his brother met up in northern Germany with his sisters, who'd been liberated from the Bergen-Belsen concentration camp. His older sister, Dasza, was terminally ill. His younger sister, Renia informed the brothers that their mother, Sonia, was murdered at Auschwitz.
Dasza died in Sweden soon after; she and Renia had traveled there in hopes the medical community there could save her.
"She died in the Holocaust," he said. "It is the German people that killed her, although she died few months later."
Renia resettled in Sweden. Kent and his brother immigrated to the United States under the auspices of a government program that gave blanket refuge to orphans. They were sent to live with a Jewish family in Atlanta, and later, when that didn't work out, a widow, whom Kent's own children would call grandma.
Kent attended Emory University in Atlanta, and himself became the owner of a successful textile and dinnerware company. He married, had two children, and built a new life. He prospered.
Instead of making him bitter, Kent's past became a reminder to be kind and helpful to others.
"Hate is never right," he once said, "and love is never wrong."
View Roman Kent's full-length testimony on the online version of the Visual History Archive
Like this article? Get our e-newsletter.
Be the first to learn about new articles and personal stories like the one you've just read.