"Tiny Screen Concert" is Huge Gift for Teachers, Students
Wed, 06/02/2021 - 12:34pm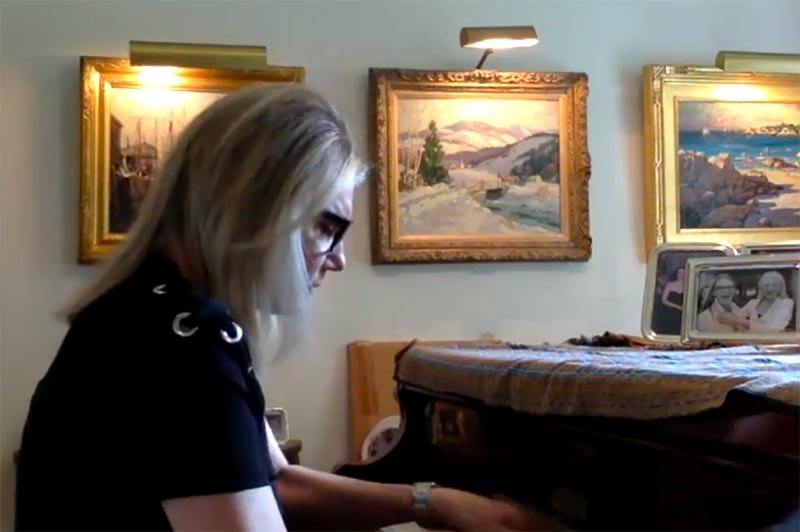 USC Shoah Foundation and Mona Golabek had an end-of-school-year gift for Zoomed-out teachers: a 30-minute, all-inclusive concert/history lesson/social-emotional learning tutorial with messages about learning from history, rising from injustice and overcoming adversity.
Made available to teachers June 1 and 2 and now on-demand, The Willesden Project's Tiny Screen Concert showcases the story of Golabek's mother, Lisa Jura, who escaped Vienna on the Kindertransport during WWII and became a concert pianist. Golabek, a Grammy-nominated classical pianist and founder of the Hold On to Your Music Foundation, tells her mother's story—woven together with the classical music her mother once played—from her own living room.
The Willesden Project, a new program of Hold On to Your Music Foundation, USC Shoah Foundation, and the Koret Foundation, brings the power of music and story to young people and contributes to their development as empathetic, knowledgeable and resilient individuals. Accompanying educational resources expand Lisa Jura's story through historical context and multiple perspectives while also extending it into the present with her daughter's experience and the experiences of refugees and others facing and responding to adversity and injustice.
"The Tiny Screen Concerts are just me and my piano, no bells and whistles, no grand theatrical production, just an intimate, from-the-heart conversation about this story, and what it can teach us about resiliency and perseverance as we all go through our own journeys," Golabek said. "I believe my mother's story is more relevant today than it ever has been, given what we've gone through this year with the tragedy of Covid, the explosive issues around horrible discrimination in the Black community, and now the resurgence of antisemitism."
Golabek has written four Children of Willesden Lane books about her mother's experience for different grade levels and has developed several performances around the book that have reached more than 500,000 students over the past decade.
During the pandemic, USC Shoah Foundation and Golabek adapted Golabek's signature Willesden READS performance program—typically provided live, in person to hundreds of students at a time—to meet the needs of the virtual classroom. Working with USC Shoah Foundation partner, Discovery Education, the team pivoted to produce an adapted version of the original show, with Golabek performing alone at the Saban Theater in Los Angeles. This filmed performance is framed with real-time conversations between Golabek and local student hosts, who funnel questions from participating students who have read the book, viewed survivor testimony, and participated in history lessons and critical thinking activities.
Three online Willesden READS events have been held since November 2020, reaching close to 50,000 students in the New York area, Oregon, and Florida, and thousands more have subsequently watched recordings.
Golabek said connecting with students this way has created a more intimate dynamic than exists in a live performance with thousands of people in a theater.
"I look directly into the camera and I talk like a good friend talking to another good friend, so the message goes from my heart to the person on the other side of the screen," she said.
The Tiny Screen Concert offers an even more intimate experience than the READS in other ways, as Golabek focuses on specific parts of her mother's story and reflects on how her mother's experience has impacted her own life. Students are not required to read the books in advance, and there are several options for short classroom activities developed by USC Shoah Foundation education specialists as well as follow-up evaluations from educators.
Golabek is hoping she achieves the same kind of resonance with the Tiny Screen Concert as experienced by Ryan Vasquez, a student host at the recent Willesden READ for the New York tri-state area
"Having watched survivor testimony myself, I can see how important these stories are to helping us learn about history and from history," Vasquez said an online conversation with Mona that was viewed by tens of thousands. "Right now, I think we're going through a future historical event, and students further in their lives will learn about Covid, and about how we as a community used our passion to survive this virus and persevere forward."
Like this article? Get our e-newsletter.
Be the first to learn about new articles and personal stories like the one you've just read.