Voices from the Archive
Armed With A Camera and a Gun, She Fought The Nazis
Fri, 06/04/2021 - 10:45am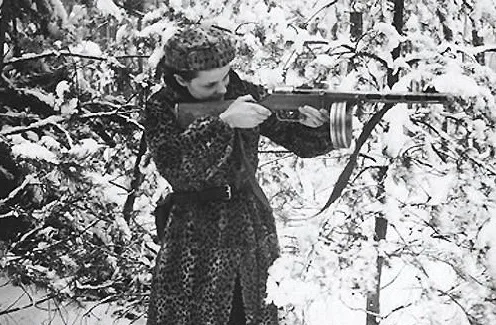 On the day that Faye Schulman's parents and siblings were killed, along with almost all the Jews of her Eastern Polish town of Lenin, Schulman (then Faigel Lazebnik) was pulled aside by a Nazi officer.
The Nazi official had been to Schulman's studio a few weeks previously. After invading the town in 1942, the Nazis had ordered the talented young photographer to take photographs—both to document their activities in the town and to provide their officers with vanity portraits.
Schulman remembered the photo session with the Nazi who now pulled her aside.
"He sat down and I was supposed to take his picture for the portrait. And he was sitting. He looked to me like an animal. I was afraid to look at him. He looked like a killer. He was the main killer. … And I saw it through the camera," Schulman said a 1998 interview for USC Shoah Foundation's Visual History Archive. "I said to myself, if I will make this portrait, he will kill me. He looks terrible."
She pulled the black fabric over her head and the camera to block out the light.
"And can you imagine, me, a Jewish girl, said to the commissar, 'smile'? I felt like I am Little Red Riding Hood with the wolf. Like he showed his teeth, he smiled. He showed his teeth. But the eyes didn't change. The eyes were still like a murderer."
In the darkroom, she used a new technique she had learned to add color to his soulless face. Apparently, he had been pleased enough with the result to pull her from the firing squad.
Schulman died last month at the age of 101. She leaves behind a son and daughter, six grandchildren, and three great-grandchildren. She also leaves a legacy of more than 100 photographs of the Nazis in Lenin and images of her years as a guerilla warrior in the forests of Eastern Poland.
In 1995 Schulman published her biography, A Partisan's Memoir: Woman of the Holocaust, and was subsequently featured in a 1999 PBS documentary, Daring to Resist: Three Women Face the Holocaust. She is one of many courageous women featured in Judy Batalion's new book, "The Light of Days: The Untold Story of Women Resistance Fighters in Hitler's Ghettos" (William Morrow/Harper Collins April 2021).  (See below for event featuring the author.)
An interview she recorded in 1981 for the Canadian Jewish Archives is included in the Visual History Archive, along with testimony she recorded with USC Shoah Foundation in 1998.  
Minutes after the Nazi officer pulled Schulman from the round up, nearly all the inhabitants of the Lenin ghetto, including her family, were shot into trenches on Aug. 14, 1942. Soon after, Schulman escaped to the forest where she joined a unit of partisans called the Molotov Brigade, a unit comprised of mostly non-Jewish Russian soldiers who had escaped German prison camps. The brigade agreed to accept her because her brother-in-law was a doctor and they hoped she had gleaned enough knowledge to serve as a nurse; the veterinarian who was serving as the unit's doctor trained her. She also learned to use weapons of all kinds.
The Molotov Brigade worked to disrupt Nazi operations by blowing up trains and tracks, and staging raids on local bases. Several times, Schulman went on incursions into her own hometown of Lenin. On one raid, she recovered her Compur camera along with negatives she had buried that documented the Nazi atrocities. Another time, she was ordered to burn down her own house which had become the headquarters for German police.
"When I walked in, it was like old times, like I have seen my mother, I have seen my father. I have seen the whole family around. I was so shocked. And another partisan walks in, and he said, 'what do you think?' I said, 'Burn it.' "
The other partisan poured the gasoline and Schulman lit the match.
In 1943, she found out that one of her brothers was still alive, stationed with a band of partisans in another forest. She asked a fellow partisan to go with her to see him.
"I could go by myself, but it would be not safe. I wasn't afraid of the Nazis, but I was afraid of my own partisans, because they could say that I am a spy," she said in her testimony.
But before she was set to leave, another partisan warned her that the fellow she had asked to accompany her was planning to kill her.
"Again I have to decide between life and death…I wanted to go. I wanted badly to see my brother because, after all, I was left alone...From the other side, if I won't go, they will call me a coward…So I, I said, if he will try to kill me, I have a rifle too. And I have a gun. And I have a grenade in case I am captured alive. I always had a grenade. Mostly all of the partisans had grenades, because…it's easier to kill yourself when you are captured alive."
She kept a close eye on her comrade, who turned out to be loyal. Both Faye and her brother continued fighting with the partisans, and another brother also survived.
She was liberated in 1944, then joined the Russian Army, before becoming a photographer in Pinsk in Belarus. She married Morris Schulman, who had fought with another band of partisans, and the couple moved to a German Displaced Persons camp, where they smuggled weapons to the nascent Israeli army. In 1948, after failing to get papers to immigrate to Palestine and the birth of their daughter, the young family moved to Canada. Schulman first worked in a dress factory, and later became an artist working with oils and hand-tinted photographs—much as she had done for the Nazi officer who had pulled her out of the firing squad in 1942.
Schulman was always eager to use her story—and her photographic evidence of it—to prove that even in the worst of times, Jews had showed incredible bravery and heroism.
"I still have my camera. And I still have my boots. And I have my medals. And I have my certificates to show that it's real, and it's true. And there is nothing to be ashamed to be Jewish. There is something really to be proud, being a Jew."
Learn more about Faye's story, and those of other women resistance fighters, at "The Jewish 'Ghetto Girls' Who Fought the Nazis," a conversation between author Judy Batalion and writer and producer Nancy Spielberg, Wednesday. June 16 at 5 p.m. PDT. The event is being hosted by USC Shoah Foundation, in partnership with Writer's Bloc and Holocaust Museum LA.
Watch Faye Schulman's full-length testimony in the Visual History Archive online.
Read about resistance fighter Anna Heilman and Vladka Meed.
Like this article? Get our e-newsletter.
Be the first to learn about new articles and personal stories like the one you've just read.