Community Connections
LGBTQ Filmmaker Puts His Faith in 'Gifting The Story'
Fri, 06/25/2021 - 9:26am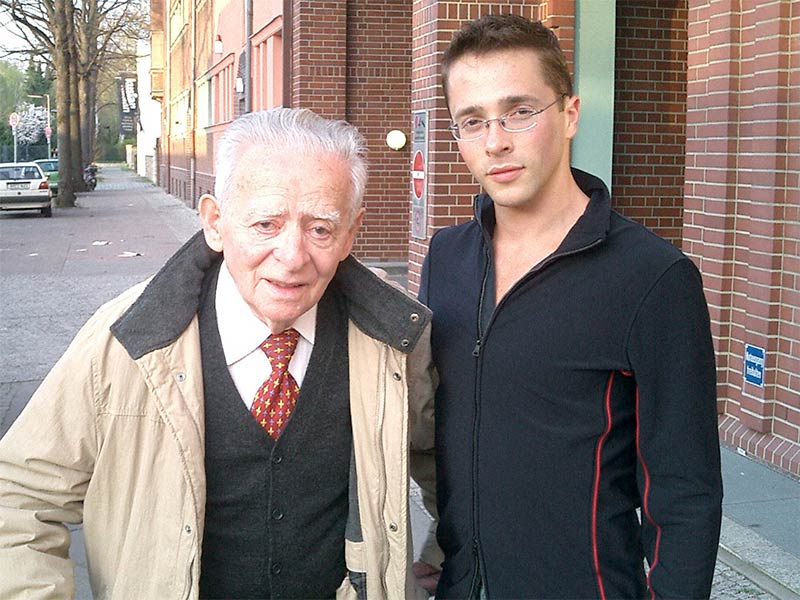 Actor, director, filmmaker and advocate Yuval David has a weapon of choice he employs to attract audiences and disarm would-be haters: a positive embrace of his story and a persistent belief in humanity.
In keynote addresses and on panels, in engaging with his thousands of social media followers, and in his person-on-the-street web productions, Yuval brings his full, open, exuberant self, daring both detractors and supporters to see his multi-layered complexity: He's an actor, an artist, a Jew, a gay man, an American, a Zionist, a progressive, an intergenerationally traumatized grandson of Holocaust survivors who can't help but see all the good the world holds.
"In everything I do, I try to affect the hearts and minds of those who are listening. It is about self-empowerment, creating a safe space and turning that into a brave space. By sharing your narrative, you are gifting the story to someone else to embrace and be inspired by," said Yuval, a USC Shoah Foundation supporter whose grandfather's testimony is contained in the Visual History Archive.
Yuval's acting credits include Days of Our Lives, Madame Secretary, The Michael J Fox Show, and dozens of theater, film, and television roles. But lately he has turned toward opening up spaces for people's stories. He is in the final stages of directing and producing the first part of a documentary film series, LGBTQ+R(eligion); the first installment, Wonderfully Made, will focus on Catholicism. His latest project, a web series called "One Actor Short," corrals random strangers in public places into acting in 10-minute improvised films where Yuval encourages them to create characters and stories that resonate with who they are. The first few episodes of this high-spirited production have already won dozens of awards.
But Yuval's persistent positivity has taken a beating lately as he has been on the receiving end of homophobic slurs from the right and—even more disturbing for him—antisemitic and anti-Zionist invective from the left and even parts of the LGBTQ community.
Nonetheless, he is determined to keep control of his own identity, especially in the LGBTQ world—a space he has always valued for its proactive, expansive inclusivity.
"We can't let people change our narrative and our story," he said. "We speak out, we speak up, we educate, we inform, and we proudly must be who we are."
He learned that pride from his grandfather, Yosef Bienenstock, who survived nine concentration camps.
Yuval grew up in the Washington D.C. area and spent every summer and winter break in Israel, where both sets of his grandparents lived and Yuval is a citizen.
In 2010, Yuval took an emotional trip with his grandfather to Germany. At the Sachsenhausen Concentration Camp, Yuval and his grandfather addressed tens of thousands of people at a commemoration of the 65th anniversary of liberation.
The next day, decompressing over schnapps at a café in Berlin, Yosef offered a life-affirming perspective to his grandson:
"He said, 'Yuvi, it doesn't matter who you love, or how you love, but it matters that you love, and that you are loved even more,'" Yuval recalled. Until then, he had never spoken openly with his grandfather about his sexuality, but that afternoon, Yuval and his grandfather talked for hours.
Yuval remembers being at his grandparents' home in Netanya in 1996 when his grandfather sat for a five-hour interview with USC Shoah Foundation.
Yosef Bienenstock was a watchmaker and jeweler in Wadowice, Poland, and when among the first Jews taken to a concentration camp in 1939, his Nazi captors dubbed him the Kunstmacher –the "artmaker." He was forced to work as a skilled laborer, and also fix his captors' watches, jewelry, and make presents for their girlfriends.
When ordered to build a food storage shed, Yosef installed a secret trap door on the side so he could steal food to distribute to starving prisoners. He built hiding places for children. It was while welding a roof on a women's barracks that he first met Tonya Blass. After Tonya was deported, Yosef used his contacts with Polish guards to locate her and send her an engagement gift: inside a box he crafted out of wood scraps, he sent a love poem, a drawing he paid two days-worth of bread to commission, and a ring he had fished out of a latrine.
After the war, Tonya—who had fought with partisans and been imprisoned in several camps—tracked down a weak and emaciated Yosef in a medical unit in Bergen-Belsen, a concentration camp that had been converted into a Displaced Person's camp. Soon after, the two were married in the camp. Yuval's family still has the box, the drawing, and the ring—enduring relics of hope, love, and resilience.
As a child and a teenager, Yuval spoke on panels or at events alongside his grandparents.
"I would tell audiences that these are not merely stories. These are not only the stories of my grandparents, or of Holocaust survivors, or the stories of those who didn't have the opportunity to survive and tell their own stories. These are my stories. These are our people's stories. This is where I come from," he said. "This is who I am."
For more on Yuval David, and his work, go to
www.YuvalDavid.com
YouTube.com/YuvalDavid
Instagram.com/Yuval_David_
Facebook.com/YuvalDavid
Twitter.com/YuvalDavid
Learn more about the LGBTQ+ community in the Visual History Archive
Like this article? Get our e-newsletter.
Be the first to learn about new articles and personal stories like the one you've just read.