Community Connections
It Took 50 Years For Father and Son to Tell This Story Together
How Schindler's List and a trip to Israel brought a long-buried Holocaust tale to light
Mon, 08/30/2021 - 12:19pm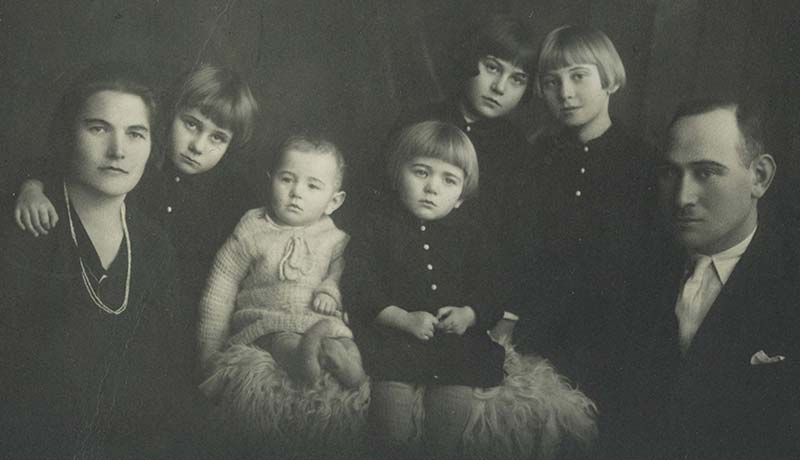 On an autumn day in 1998, Joel Poremba waited in a bedroom with his wife and infant son as his father sat in his Southern California living room with an interviewer from USC Shoah Foundation. This was the first time Nathan Poremba was talking about how he survived the Holocaust as a child.
Restless and curious, Joel snuck out and poked his head into the living room doorway.
"I said to my mother 'I want to go back to Miechów.' I said to her 'I want to live. I don't want to die,'" Joel heard his father tell the interviewer. Then silence, as his father swallowed, trying to push past the tears. "My mother had a tear in her eyes ... She called my sister. She said, 'here is the money, go.'" Joel waited as his father wiped his eyes and gulped back sobs.
"This was the last time I saw my mother," he finally said.
It was the first time Joel had ever seen his father cry.
For Joel's entire childhood, his father, Nathan Poremba, had deflected Joel's persistent questions about World War II. As a young adult, Joel obsessively studied the Holocaust, reading books and seeing films. But after hearing that short snippet from his father—two minutes out of a four-hour interview—Joel could hear no more. He didn't think he could absorb such sadness. He could not carry the knowledge that his father—a successful businessman, a loving husband and father of two, a seemingly happy person—had borne such trauma.
But the interview had the opposite effect on Nathan, who, after speaking of his family and his survival for the first time, was eager to further release the stories and emotions he had suppressed for half a century.
It would take Joel another 22 years to watch the tape and then talk with his father for the first time about his experiences during the Holocaust.
In July 2021, Joel, an attorney and a father of two, published My Name is Staszek Surdel, The Improbable Holocaust Survival of Nathan Poremba, the Last Jew of Wieliczka (Sunbury Press).
The transformation for Joel came in 2018 on his first trip to Israel, a tour organized by a Jewish spiritual outreach group that focused on living a robust Jewish life as a positive response to national trauma.
A speaker on the tour, Charlie Harary, shared an anecdote about an emotional conversation he had been having with his grandfather, when his son interrupted the old man because he needed help building a Lego set. Charlie's grandfather stopped to play with his great-grandson before continuing his story.
"Charlie's message was clear: Remember the horrors of the Holocaust, yes, but when called upon, be available to live life to the fullest without suffering the past," Joel wrote in the epilogue to his book.
Joel came home from Israel determined to hear, and tell, his father's story.
***
Nathan's first moments of being able to speak about the Holocaust had come in 1993, a full 25 years before Joel's trip to Israel. It happened as the Poremba family was leaving a movie theater after seeing Schindler's List, and Nathan shared that when he was 12, he had snuck in and out of the Krakow ghetto to get food, taking cover amid the crowd of Jews going to Oskar Schindler's enamel factory every day.
It was the first time Nathan had volunteered any personal information about his experience, but after that he shut down again, until finally agreeing to sit for the interview with USC Shoah Foundation, which was founded by Steven Spielberg in 1994 after he filmed Schindler's List.
Nathan was nine years old in 1939 when he watched the Nazis cart his father away from their Polish town of Wieliczka in the second week of the war. Later that day he learned that the Nazis had executed his father and dozens of other Jewish men in a nearby forest. For the next few years, Nathan, along with his mother and four older sisters, scrambled to stay alive, refusing to wear the Star of David armband so that he could sneak around the city to buy food for the family. But when deportations to concentration camps began in 1942, Nathan fled with the youngest of his sisters.
Sometimes together, sometimes apart, they lived in several ghettos, including in Krakow. Nathan took on the identity of a gentile boy, Staszek Surdel, and worked as a shoemaker's apprentice. Then, after the Gestapo arrested a fellow shop employee, he found work on a farm in the countryside, where it seemed safer.
But an altercation with a German soldier at the farm landed him in the Bergen-Belsen Concentration Camp and then in Plazsów Labor Camp—still under his false identity. The farmer for whom he had worked secured Nathan's release after a few weeks, and he stayed on the farm until the end of the war in 1945. Nathan was 15 when the war ended. His parents, three of his sisters, and many other relatives had been killed.
Joel watched the tape of his father's USC Shoah Foundation testimony in 2018, alone on his couch with a box of tissues. As he prepared to interview his father for his book, he worried that Nathan would be as emotionally broken up as he had been during much of his taped testimony.
"But the Shoah Foundation interview had liberated him. It was therapeutic, and he was able to get through the interview with me without a tear and revealed much more than he had in that first interview 20 years before," Joel said.
Joel still finds it emotionally draining to talk about his father's experience, so he's glad he can just hand the book over to anyone who is interested. My Name is Staszek Surdel is available through most booksellers and at libraries and Holocaust museums around the world.
Joel's wife, Sari, and children, Noah and Gabi, read the book and understood, for the first time, the full picture of their father-in-law's and grandfather's tenacity, resourcefulness, and outright heroism. And Joel's mother learned things about her husband that she had never known.
Nathan is now on hospice and has not been able to read the book.
But, in 2019, he talked about how meaningful it was to have his son write this book.
"I never told the complete story of my survival until 2019 when I shared it with my son, Joel, who was ready to hear it. Why did I hold it for so long? I will tell you. To share this painful part of my life is to reveal a period where I lost my family, was victimized, hunted and left without power over my life. To talk about it exposes me at my lowest. But as I look back today, I realize I did have power and I used it to stay alive. In telling my entire story, I no longer feel a victim's shame and instead know I have made proud my parents, sisters, and the Jews of Wieliczka, Poland."
---
To learn more about Nathan Poremba's Holocaust story, please visit www.joelporemba.com.
Learn more about the making of Schindler's List and the founding of USC Shoah Foundation.
Have you connected to family or your history through our Visual History Archive? Share your story here!
Like this article? Get our e-newsletter.
Be the first to learn about new articles and personal stories like the one you've just read.