Re-designed IWitness Site Brings Better, Faster, More User-Friendly Features to Students and Educators
Wed, 09/29/2021 - 5:15pm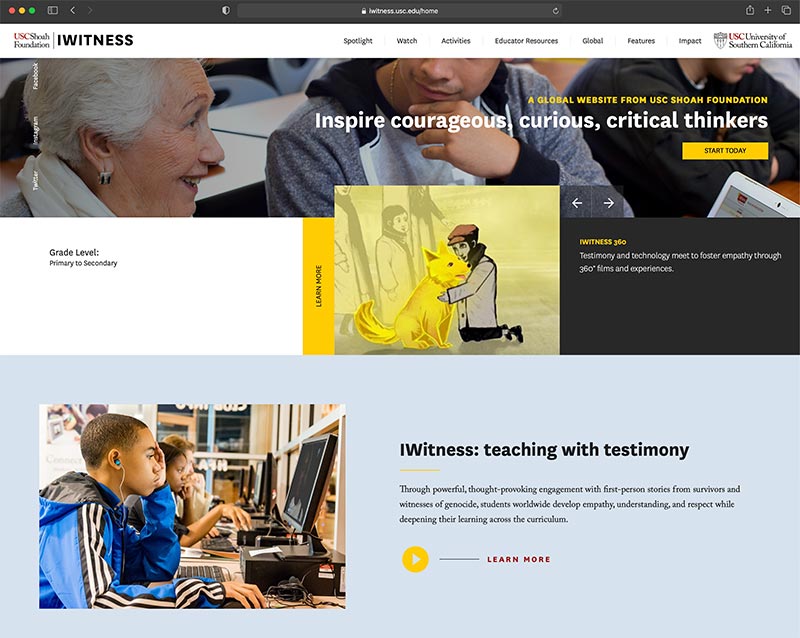 USC Shoah Foundation today launches a redesigned IWitness website reimagined to make teaching with testimony more effective, approachable and cutting-edge.
The new site features all of the functionality educators have praised in IWitness—only better, faster, and more user-friendly.
First launched in 2009, IWitness was designed as an online resource for secondary school teachers and students, providing access to the video testimonies of genocide eyewitnesses from the Institute's archive along with educational tools and supporting resources.
Dr. Kori Street, USC Shoah Foundation's Senior Director of Programs and Operations, described how the new platform meets the evolving needs of educators and students.
"In my 10-year tenure with USC Shoah Foundation, I've watched IWitness grow from 10 activities to 440, from 200 Watch page clips to 1,500, from one language to 16," they said. "The Institute has proven there's a place for testimony in every classroom, and this new IWitness has been rebuilt from the ground up to fulfill that promise."
The platform has since become a staple in classrooms around the world—reaching an estimated 2.3 million students—and currently houses more than 3,500 full testimonies from the USC Shoah Foundation's Visual History Archive.
All existing teacher and student work from the original site will be retained and carried over into the new platform.
"It's a new experience featuring award-winning content and is a vibrant educational resource optimized to meet the needs of students and teachers everywhere," said Lesly Culp, Head of Programs in Education at USC Shoah Foundation. "It has lessons for every kind of classroom."
The Institute's Education team will host a special 30-minute webinar introducing the new features and layout of the redesigned IWitness on Thursday, October 7, from 4-4:30pm PT.
Like this article? Get our e-newsletter.
Be the first to learn about new articles and personal stories like the one you've just read.