Community Connections
He Fought the Nazis, Survived the Communists, and Just Celebrated his 100th Birthday—in Brooklyn
Tue, 10/05/2021 - 12:37pm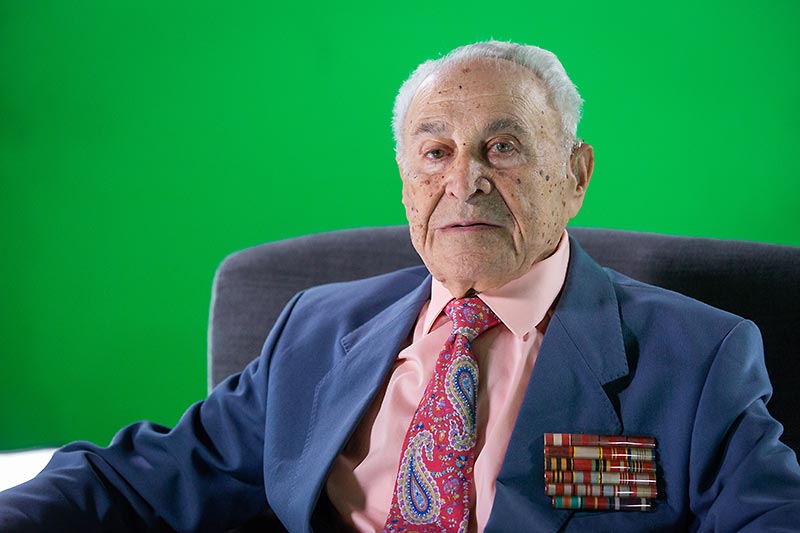 Until he retired from the Soviet Red Army in 1967, Leonid Rozenberg carried the banner at the head of the semi-annual military parade in the city of Lugansk, in what is now Ukraine, with hundreds of fellow soldiers marching behind him and thousands of spectators cheering him on.
Although highly decorated – his chest was covered in medals – the honor of leading the parade was tainted for Leonid. During his 26 years in the Soviet military Leonid was never promoted beyond the rank of lieutenant colonel. The reason? He was a Jew.
But no honor was withheld when Leonid celebrated his 100th birthday last month in Brooklyn, New York, at a gathering that included his children, grandchildren, great grandchildren, city and state officials, and representatives from several veterans' organizations. Since immigrating to the United States in 1991, Leonid has become a leader in veterans' affairs, eager to speak about his experience and offer his expertise—and to lead the occasional parade.
Leonid recorded testimony with USC Shoah Foundation in 2019 at the age of 97 with support from Genesis Philanthropy Group. He spoke about losing his family in the Holocaust, fighting the German army, and living with Soviet antisemitism. He recorded a two-and-a-half hour video testimony for the Visual History Archive, and a few months later sat for another five days of interviews, answering more than 1,000 questions in front of 23 cameras as part of the Dimensions in Testimony collection of recorded interactive biographies. Leonid's is one of two Russian-language Dimensions in Testimony interviews in the 40-strong collection, and his likeness now converses with students in schools and youth organizations in the U.S., Russia, Ukraine, Israel, Latvia, and Lithuania, where the program is being beta-tested as part of USC Shoah Foundation's IWitness educational platform.
Born September 3, 1921 in Iziaslav and then raised in the town of Chervonoe, both in Zhitomir Oblast, which was then in the Ukranian region of the Soviet Union, Leonid finished high school and enrolled in artillery school in Kiev in 1939. He graduated at the beginning of June 1941 and was immediately deployed to the city of Lida near the border with Nazi-occupied Poland, where his unit came up against the German army that invaded the Soviet Union on June 22, 1941.
On June 25, Leonid and two fellow soldiers were surrounded by German soldiers. One of Leonid's comrades was killed immediately and the other was slightly wounded. Leonid sustained a serious injury to his left leg. He and his comrade were able to escape on horseback, and Leonid woke up the next day to find himself in a Red Army field hospital.
After recovering, Leonid returned to his unit to fight in the Battle of Caucasus, the Battle of Kursk, and the Battle of Dnieper. In 1944, he attained permission to search for his father, Boris, a veteran of the 1917-1922 Russian Civil war, who had been drafted into the Red Army in 1939.
After a long search, Leonid finally found his father's unit Near Bialystok, Poland. A captain brought him to his father, who sat tired and weakened in the corner of a dimly lit house. His father was shocked and overjoyed to see his son.
But the news his father told Leonid was devastating.
After the German invasion in June 1941, Leonid's father had returned to Ruzhin in Zhitomir, where the family was then living, to rescue Leonid's mother and siblings. But his mother, a pharmacist, refused to leave, saying the townspeople relied on her for medication.
The German army occupied Ruzhin the following month.
"In several rounds, they killed almost all Jews, including my mother, on September 10, 1941. They killed my sister, my little sister, and what was more they shot her in her bed. She was only seven years old. They killed my brother, who was 14 years old," Leonid said in his testimony.
German soldiers had marched most of the Jews of Ruzhin to forest near the town and shot them at the edge of three ravines. The Ukrainian police had accompanied the German soldiers to assist in the executions.
After receiving this horrifying news, Leonid returned to his unit and went on to fight in the Vistula-Oder Offensive. He marched into Berlin with his unit on May 2, 1945.
On May 6, Leonid and two friends came to the conquered Reichstag building, the seat of the deposed Nazi government. Leonid entered the badly damaged building while his friends waited outside. He climbed crumbling staircases to the third floor.
"The [Red Army] Victory Banner was fastened there with rope, a thick rope and a wire fastened around the banner. And I saw it, touched its shaft and held it. And I was sweating, recalling the moments, all those four years I went through the whole war. I stayed there for a while crying. And then I left. [My friends] Mogilevskii and Zykov came to me, 'What took you so long?' I said, 'So long? The war lasted for four years, and now I held the results of the war.'"
Leonid subsequently returned to his home region, where he reunited with his father and married his cousin, Esfir. Their daughter Flora was born in 1948 and their son Aleksandr followed in 1953. Until 1953, Leonid served with the occupying Soviet army in Germany and in areas that became the USSR. He then moved with his family to Moscow so he could attend the elite Frunze Military Academy, from which he graduated with high honors in 1956. The family then spent two years in the far Eastern region of Vladivostok before settling in Lugansk. Leonid retired from the Red Army as a lieutenant colonel in 1967, and the family then moved to Kiev, where Leonid led the city's department of civil protection. Leonid's father Boris died in Kiev at the age of 79.
When the Soviet Union crumbled in 1989, Aleksandr moved to Brooklyn and connected with a branch of the family that had immigrated to the United States in the early part of the century. Leonid, Esfir, and Flora and her family followed two years later. In Brighton Beach, where there is a large population of Jews from the former Soviet Union, Leonid joined Jewish organizations and became involved in veterans' affairs. As president of the Association of Brooklyn-based American Association of Veterans and Invalids of WWII from the Former Soviet Union, he advocated for veterans' rights.
At the age of 100, Leonid takes walks on the beach every day, and he cares for Esfir, who is 95 and bed bound.
At his 100th birthday celebration, and in his testimony, Leonid focused on the values that allowed him to withstand both Nazi brutality and Soviet antisemitism:
"The most important value is a human life. That's why, don't hurt anyone, don't insult anyone," he said in his testimony. "Do everything to support anyone who is in trouble."
Like this article? Get our e-newsletter.
Be the first to learn about new articles and personal stories like the one you've just read.