New Cohort of William P. Lauder Junior Interns Begins 2021-2022 Program
Fri, 11/19/2021 - 4:05pm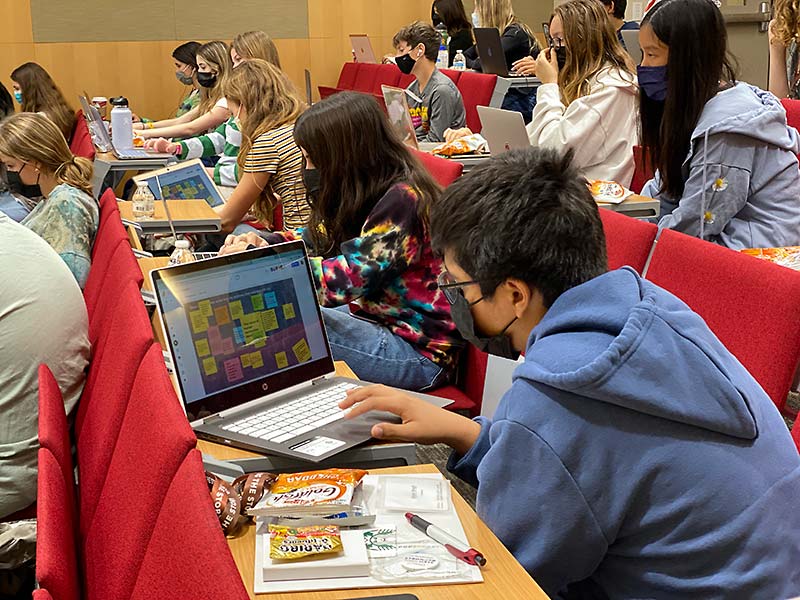 A cohort of forty-one new students and five returning Junior Intern Emissaries convened virtually on November 14 for the first session of the 2021-2022 William P. Lauder Junior Internship Program.
The highly selective program provides a dynamic and unique learning opportunity for students in 7th–11th grades to engage with testimonies–personal stories–from survivors and witnesses of genocide to develop their own voice, learn to recognize the patterns and impact of hate, and gain work experience and academic and digital skills.
USC Shoah Foundation Interim Director of Education, Lesly Culp described the transformative effect the instruction will have on the junior interns.
"By the end of the program, the William P. Lauder Junior Interns will have learned what it means to be a responsible participant in civil society as they develop the knowledge, skills and confidence to believe they have a role in creating positive change in their own lives and communities."
The students, selected based on their diverse backgrounds and academic skills, hail from states across the country including California, Florida, Indiana, New York, and Texas.
Maximiliano Gonzalez-Santamaria, an 11th Grade student from Lancaster, Texas, reflected on the composition of the cohort.
"The one thing that surprised me is the amount of personality and diversity here in the program," he said.  "Everyone comes from a different place and a different time and it's just amazing to see that all on one Zoom."
The five returning Junior Intern Emissaries serve as student leaders of the program and support junior intern participants as mentors throughout the year. Their experience of the program from preceding years informs their confidence to assist program instructors and share the benefits they have gained from the program with students and educators.
Junior Intern Emissary Safia Bethune, an 11th grader from Rancho Palos Verdes, California, said participation in the program gives her a way in which she can make her voice heard.
"It is easy to feel as though one cannot do anything to change the injustices that they see occurring in the world, but my time participating in the program has allowed me to gain so much confidence in the value of my voice and has opened up so many doors and new opportunities for me," she said. "The William P. Lauder Junior Internship program has truly changed my life and, having been an emissary for the past few years, and being able to be a part of that change and education for other students, is such a fulfilling and amazing process."
This year's program is a hybrid experience, with local students from Southern California given the opportunity to attend in-person sessions once a month.
Some 350 students have participated in the program since its inception in 2014.
Like this article? Get our e-newsletter.
Be the first to learn about new articles and personal stories like the one you've just read.