The Willesden Project and The Conscious Kid Launch Hold on to Your Music Reading
Fri, 01/28/2022 - 11:00am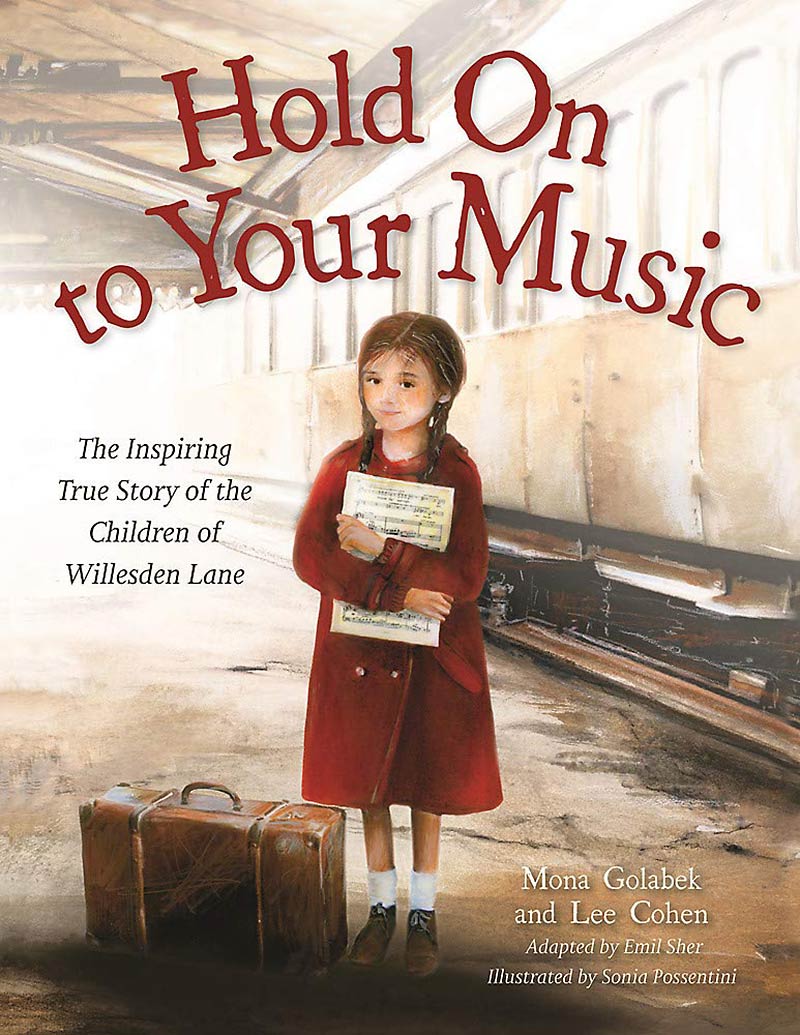 To commemorate International Holocaust Remembrance Day, USC Shoah Foundation, The Willesden Project, and The Conscious Kid today launch a video read-along of Hold on to Your Music, the children's book telling the story of Lisa Jura, a young Holocaust survivor who in 1938 escaped from Vienna on the Kindertransport and went on to become an acclaimed pianist in the United Kingdom.
The read-along, available on The Conscious Kid's website, features Lisa's daughter Mona Golabek—author of The Children of Willesden Lane books and herself an acclaimed concert pianist—giving a full reading of the animated story.
In a compelling passage from the book, Lisa's father seeks to explain to his daughter why her piano teacher was suddenly forced, as a result of Nazi edicts, to stop giving music lessons to Jews.
"When Lisa arrived home, she was heartbroken. She told her parents what her piano teacher had said. 'Many families like ours are going through painful times,' her father said. 'We are being made to feel as if being Jewish is a crime.'"
Another new resource of The Willesden Project—a partnership of USC Shoah Foundation, Hold On To Your Music and the Koret Foundation—the read-along was produced for children ages 4-7 and is the latest in a suite of innovative testimony-based educational offerings based on the acclaimed The Children of Willesden Lane books.
Along with the film, a range of linked educational resources provide teachers and caregivers ideas and different entry points to begin and continue the conversation about difficult topics such as family separation, prejudice and antisemitism.
"I am thrilled to share my mother's story with The Conscious Kid network.," Mona Golabek said. "We are facing such difficult times with the frightening rise of antisemitism and the many ways we feel divided from one another right now. This story shows the power of human kindness and personal resilience, and I hope inspires listeners with these important messages."
The USC Shoah Foundation and The Conscious Kid joined forces last year to develop and implement a series of grade K-5 resources and education initiatives to counter antisemitism and raise awareness to appreciate cultural, ethnic and religious diversity.
Through the partnership, The Conscious Kid is making these resources—including the Hold on to Your Music read-along—available to their audience of more than two million Instagram followers and through their YouTube channel and popular website.
Today's release follows The Conscious Kid's premiering of Music Dreams, an animated short film story also telling the story of Lisa Jura, which has been viewed over 10,000 times on The Conscious Kid platforms since its release last month.
Set in 2021, Music Dreams centers on Carlos, a young refugee separated from his family who is whisked back to late-1930s Europe, where he meets Lisa. Carlos then accompanies Lisa as she travels via the Kindertransport to London, where she finds a home at a hostel on Willesden Lane and pursues her musical dreams.
Lesly Culp, Head of Programs in Education at USC Shoah Foundation, said the read-along works to support younger students to connect with a range of social emotional concepts. 
"The story explores self and family identity, and connection and care for others in times of hardship, fear, and separation.  These are experiences of so many children, and with guided support from their caregivers, we hope they can use the story as a launch point to explore productively these emotions and experiences to help support their overall well-being."
Like this article? Get our e-newsletter.
Be the first to learn about new articles and personal stories like the one you've just read.