Dimensions in Testimony in IWitness Pilot in South Africa Draws Praise from Students, Educators—and Interview Subject Pinchas Gutter
Wed, 02/16/2022 - 2:15pm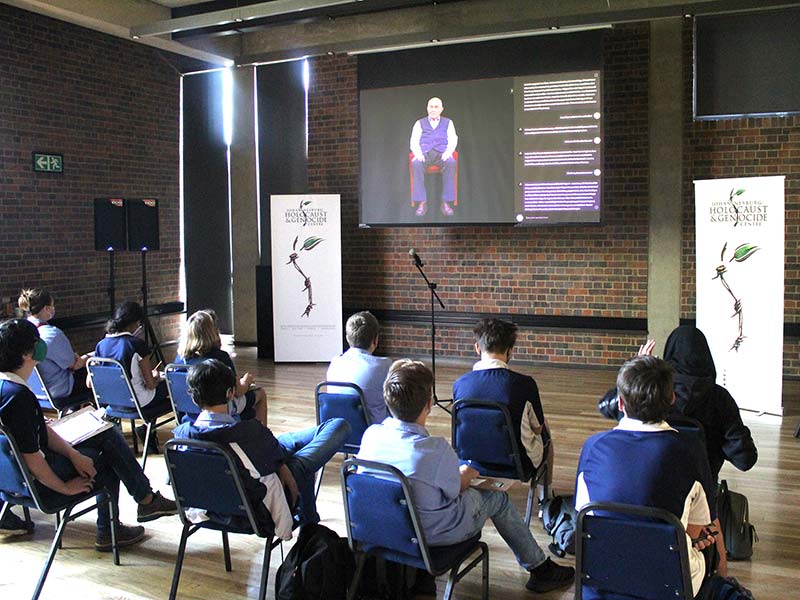 "I am so sorry for everything you have been through, but thank you for trying to educate us and make something out of your experience"
"You are better than a war hero, because you survived"
"Thank you for sharing your experience and helping me learn about your past"
These are just a few of the messages directed to Holocaust Survivor and Educator Pinchas Gutter by students after taking part in pilot demonstrations of the Dimensions in Testimony (DiT) in IWitness education program in South Africa earlier this month.
Making DiT accessible at no-cost to educators and students through IWitness, USC Shoah Foundation's globally accessible educational website, provides students anywhere in the world with the opportunity to have a conversational experience with survivors of the Holocaust and other witnesses to history.
And at the Holocaust & Genocide Centres in Johannesburg and Durban, that's exactly what students did, with a total of 400 learners interfacing with an interactive recorded video of Pinchas, a Jewish survivor of six Nazi concentration camps.
Catherine Boyd, education manager with the Johannesburg Holocaust & Genocide Centre, said students interacted comfortably and easily with the digital format.
"The students are more at ease with this kind of interaction than the older generations. I felt that although there is a different kind of connection when a survivor is in the room with learners, the digital format allowed a less guarded questioning from the students," Boyd said.
"They were able to interrogate questions further or ask them again if they were misunderstood. It was also clear that they were asking questions that really interested them or they were curious about, and this guided the conversation," she added.
Claudia Blythe, education manager with the Durban Holocaust & Genocide Centre, said DiT in IWitness was like nothing else the center has ever used to tell the story of the Holocaust.
"Sadly, there are no longer survivors living in Durban, and yet we have the opportunity to have powerful conversations with learners that preserve this oral testimony in perpetuity," Blythe said.
"We have watched the faces of learners as they receive answers to their questions – they are surprised, heartbroken, laughing with Pinchas, angry at injustice, moved to tears. We have seen learners erupt into applause, on the edge of their seats and refusing to go home until they have the opportunity to ask their question. This is a teaching tool that fully encompasses what Holocaust education should be about – a learner centred experience developing empathy and an understanding of the inherent value of all human beings," she added.
So how does Pinchas, now living in Toronto, Canada, feel about interacting with South African learners halfway across the world?
"It is both with some amazement and a very great feeling of satisfaction that I know that students so far away can have that kind of interaction with 'me' and learn something about the Holocaust and gain understanding through hearing about my experiences from me," Pinchas said.
While individual online DiT interviews with Pinchas have been available since 2020 thanks to the USC Shoah Foundation IWitness education website, the "Conversation with Pinchas Gutter" events in South Africa were the first time a DiT experience has been broadcast to larger groups through IWitness.
The lesson frameworks for the events in Durban and Johannesburg were designed and developed by the USC Shoah Foundation Education team with input from the South African Holocaust Museums Consortium, which includes the Holocaust & Genocide Centres of Cape Town, Durban, and Johannesburg. The learning content was framed using the National Curriculum for the Republic of South Africa to ensure it aligned with teacher expectations. 
Dimensions in Testimony was developed in 2014 in association with the Illinois Holocaust Museum and Education Center, with technology by USC Institute for Creative Technologies and concept by Conscience Display. Integration in IWitness is made possible through the generous support of the Snider Foundation.
To date, more than 50 DiT interviews have been conducted in nine languages across eight partnership countries.
USC Shoah Foundation and the South African Holocaust Museums Consortium are now in the process of evaluating and assessing the Durban and Johannesburg sessions and planning for a third session with school children in Cape Town.
"This innovation revolutionizes Holocaust testimony-based education," said Lesly Culp, Head of Programs in Education at USC Shoah Foundation. "Making these interactive testimonies available via IWitness and through our partnerships, provides innovative and generative learning opportunities for students around the world."
From his vantage point in Toronto, Pinchas said that DiT technology helps bridge more than just geographic distance. It also bridges time.
"My way of teaching is to describe the history of the Holocaust in such a way to take in also what is happening at the moment and to try to impart an optimism for the future that these youngsters and others should know about it," Pinchas said. "Hopefully, they will do something with it to make the world a better place in the future."
Dimensions in Testimony, along with several other learning resources including biographical and historical information, is now available at no cost at this IWitness page.
Like this article? Get our e-newsletter.
Be the first to learn about new articles and personal stories like the one you've just read.