The Starling Lab for Data Integrity Announces Inaugural Starling Journalism Fellows
Tue, 03/15/2022 - 11:06am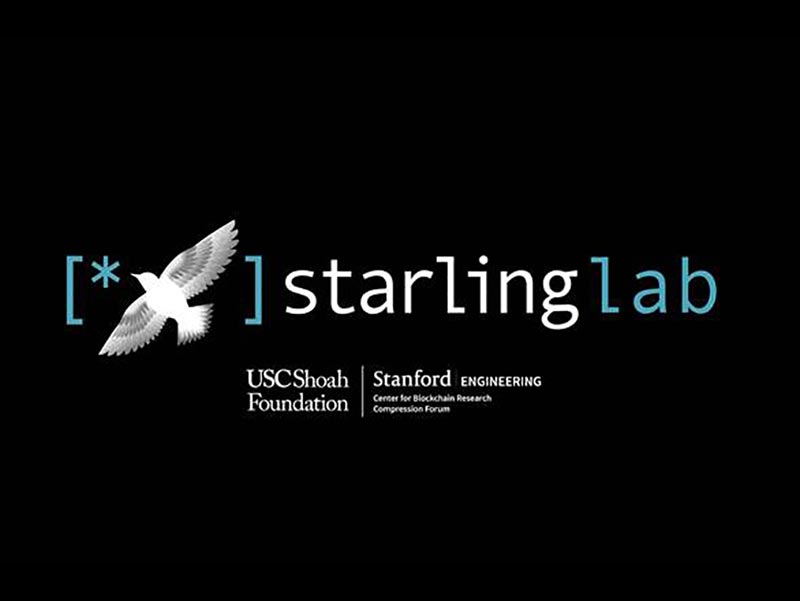 The Starling Lab for Data Integrity (Starling Lab) today announced its inaugural class of Starling Journalism research fellows. The annual fellowship helps leading journalists from around the world use the latest advances in cryptography and Web3 technologies to protect the integrity and safety of digital content, as well as individuals working in and around the media. In an era of rampant mis- and disinformation, this timely program will apply in-field research to explore how to restore trust in digital media and underscore the legacy values of journalism.
The fellows will engage in six months of research, training and mentorship, learning and mastering the new technologies, culminating in the publication of articles that use the Starling Lab's groundbreaking data authentication framework and refine its possibilities. These open source tools and principles have been developed to addresses three core challenges in tracking the provenance of digital content:
1) How to securely capture digital content (photos, video, audio and data); 
2) How to securely store digital content; and
3) How to verify the authenticity of that content.
The Starling Lab has already deployed this framework with newsrooms to research the viability of these new methods and refine them alongside practitioners and experts. Notably, last year the Starling Lab worked with Reuters to create a next generation archive that stored newswire photos documenting each of the 78 days of the U.S. presidential transition.
The Starling Journalism Fellowship combines top experts in distributed systems, digital content preservation and multimedia journalism from two of the premier universities in the field, Stanford University and the University of Southern California (USC). 
At Stanford, Tsachy Weissman, Professor of Electrical Engineering and Founding Director of the Stanford Compression Forum, and Dan Boneh, Professor of Computer Science, Electrical Engineering and co-director Stanford Center for Blockchain Research, are the faculty members overseeing the Lab.
At USC, Kori Street, Interim Finci-Viterbi Executive Director Chair of USC Shoah Foundation and Sam Gustman, Chief Technology Officer of USC Shoah Foundation and Associate Dean of the USC Libraries will work in concert with faculty at the USC Annenberg School for Communication and Journalism to provide a unique experience that combines best practices from journalism and historic preservation.
The Starling Journalism team includes Starling Lab Founding Director Jonathan Dotan and will be led by Journalism Fellowship Director Ann Grimes, a veteran journalist and former Director of Stanford's Graduate Program in Journalism.
Executive Editor Sophia Jones, an award-winning investigative journalist, will guide the cohort's in-field activities and work with publishers as they deploy the Starling framework methods and technologies.
"We are excited to welcome our 2022 Journalism Fellows to the Starling Lab," Grimes said. "Their work will help spark a vital conversation on how cutting-edge authentication technologies can track the provenance of digital content and reduce information uncertainty."
The Lab's inaugural cohort of Starling Journalism Fellows, include:
Associated Press investigative journalist Garance Burke, who will explore social media capture and authentication protocols, as well as preservation strategies and decentralized storage solutions to support a team investigative series probing the global impacts of artificial intelligence technologies.
Bay City News photojournalist Harika Maddala and reporter Victoria Franco, who will create an authenticated "time capsule" of images documenting the Bay Area's homelessness crisis while transparently tracking data from relevant government agencies.
Independent Photojournalist Pablo Albarenga who will use authenticated camera capture tools to better secure metadata at source, for a project that explores the disinformation landscape in Brazil and how it affects indigenous people impacted by climate change.
KQED reporter Lisa Pickoff-White and Big Local data journalist Dilcia Mercedes, who will use authentication methods to track patterns and detect gaps in official police misconduct and use-of-force reports.
NPR member station WHYY podcast host and contributor Malcolm Burnley, also an adjunct professor, Temple University Klein College of Media and Communications, who will assist in the collection of audio stories from individuals who covered the 2020-2021 racial justice movement, and aid in creating an archive to store ephemeral audio/video captured during the protests.
Amplifier.org Founder and Creative Director Aaron Huey, who will explore and map the Web3 ecosystem for visual applications that can be used in educational curricula at the professional, collegiate and high school levels.
The Starling Lab works to catalyze journalists, academics and technologists to collaborate on impact-oriented prototypes. Rather than endorsing specific technologies, fellows will research and assess applications of new technologies to understand how they impact new forms of digital news reporting.
Applications for the 2022-2023 Fellowships will open in May. 
Jointly developed by Stanford University's Department of Electrical Engineering and USC Shoah Foundation, Starling is innovating with the latest open source cryptographic methods, decentralized web protocols and cutting edge storage technologies to meet the technical and ethical challenges of establishing trust in digital content. The Lab, which is supported by a multi-year sponsored research agreement, has developed a framework that empowers organizations to securely capture, store and verify digital content. Starling represents a ground-breaking methodology in the fight against the spread of misinformation by prototyping open-source tools, best practices and case studies that help to reduce information uncertainty in digital media. With applications across news media, historical preservation and the law, the potential use cases for the Starling Framework are numerous.
The Department of Electrical Engineering (EE) at Stanford innovates by conducting fundamental and applied research to develop physical technologies, hardware and software systems, and information technologies. Throughout its 125-year history, EE at Stanford has supported innovation and entrepreneurship that helped build Silicon Valley, from the invention of microprocessors to public-key cryptography to wireless technologies. EE's faculty and students continue to advance the state-of-the-art, define new directions for electrical engineering, and address critical societal challenges.
USC Shoah Foundation – The Institute for Visual History and Education develops empathy, understanding and respect through testimony, using its Visual History Archive of more than 55,000 video testimonies, academic programs and partnerships across USC and 170 universities. USC Shoah Foundation's award-winning, interactive IWitness education program, research and materials are accessed in museums and universities, cited by government leaders and NGOs, and taught in classrooms around the world. Now in its third decade, USC Shoah Foundation reaches millions of people on six continents from its home at the University of Southern California.
For more information, please see: https://starlinglab.org
Introducing: The Starling Framework for Data Integrity from Starling Lab on Vimeo.
Like this article? Get our e-newsletter.
Be the first to learn about new articles and personal stories like the one you've just read.