USC Shoah Foundation Mourns the Passing of Survivor, Educator and Friend Helen Fagin
Fri, 03/18/2022 - 5:05pm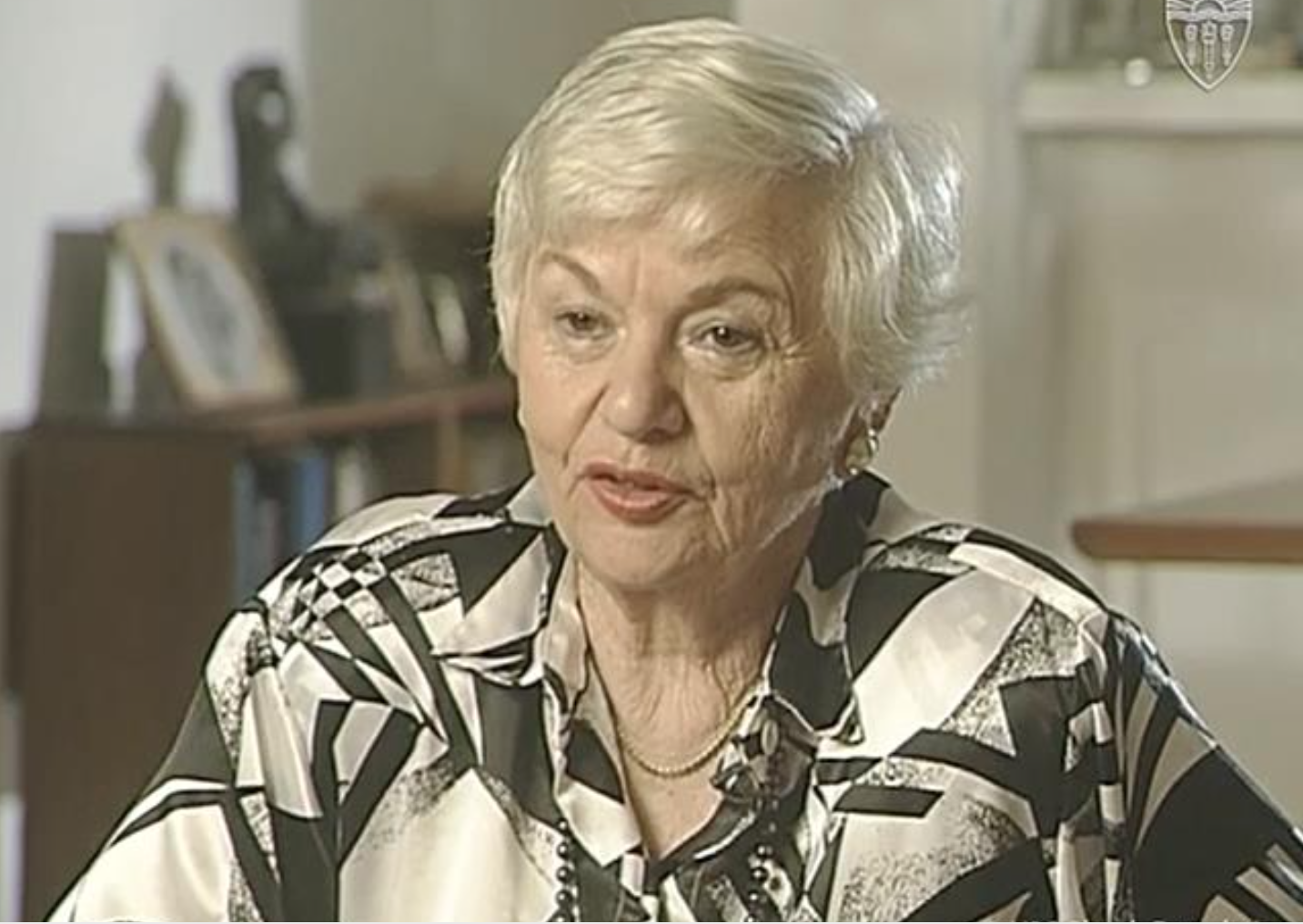 USC Shoah Foundation mourns the passing of our friend Helen Fagin, who has passed away in Sarasota, Florida at age 104.
A Holocaust survivor, English professor and director of Judaic Studies at the University of Miami, Helen received numerous awards over her long career for her work in promoting tolerance, and in 1994 was invited by President Clinton to be on the advisory board for the World War II Memorial.
Helen was born February 1, 1922, to Ewa and Soloman Neimark in Radomsko, Poland. She had an older sister, Wanda, and a younger sister, Terry. Her father owned a department store as well as the apartment above it, where the family lived.
After graduating high school, Helen attended the Jagiellonian University in Krakow and remembers that she and the other Jewish students were often forced to stand in their classes and were not allowed to wear clothing that had the name of the university printed on it.
On September 1, 1939, when Germany invaded Poland, the family heard bombings in the outskirts of Radomsko. Within a couple of months, the German authorities had turned the town into a ghetto. Helen, who was seventeen at the time, set up a clandestine school and taught her younger sister and other children whatever she remembered from her own education including lessons in Latin and geography.
In October 1942, Helen's parents were taken away in a raid while Helen and her two sisters managed to hide. They never saw their parents again.
Soon after, Helen's sisters escaped from the ghetto with the help of the underground while Helen remained behind. In January 1943, Helen was selected for deportation when the ghetto was being liquidated, but she managed to escape on the march to the railroad station and find her younger sister Terry. With the help of the underground, Wanda and Helen were able to secure false identity papers and jobs and Terry hid in a Catholic orphanage. After months of living under false identities, the three sisters ended up together in Busko, Poland where they were liberated by the Soviet Army.
After liberation the sisters returned to Radomsko and were able to immigrate to the United States in 1946. On May 15, 1947, Helen went to a dance in New York City where she met her future husband, Sidney Fagin.
Helen and Sidney married on November 14, 1948, and had two children, Judith and Gary. In 1951, the family moved to Miami, Florida, and Helen went back to school and earned a Ph.D. from the University of Miami where she became a professor of English and the director of Judaic Studies.
In 1996, Helen gave testimony to USC Shoah Foundation. In this clip she discusses her efforts to educate fellow inhabitants of the Radomsko ghetto in Poland. https://sfi.usc.edu/content/helen-fagin-education-ghetto
Portions of the interview were later used in the Echoes & Reflections lesson plans, as well as in a classroom-ready IWitness activity about Helen which can be seen here. https://iwitness.usc.edu/activities/211
Like this article? Get our e-newsletter.
Be the first to learn about new articles and personal stories like the one you've just read.