Remembering Vera Gissing
Fri, 03/25/2022 - 5:45pm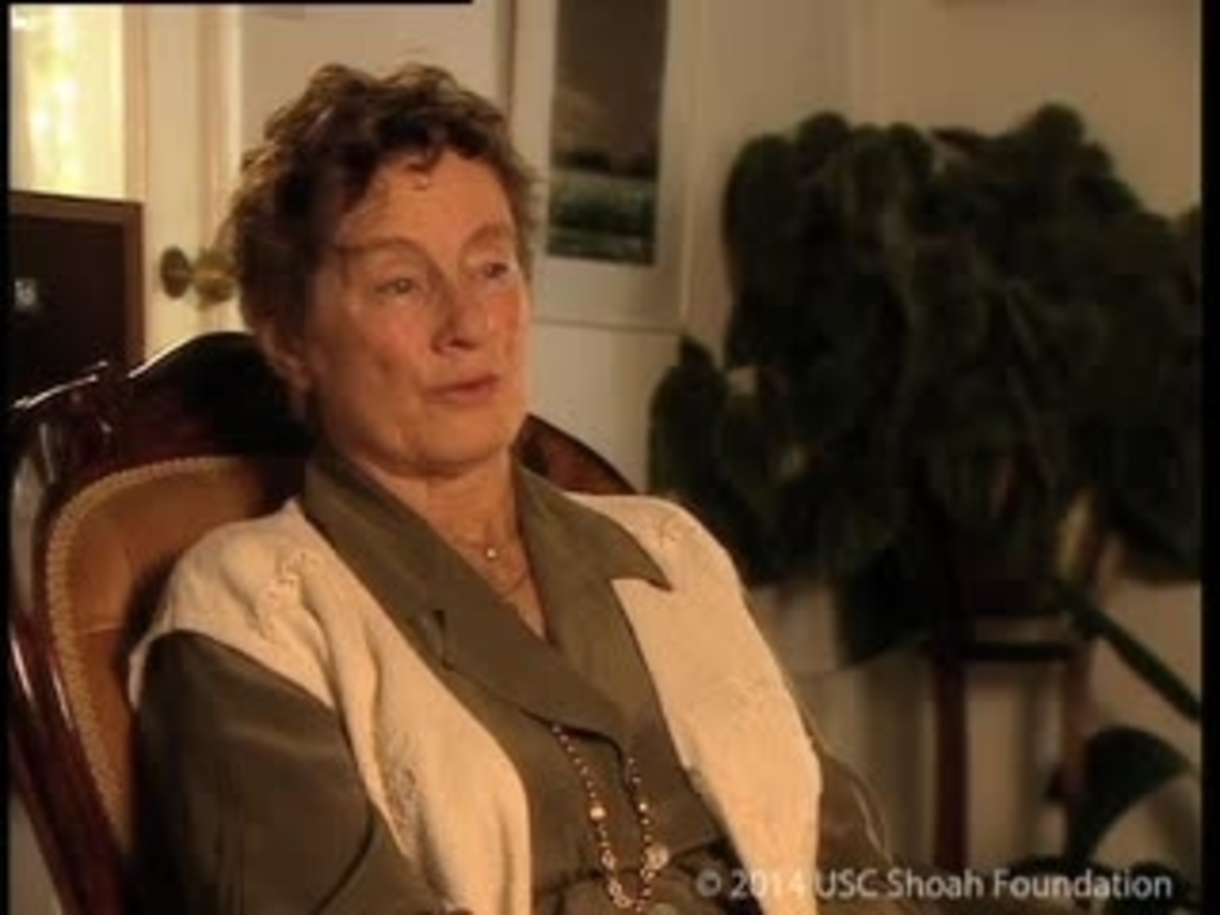 USC Shoah Foundation mourns the passing of our friend Vera Gissing, who died March 12 in Berkshire, England at age 93. Vera will be remembered for her extraordinary life, which included escaping Prague in 1939 on one of the last Kindertransport trains to make it out of Czechoslovakia before the outbreak of World War II.
Vera Gissing (born Vera Diamantova), daughter of Karel and Irma, was born on July 4, 1928 in Prague, Czechoslovakia (now Czech Republic). Her father owned a wine and spirits business in Celakovice, near Prague, and her mother ran the business office. Vera was a student at the local Gymnasium (high school) and was very proud to be a Czech citizen. She had a sister, Eva, four years her senior.
On March 15, 1939, Celakovice was occupied by the German armed forces. Shortly after, the family was forced to house a newly appointed town commandant who subjected the family to brutal treatment.
Unbeknownst to the rest of the family, Irma had registered Vera and Eva for the Kindertransport, the organized movement of refugee children, most of them Jewish, from Germany, Austria, and Czechoslovakia to Great Britain.
The sisters escaped to Great Britain in June 1939, leaving their parents behind. They were separated upon arrival. Vera was placed in a foster family in Liverpool, and Eva went to a school in Dorset. While in Liverpool, Vera managed to get in touch with Edvard Benes, who had been the President of Czechoslovakia from 1935-1938. With Benes' help, Vera started attending a school for Czech refugee children in England, and later in Wales. Vera was in Wales when the war ended in 1945.
She later learned that her mother and father were killed in concentration camps.
Vera returned to Prague to study, and she became a literary translator. She later moved back to England, where she married Michael Gissing in 1949. Vera and Michael had three children and four grandchildren.
Vera freelanced as an interpreter, translator and editor for various British publishers, and wrote children's books and an autobiography, Pearls of Childhood (1988). Vera's story has been serialized on Czech radio and has become the subject of several television documentaries.
She is known for her work on The Power of Good: Nicholas Winton (2002), All My Loved Ones (1999), and Into the Arms of Strangers: Stories of the Kindertransport (2000). The Power of Good won the 2002 International Emmy for Best TV Documentary.
The Czechoslovakian Kindertransport that saved the lives of 669 Jewish children
was organized by Nicholas Winton, at the time a young British stockbroker. Winton's heroic actions were not known publicly until 1988, when his wife Grete found his scrapbook with documents and names of rescued children from the war in their attic. It was at that time that Vera first learned of Winton's role in saving her life. The pair were subsequently introduced on a popular UK television show at what was the beginning of a long friendship.
Vera shared her story with USC Shoah Foundation in 1996. Her testimony is now in the Visual History Archive and is featured in the IWitness Activity "From the Mother Who Will Never Forget You" – Understanding the Kindertransport. Here she reflects on her parents' decision to send she and her sister on the Kindertransport. https://www.youtube.com/watch?v=chDUTGxLNFY
In September 2013, Winton recorded his testimony for the Visual History Archive in the U.K. In this clip he described his motivation to arrange the Kindertransport rescues. 
Like this article? Get our e-newsletter.
Be the first to learn about new articles and personal stories like the one you've just read.