White House Screens The Survivor Film During Holocaust Remembrance Week Observances
Wed, 05/04/2022 - 2:56pm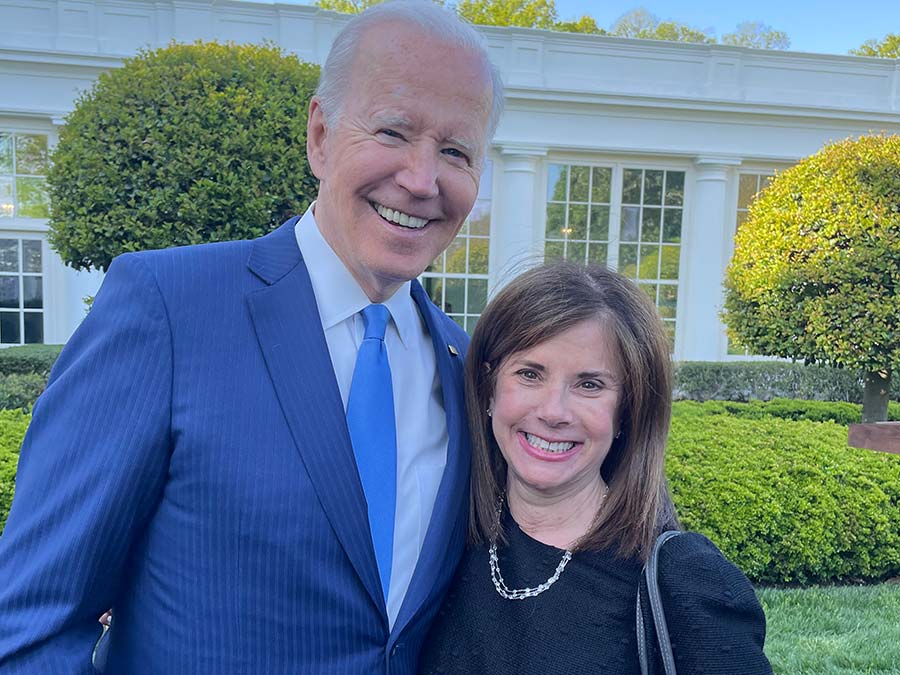 USC Shoah Foundation last week joined President Joe Biden and his wife Jill Biden for a screening of HBO's new Holocaust film The Survivor—the first official showing of a film in the White House theater since the president assumed office.
Held in honor of Yom HaShoah and Holocaust Remembrance Week, the evening began with a reception in the Jacqueline Kennedy Garden at which President Biden addressed an audience that included representatives of the American Jewish community, film lead actor Ben Foster, lead producer Matti Leshem and HBO representatives. The film's director, Barry Levinson, also spoke with attendees.
USC Shoah Foundation Director of Community Engagement Jayne Perilstein attended on behalf of the Institute. During the ceremony, Perilstein and President Biden bonded over their shared Scranton, Pa. roots.
"I was honored to represent USC Shoah Foundation at this historic event and to have the opportunity to meet President Biden," said Perilstein. "He was warm and personable, and we joked about still having coal dust under our fingernails from our days in Scranton. I hope this touchpoint will lead to future collaborations with the White House and other organizations represented that evening as we work to ensure testimony-based education reaches communities around the globe."
Barry Levinson's The Survivor is based on the true story of Jewish boxer Harry Haft who, after being sent to an Auschwitz sub-camp, is forced to fight fellow prisoners for the amusement of his captors. Harry's moral and physical strength are tested to the limits as he fights in order to survive.
The Survivor premiered on HBO on April 27 and is available for streaming on HBO Max.
USC Shoah Foundation worked closely with The Survivor team to bring the important film to the screen and received a production credit. Assistance included providing access to Haft's and other survivors' testimonies in the Visual History Archive, and consulting with the producers to ensure historical accuracy.
"USC Shoah Foundation is frequently approached by directors and producers to advise on film projects and when we were contacted by the producers of The Survivor, we were pleased to provide support and access to the Visual History Archive," said Kori Street, USC Shoah Foundation's Interim Finci-Viterbi Executive Director. "We felt this was an excellent opportunity to use testimony to inform a film that could contribute to our mission of developing empathy, understanding and respect through testimony."
---
Like this article? Get our e-newsletter.
Be the first to learn about new articles and personal stories like the one you've just read.