Junior Interns Program Concludes with Address from Jewish Survivor Dr. Elena Nightingale
Wed, 05/11/2022 - 2:01pm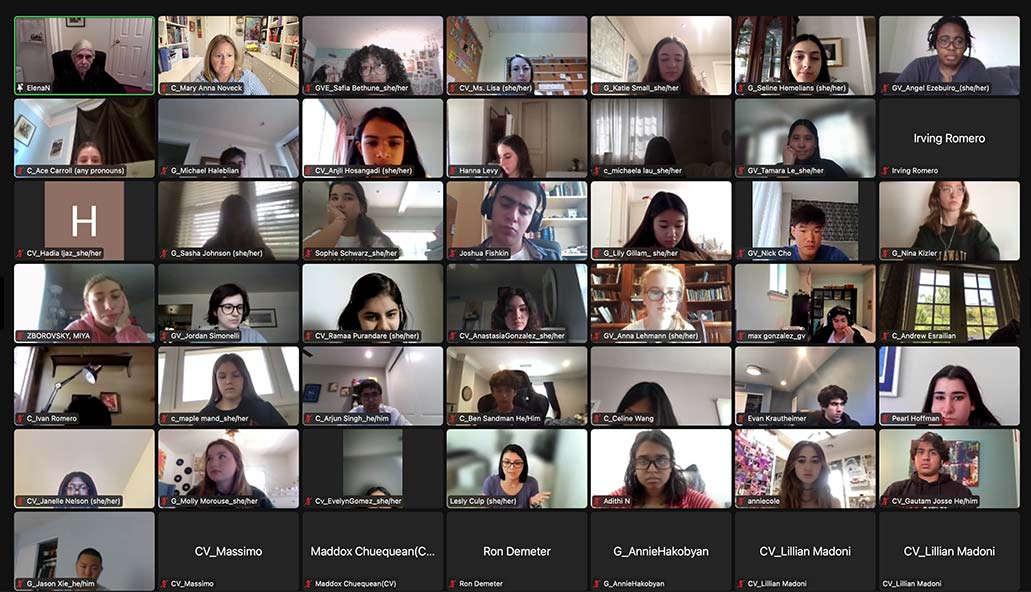 The 2021-2022 William P. Lauder Junior Interns program wrapped up last month with special guest Jewish Holocaust survivor Dr. Elena Nightingale calling on participants to speak up when confronted by discrimination and injustice.
"Young people's voices are listened to [and] have more power than you think. Don't be a bystander," the physician and human rights activist told the interns at the final session of the 10-week program. "Make your voices heard."
Ensuring that their voices are heard is exactly what the latest cohort in the highly selective program has been learning with the help of testimony from USC Shoah Foundation's Visual History Archive.
Since November of last year, the 41 high school students and five returning emissaries used IWitness, USC Shoah Foundation's award-winning educational website, to engage with testimony and develop agency to speak up for justice. The testimony they studied included the one given by Dr. Nightingale in 1997.
When speaking with the junior interns at the program's culminating session, Dr. Nightingale spoke at length about her work in the human rights field, which includes serving as Board Member with Amnesty International and participating in delegations to apartheid-era South Africa and Chile during the Military Junta of General Augusto Pinochet.
Lesly Culp, USC Shoah Foundation Acting Director of Education and Outreach, said that interacting with Dr. Nightingale was a unique opportunity for the interns to meet a survivor whose testimony they had watched during the program.
"Stories and testimonies from survivors like Elena are at the very heart of what we do with the junior interns," she said. "Engaging with stories of those who have faced and stood up against injustice cultivates their own voices and agency."
At the concluding session, Joshua Fishkin, a student from New Jersey, asked Dr. Nightingale for her thoughts on the contemporary rise in neo-fascist movements around the world.
"It's scary [and] it makes me very upset, because it's there and it's true and it's real," she said. "What is most important is the reaction to it by others. If there's no reaction and we simply become bystanders, the fascists will succeed again."
This year's William P. Lauder Junior Interns program was a hybrid experience, with local students from Southern California able to attend in-person and virtual sessions and students from 34 other states—including Florida, Indiana, New Jersey, New York, and Texas—joining virtually. Fifty nine percent of the latest cohort were students of color, and a similar percentage came from outside California. Sixty five percent of the interns attend public school, 33% attend private school, and two percent attend charter schools.
About Dr. Elena Nightingale
Elena Nightingale was born in 1932 in Livorno, Italy to a close-knit, middle-class family. One of four daughters with many Jewish and Christian friends, Elena was prohibited by Italy's antisemitic laws from attending public school. These same laws forced her father out of both his job and position in the military reserves.
In 1939, Elena's family decided to leave Italy. According to Nightingale, they applied to emigrate to many different countries, including Madagascar, but "nobody wanted to take in extra Jews."
Thanks to a generous relative the family eventually found refuge in the United States, where they settled in a small apartment in New York City. Despite the difficulty of starting school in a new country where she did not speak the language, Elena eventually learned English and went on to graduate summa cum laude from Barnard College and later a Doctor of Medicine from New York University. She went on to work as a pediatric geneticist and medical scholar and serve on the board of numerous human rights organizations. 
---
Watch Dr. Nightingale's full testimony on YouTube.
Like this article? Get our e-newsletter.
Be the first to learn about new articles and personal stories like the one you've just read.