Second Gentleman Douglas Emhoff Visits USC Shoah Foundation
Fri, 06/10/2022 - 1:24pm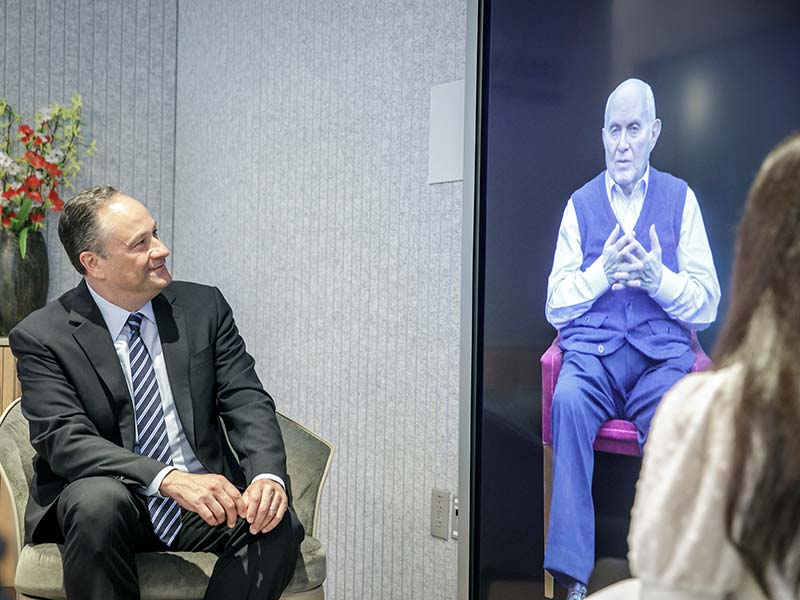 USC Shoah Foundation–the Institute for Visual History and Education (USC Shoah Foundation) on Wednesday welcomed Second Gentleman Douglas Emhoff to the Institute's global headquarters on the campus of the University of Southern California.  
Mr. Emhoff's visit included an extended conversation with the interactive biography of Holocaust survivor Pinchas Gutter, part of the Dimensions in Testimony program that enables visitors to ask questions to specially recorded interactive testimonies of Holocaust survivors and hear real-time responses in lifelike conversation. Minutes later, Mr. Emhoff spoke with Gutter live by videoconference from his home.
Mr. Emhoff, a graduate of USC Gould School of Law, is the first Jewish spouse to serve in the White House and the country's first Second Gentleman. In his role, he has kept his Jewish heritage and focus on Jewish issues at the fore, holding a seder and hanging a mezuzah on the front door of the Vice President's Residence for the first time. Mr. Emhoff has also devoted time to engaging with Jewish and other faith-based individuals and groups to work toward the Administration's goals of strengthening religious tolerance.
Upon arrival at the Institute, Mr. Emhoff was greeted by Dr. Kori Street, Interim Finci Viterbi Executive Director of USC Shoah Foundation, in the George and Irina Schaeffer Hall for Genocide Studies. The two viewed the recorded testimony of Helena Horowitz, a Holocaust survivor from Pilzno, Poland—the same town from which Mr. Emhoff's family immigrated to the United States. Mr. Emhoff heard how the young Horowitz survived the Holocaust by concealing her Jewish identity and later settled in New Jersey.
Dr. Street underlined USC Shoah Foundation's mission and global work of countering hate through testimony and thanked Mr. Emhoff for his visit.
"We feel honored to have hosted the Second Gentleman and encouraged by his words of support as we work to counter antisemitism and other forms of hatred around the world with testimony," Dr. Street said.
Dr. Street next led Mr. Emhoff to the Dimensions in Testimony installation featuring Gutter's interactive biography.  There, Dr. Street and Seline Hamelians, a rising senior at Crescenta Valley High School enrolled in the William P. Lauder Junior Internship Program, introduced the Second Gentleman to the interactive biography.
In a subsequent interview with the Jewish Telegraphic Agency, Mr. Emhoff said the program, "far exceeds what I thought it was going to be."  
"It's so impressive, the use of the technology," Mr. Emhoff said. "It's so real. And you really felt you were in the room—you really felt you were talking to people. It was so engaging."
Sam Gustman, Chief Technology Officer of USC Shoah Foundation, then discussed technological innovations and the potential for chatbot technologies like Dimensions in Testimony to be made available to larger audiences in the future.  
Mr. Emhoff next joined Dr. Street and Pedro Noguera, the Emery Stoops and Joyce King Stoops Dean of the USC Rossier School of Education, for the live video conference and conversation with Gutter.
"You and the Vice President are doing really fantastic things…for the future of humanity," Gutter told Mr. Emhoff. "And I think that gives me another feeling, an emotion, that the world is becoming a better place." 
"I love your message of unity," Mr. Emhoff said to Gutter. "We all need to stand together and stand united against this epidemic of hate."
At a White House Chanukah celebration last year, Mr. Emhoff spoke about his personal story and the enduring need to fight for religious freedom and against persecution, reminding the audience that "American Jews and Jews worldwide have experienced and continue to experience hostility, discrimination and violence."
His visit to USC Shoah Foundation underscored his dedication to telling the stories about the past to build a brighter future.
About Dimensions in Testimony
Dimensions in Testimony is an initiative pioneered by USC Shoah Foundation to record and display testimony in a medium that highlights the significance of dialogue among Holocaust survivors and learners, and preserves the ability to do so far into the future. Dimensions in Testimony has revolutionized the concept of oral history by integrating adapted filmmaking techniques, specialized display technologies, and natural language processing to provide an intimate and unique experience.
Each specially recorded interview enables viewers to ask questions of the survivor about their life experiences, and hear responses in real-time, lifelike conversation. Questions are answered naturally, as if the survivor is in the room, and through artificial intelligence, the more questions asked, the better the technology becomes.
Dimensions in Testimony was developed in association with Illinois Holocaust Museum and Education Center, with technology by USC Institute for Creative Technologies, and concept by Conscience Display. Funding for Dimensions in Testimony was provided in part by Pears Foundation, Louis. F. Smith, Melinda Goldrich and Andrea Cayton/Goldrich Family Foundation in honor of Jona Goldrich, Illinois Holocaust Museum and Education Center, and Genesis Philanthropy Group (R.A.). Other partners include CANDLES Holocaust Museum and Education Center.
Learn more about Dimensions in Testimony.
Like this article? Get our e-newsletter.
Be the first to learn about new articles and personal stories like the one you've just read.