Starling Lab and Hala Systems file Cryptographic Submission of Evidence of War Crimes in Ukraine to the International Criminal Court
Fri, 06/10/2022 - 12:00pm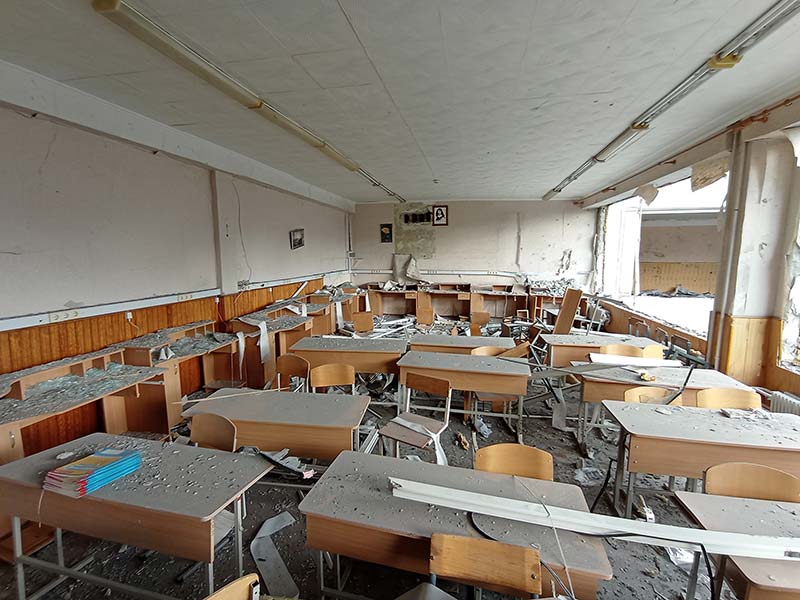 Legal and technical breakthrough as digital evidence package is registered and preserved on 7 protocols across decentralized web —a first for any court submission in the world.

Extensive documentation developed with the Atlantic Council's Digital Forensic Research Lab brings into focus alleged war crimes committed against schools in Kharkiv, Ukraine.

Starling launches today a new coalition dedicated to scaling war crimes documentation efforts in Ukraine with support from leading Web3 pioneers including the FTX Foundation and the Filecoin Foundation for the Decentralized Web.
Starling Lab, an academic research center co-founded by Stanford University's department of Electrical Engineering and the USC Shoah Foundation, together with social enterprise Hala Systems, announced today they have submitted a novel cryptographic dossier, documenting possible war crimes in Kharkiv, Ukraine, and submitted it to the Office of the Prosecutor of the International Criminal Court. 
Amidst escalating attacks against Ukraine's second largest city, a global team of experts worked quickly to preserve and authenticate a complex evidence base. Using photos, video, web scraping, sourced from social media and messaging platforms, engineers and lawyers worked together to produce an unbroken chain of evidence on the decentralized web. This process establishes the provenance of the data and allows prosecutors to prove it has not been tampered with from the field to the courtroom.
Attention was given to alleged crimes disproportionately affecting children, namely the intentional destruction of schools. This focus brings state-of-the-art tools to document crimes that are under-investigated and under-prosecuted in courts worldwide, against one of the world's most vulnerable groups.

"Investigators face immense challenges as cyberwar has weaponized doubt to undermine trust in digital evidence." said Jonathan Dotan, Starling Lab's Founding Director. "Today's submission to ICC is the first of many as we offer to the courts tools and methods to address rapidly emerging digital threats."
At a keynote speech at the Consensus Blockchain Conference at the Austin Convention Center, Dotan demonstrated the end-to-end technology workflow and roadmap as a model of how new cryptographic and decentralized technologies can help ensure digital documents are securely captured, stored and verified in Ukraine. 
This effort is the latest implementation of the Starling Framework for Data Integrity, which has been developed over the last four years at the Starling Lab. With technical and human protocols, the framework aims to restore trust in digital records in an era of misinformation.
"A unique combination of leading research universities, non-profits, and industry make this work not only possible but also highly effective," adds Kori Street, Interim Executive Director of the USC Shoah Foundation. "Never has an initiative such as this been more important. We are facing a rising tide of hate and conflict fueled by misinformation, that is killing people and threatening democracies worldwide."
About the ICC Submission
The Article 15 legal submission was made to the Office of the Prosecutor to the International Criminal Court on Friday, June 10, 2022.
The five schools included in the submission to the ICC are emblematic of attacks on thousands of schools across the country since Russia's first invasion in 2014. Marking the unfolding tragedy, Dotan explained to the audience that as one of the principal victims of war crimes, children will inherit a multi-generational effort to reclaim their future. Responsible innovation that prioritizes  justice for them is imperative and has long-lasting societal and economic implications. 
The initial monitoring by noted OSINT experts, Andy Carvin and Michael J. Sheldon at the Atlantic Council's Digital Forensic Research Lab (DFRLab), included hundreds of allegations of civilian harm in the city in March. Hala Systems' Associate Director of Accountability Ashley Jordana led the legal drafting, supported by legal advisor Scott Martin, of the material and narrowed the investigations on the deliberate targeting of schools, in direct violation of international laws. Technical delivery at the Starling Lab was guided by Basile Simon, the Lab's newly appointed accountability lead; Benedict Lau, CTO and Yurko Jaremko, head of engineering.
The final submission to the ICC focuses on five attacks on schools in Kharkiv between March 2-16, 2022, relying solely on open source information ('OSINT'). The strikes were launched against locations that were in residential areas in the city that did not have apparent legitimate military objectives in the vicinity of the attacks. Photos and videos show the impact of shelling with buildings and classrooms destroyed, including kindergartens and playgrounds. The disregard for civilians and civilian objects suggests the strategic targeting of educational facilities as a weapon of war. 
The 100-page submission provides a detailed methodology that explains the various new cryptographic  tools and practices in the Starling Framework.  These new approaches directly build on legal workflows and procedures that have been recognized in the international criminal law community for decades. Specifically, this includes how the technology can support the legal and ethical practices prescribed by the Berkeley Protocol on Digital Open Source Investigations.
New methods used in the submission describe how decentralized and cryptographic tools can:
Establish the authenticity and origin of digital content

Protect the identity of the sources and investigators

Secure preservation of documents and distributed crowdsourced analysis

Create robust chains of custody to help self-authenticate digital content
The strategies outlined in the methodology were put into practice to identify crime base information. Over 1GiB of web archives were secured for the 5 incidents investigated in the submission. A range of protocols were orchestrated to provide a novel authentication layer for prosecutors to build confidence in and weight for the key evidence sourced from Telegram and then verified by supplementary documentation on Twitter, YouTube, and other open source website material.
For every piece of evidence, metadata was registered using L1 protocols including Avalanche, Hedera, Flow, PolkaDot/Moonbeam, Bitcoin, Ethereum and LikeCoin. The files themselves were cryptographically preserved using Filecoin and Storj. Investigator custody and access tracked through non-fungible tokens. The handoff between these systems is a powerful example of how Web3 empowers end-users to compose solutions across new tamperproof digital protocols and create auditable chains of custody.
As Ashley Jordana explains, "the technology-driven changes in the legal industry have spawned a fast-moving network of organizations devoted to accountability in various forms. We see today's ICC Article 15 submission as an opportunity to iterate together with current and emerging partners. The conversation cuts both ways as technology can support investigations and the legal sector can help technology companies ground their thinking in ethics and harm mitigation in conflict situations."
Furthermore the submission is timely. "Years have passed," Jordana continues, "and without tangible and immediate action, the structural barriers that exist in advancing justice for children will prevail." 
Formation of the Project Dokaz Alliance
To advance these efforts, Starling is launching today the Project Доказ - Dokaz Alliance (translated as "Proof" in Ukrainian). This project brings together leading innovators from the international criminal law community with pioneers in the Web3 ecosystem to develop secure and resilient solutions for accountability in Ukraine.
The alliance, co-created by Starling Lab, Hala Systems, and The Atlantic Council's DFRLab, aims to support a wide variety of stakeholders working for accountability in Ukraine. Collaborators include civil society, NGOs, academics, and companies that drive crucial open source collection of war crimes documentation.
Early support from the FTX Foundation and the Filecoin Foundation for the Decentralized Web helped stand up a coalition of organizations. Leading industry affiliate members joining today include Hedera Hashgraph, Parity Technologies, Avalanche, Dapper Labs, Near Protocol, Nodle Network, Numbers Protocol, Crypto Council for Innovation, PiKNiK, and Ukraine DAO who are contributing expertise and resources to rapidly scale innovation and capacity building. 
"We are honored to help launch Starling Lab's Project Dokaz to address the pressing crisis in Ukraine," said Joe Bankman from the FTX Foundation. "We hope that by leveraging emerging technology, we can support investigators' efforts to seek justice for the people of Ukraine, and we believe these tools will prove to be useful in the era of cyberwarfare."

Dokaz's goal is to responsibly deploy open source cryptographic tools that help prosecutors across the world secure vulnerable digital records and bolster their admissibility in pursuit of accountability in Ukraine. By providing an interface to this next generation of technology, Dokaz hopes to seize a rare moment in which cutting-edge technologies and methods can be newly understood and safely adopted.
About The Starling Lab 
The Starling Lab brings together a wide array of disciplines to meet the technical and ethical challenges of establishing trust in the most sensitive digital records of our human history. Co-founded by the USC Shoah Foundation and Stanford University's Department of Electrical Engineering, Starling Lab's programs catalyze innovation and education in cryptographic methods and decentralized web protocols to advance human rights. With a bias to responsible action, The Lab's prototypes will lead by example to show a bright path to deploy technology and methods that make the decentralized internet a viable platform for social impact. Visit https://www.starlinglab.org
About Stanford Department of Electrical Engineering
The Department of Electrical Engineering (EE) at Stanford innovates by conducting fundamental and applied research to develop physical technologies, hardware and software systems, and information technologies. Throughout its 125-year history, EE at Stanford's innovations and entrepreneurship have helped create Silicon Valley, from the invention of microprocessors, public-key cryptography, and MIMO wireless technology. EE's faculty and students continue to advance the state of the art, define new directions for electrical engineering and develop new technologies. These advancements help address critical societal challenges in biology, medicine, energy and the environment.
About Hala Systems
Hala Systems is a social enterprise dedicated to the mission of developing technology to protect and improve civilian lives. Hala created an end-to-end platform called Sentry that uses the internet of things, artificial intelligence, remote sensing, and distributed ledger technologies to generate credible ground truth in real time in the most austere environments on Earth. Sentry Syria, its first use case, is an early warning system for airstrikes that has served over 2 million civilians in Syria and has prevented up to 20,000 casualties. Hala has also played a central role in supporting accountability and attributing potential war crimes, including chemical attacks, to specific perpetrators in conflict zones.For more information, visit https://halasystems.com/
About DFRLab
The Atlantic Council's Digital Forensic Research Lab is building the world's leading hub of digital forensic analysts tracking events in governance, technology, security, and where each intersect as they occur. At the DFRLab, our mission is to identify, expose, and explain disinformation where and when it occurs using open source research; to promote objective facts as a foundation of government for and by people; to protect democratic institutions and norms from those who would seek to undermine them online. Visit https://www.digitalsherlocks.org
Like this article? Get our e-newsletter.
Be the first to learn about new articles and personal stories like the one you've just read.