We Mourn Max Eisen
Author and Educator Testified Against Auschwitz Guards
Thu, 07/07/2022 - 1:56pm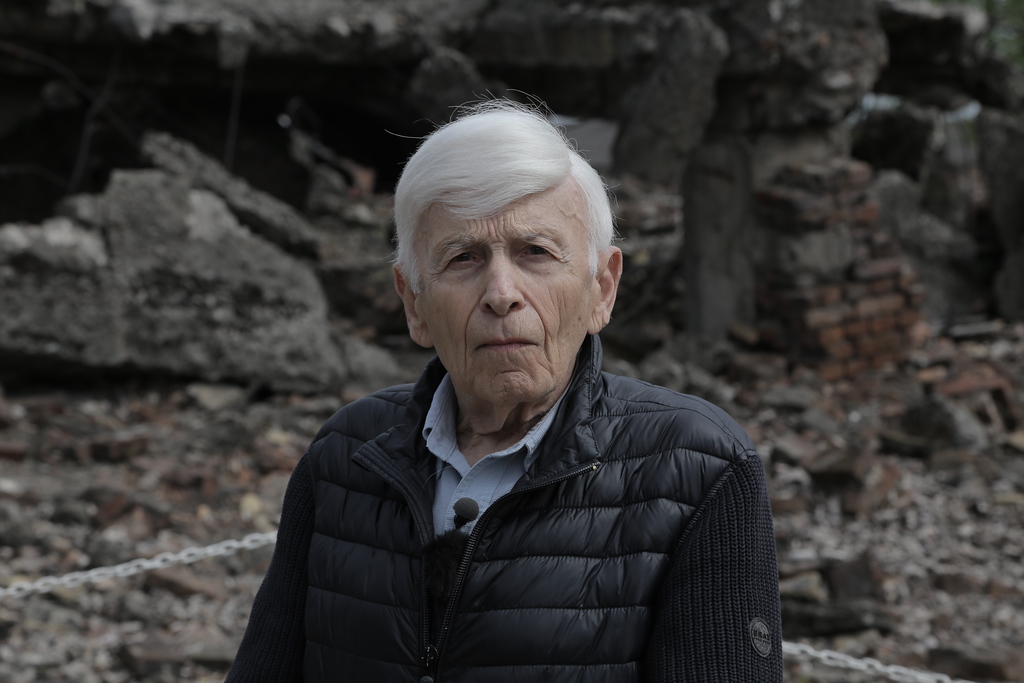 USC Shoah Foundation mourns the passing of our friend Max Eisen, a Holocaust survivor who returned to Auschwitz-Birkenau more than 20 times as an educator and testified at the trials of two SS guards in 2015, more than 70 years after his entire family was killed in Nazi concentration camps.
Max's memoir, By Chance Alone: A Remarkable True Story of Courage and Survival at Auschwitz, was the 2019 winner of Canada Reads, a Canadian Broadcasting Company "battle of the books" program, and was shortlisted for the RBC Taylor Prize in 2017. 
"Max's dedication, warmth and intelligence are irreplaceable," said Dr. Kori Street, Interim Finci-Viterbi Executive Director of USC Shoah Foundation,  "While we will miss him dearly, his legacy and inspirational story will live on thanks to Dimensions in Testimony and other educational projects."
In 2019 Max, who lived in Toronto, was interviewed for USC Shoah Foundation's groundbreaking Dimensions in Testimony (DiT) program that enables viewers to pose questions to survivors and hear their responses in real-time, lifelike conversation.  To complete his DiT interactive biography, Max spent five days in a Los Angeles studio answering questions about his life.
That same year at the age of 90, Max traveled to Auschwitz with his son, Ed Eisen, to give 360º video testimony as part of a joint USC Shoah Foundation and International March of the Living program.
In 2015 and 2016, Max testified in Detmold, Germany against two Auschwitz guards. While testifying against SS Guard Reinhold Hanning, who was 94 at the time, Max observed that Hanning had difficulty looking him in the eye or even speaking in his direction. 
"I would have hoped he would have been man enough. I mean, you were man enough in your SS uniform and now all of a sudden, you hide your face? It's a big stretch," Max said to an interviewer from Canada's CTV News.  
Hanning and SS Guard Oskar Gröning were convicted of their crimes as accessories to 170,000 murders.  
Max first gave testimony to USC Shoah Foundation in 1995 at the age of 66. His testimony is now one of 55,000 indexed and searchable interviews in the foundation's Visual History Archive.
Born Tibor Eisen in Moldava, Czechoslovakia (now part of Slovakia) in 1929, Max and his family were deported to Auschwitz in May 1944. He was 15 years old when he stood in front of a Nazi doctor proclaiming that he was 19, stretching his body tall to support his claim. The doctor sent him to a line in which his father and uncle were already standing. His mother, two younger brothers, and his baby sister were sent directly to the gas chamber.
"We realized where we were, and we knew we would never see the rest of our family," Eisen said in his testimony.  
Max, his father, Zoltan Eisen, and his uncle kept their relationship hidden from Nazi guards who were intent on separating families. His father and uncle protected and provided for him, sharing their scraps of food and offering advice that kept him alive.
One day, when his father and uncle weren't at their usual meeting point, Max found them in a fenced-off section of camp reserved for those being sent to the gas chamber. 
His father handed him a small prayer book he had managed to hide and told Max, "Never forget you are a Jew."
Weeks after his father was killed, Max was in a field digging out tree roots when an SS guard severely beat him in the head, sending him to the hospital. The chief of surgery at Auschwitz, Dr. Tadeusz Orzeszko, operated on Max and just as the other patients in the facility were about to be taken to the gas chamber, ordered him off his bed, took his medical charts, and handed him a mop. Max's new job as a hospital cleaner saved his life. He later discovered that Dr. Orzeszko was a member of the Polish resistance.
In January 1945 Max survived a death march from Auschwitz to Mauthausen as Soviet bombs fell, and then endured four more marches and imprisonments over the following months. On May 6, 1945, having gone without food or water for nearly two weeks at the Ebensee Concentration Camp in Austria, Max was lying on his bed, ready to give up when a fellow inmate shouted that the Nazi watchtowers guarding the camp were flying white flags and that the U.S. Army was close by. The African American battalion known as the Black Panthers liberated Eisen.
Max made his way back to Czechoslovakia and lived in an orphanage until he immigrated to Canada in 1949, where he worked at a luggage factory and then found a job making wedding albums, a business he stayed in for many decades. In 1952, through a coworker's connection he met and married Ivy Cosman. They had twin sons.
Max always lived by his father's last words, "Never forget you're a Jew." 
He traveled throughout Canada giving talks at schools and community gatherings and spoke often for the Simon Wiesenthal Center and the Canadian Centre for Diversity and Inclusion. He also supported the Sarah and Chaim Neuberger Holocaust Education Centre, which has collected more than 1,200 Canadian Holocaust survivors' testimonies which have been digitized and made available through the Visual History Archive. He also accompanied groups of young people to Poland as an educator on more than 20 International March of the Living trips.
His 2019 trip with USC Shoah Foundation and March of the Living to record 360º video testimony was the first time Max brought his son Ed to Auschwitz. Watch a video of this emotional journey https://bit.ly/3DcEJtU
"It's always been a difficult thing for him to express his feelings to family. There's always been a void there, some area that you couldn't get to," Ed said on the trip as cameras rolled. "So that is one of my reasons in coming here, to see if there is an opportunity to break through some of that." 
Walking past the barbed wire fences with his son, Max said, "75 years ago I never thought I would walk out of here alive. To have a family is the biggest event in my life. I wish that they wouldn't have to come here.  But everyone needs to see it."
Max Eisen is survived by his sons, Edmund Eisen and William Eisen, his two grandchildren and three great-grandchildren.
May his memory be a blessing. 
Like this article? Get our e-newsletter.
Be the first to learn about new articles and personal stories like the one you've just read.