USC Shoah Foundation Launches 500th IWitness Activity with "In Lisa's Footsteps" Virtual IWalk
Wed, 08/10/2022 - 10:00am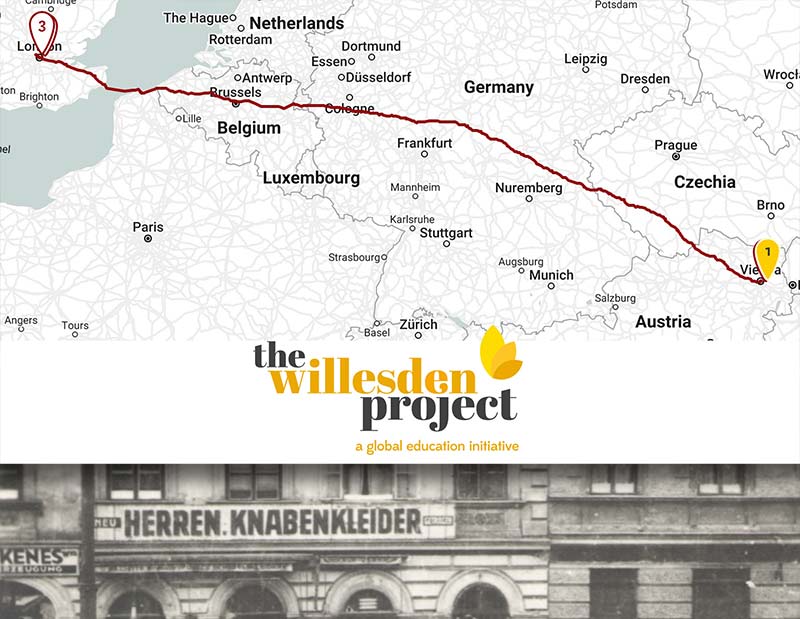 USC Shoah Foundation today launches its 500th IWitness activity with release of In Lisa's Footsteps, a primary level IWalk based on Mona Golabek's acclaimed The Children of Willesden Lane books.
In Lisa's Footsteps tells the story of Golabek's mother, Lisa Jura, a young Holocaust survivor who in 1938 escaped from Vienna to London on the Kindertransport.
Launched by USC Shoah Foundation in 2012, IWitness is a free educational website that uses personal testimonies from survivors and witnesses of genocide to develop empathy, understanding, and respect among students around the world.
In Lisa's Footsteps integrates IWitness testimonies and pedagogy into the new Virtual IWalk activity type, which enables users able to explore historical locations while engaging with compelling survivor testimony without having to travel. As a result, teachers and their elementary level students can now, from their classroom, tour historic sites related to The Children of Willesden Lane and listen to witness testimonies from the period.
The new primary level Virtual IWalk is part of USC Shoah Foundation's 2022-2023 back to school offerings and joins a slate of 499 activities, 3,500 video testimonies, and 1,500 brief multilingual clips on IWitness.
In Lisa's Footsteps is another new resource of The Willesden Project, which is funded by generous support from the Koret Foundation.
Golabek said she is thrilled that the 500th IWitness activity centers on The Children of Willesden Lane books and will enable grade 4-5 students to walk in her mother's footsteps.
"So, dear student, here is my special message to you: Close your eyes and imagine how amazing it is to feel Lisa's journey, her dream of music, and her courage to face the challenges that would come her way. I know you will be inspired as you go forward with your own journey to achieve your dreams!"
Lesly Culp, Interim Director of Education and Outreach, said In Lisa's Footsteps introduces primary grade students to the Kindertransport in an age-appropriate way and helps fill a gap field of early childhood and primary education around the use of Holocaust testimony-based resources.

"Early explorations about topics of anti-bias, diversity and respect are vital to the development of empathy and understanding," Culp said. "This activity highlights the story of a young girl who faced unimaginable challenges and overcame them. Students dive deep into her story through the innovative approach which captures their curiosity and fosters their critical thinking."
With the release of In Lisa's Footsteps, USC Shoah Foundation now offers 52 mobile app IWalks in 13 countries and 13 languages.
Like this article? Get our e-newsletter.
Be the first to learn about new articles and personal stories like the one you've just read.