Armenian Scholar Finds Lost Songs in USC Shoah Foundation's Visual History Archive
Tue, 10/11/2022 - 8:49pm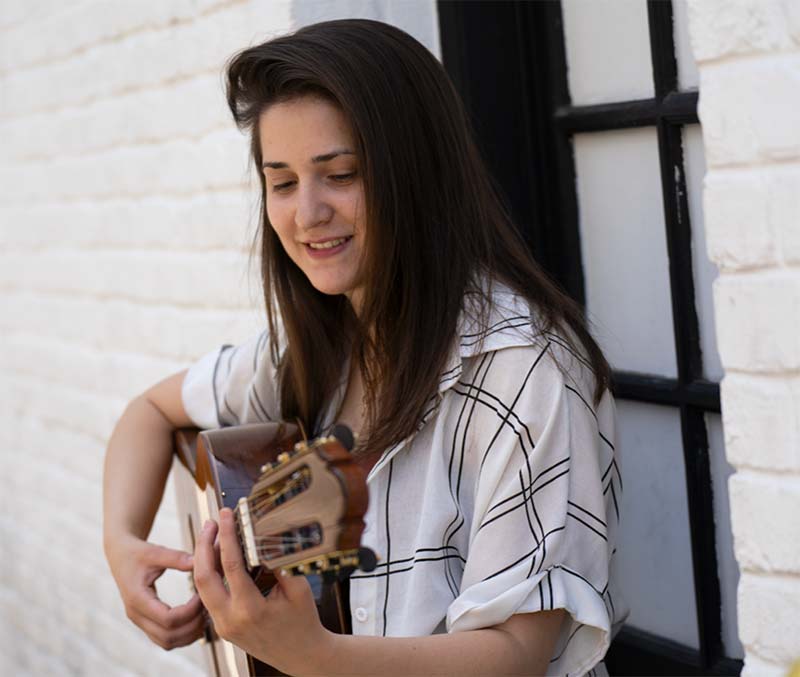 Pardy Minassian's childhood in Syria was suffused with sounds from Armenia, the result of her father's collection of more than 500 audio and video interviews he conducted over the years with Armenian Genocide survivors.
When Pardy and her family left Syria for Armenia in 2012, the then 18-year-old student focused on a range of different Armenian sounds, earning a bachelor's degree in Music Composition and a master's degree in Guitar Performance from the Yerevan State Komitas Conservatory. 
Her father's passion for Armenian oral history and her newfound knowledge of Armenian music ultimately directed Pardy to a quest of her own: to find and share songs that disappeared when Ottoman troops deported or killed an estimated 1.5 million Armenians almost a century earlier. 
When Pardy came to Los Angeles in 2019 to continue her studies at the USC Thornton School of Music she became aware of USC Shoah Foundation's extensive collection of Armenian testimonies. Earlier this year, the Syrian Armenian musician spent four months meticulously searching the Visual History Archive (VHA) for songs that had been lost to the sands of time and war.
What were you looking for in the Visual History Archive?
Currently, USC Shoah Foundation's Visual History Archive contains more than 600 indexed audio and video testimonies from the Richard Hovannisian collection and the Armenian Film Foundation. I searched all of these to find ones in which survivors remembered, and some cases even sang, music related to the Armenian genocide. 
What did you find?
In total, I found about 100 indexed testimonies that contained references to music, about 35 of which contained actual songs. Half of these were in Turkish, and most were sung at the time the genocide was taking place. 
I did not focus on songs that we Armenians already know, which was the case with a couple of the songs I found in the VHA.
Can you give an example of a Turkish song used to spread hate during the genocide?
I found the testimony of an elderly Armenian woman who recounts playing with Turkish children in the street. In it, she recalls that the children sang this song: "Go kill Armenians. If you kill Armenians, you will go to heaven." There were many songs like this—created during or after the genocide—that were never written down and so no one remembered them, until now. 
What do you plan to do with the songs you've discovered?
I've notated and transcribed 26 songs that were not known so that they can be preserved. The next step will be to make them publicly available. When I publish the songs that I've discovered, I believe that many other Armenian musicians will be interested in arranging and performing them in different musical genres.
If nobody had collected these songs, they'd have just been forgotten. These songs are a major part of Western Armenian culture. I'm just trying to bring them back to life. 
– – 
Learn more about USC Shoah Foundation's Armenian Genocide Testimony collections https://sfi.usc.edu/collections/armenian and listen to curated testimony: 30 Voices from the Armenian Genocide
Like this article? Get our e-newsletter.
Be the first to learn about new articles and personal stories like the one you've just read.