Reflections on the First Anniversary of Russia's Invasion of Ukraine
Fri, 02/24/2023 - 11:45am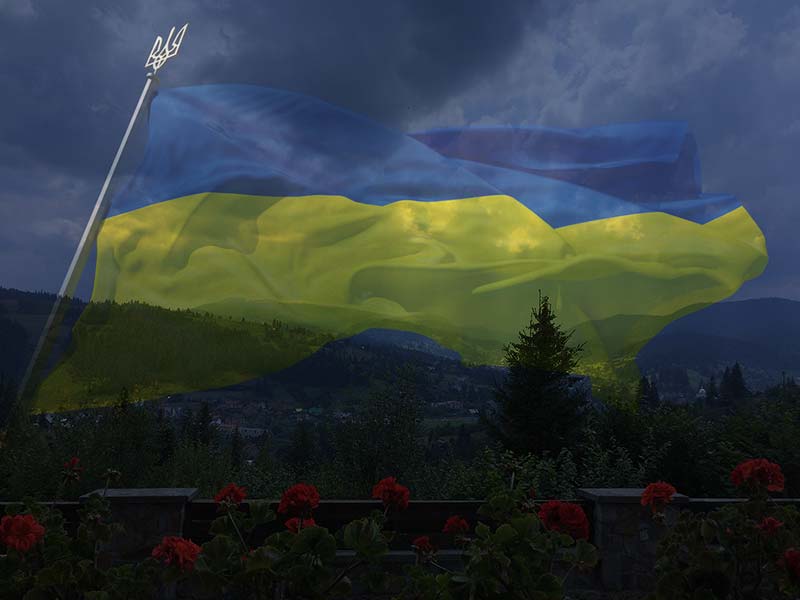 As we mark the one-year anniversary of the Russian military invasion of Ukraine, the devastation and human suffering continue to be staggering.
Today, we remember the tens of thousands of people who lost their lives over the past 12 months, including Vanda Obiedkova. Born in Mariupol during the years of the Holocaust, Vanda survived by hiding in a basement during a Gestapo-led roundup in 1942. Eight decades later, on April 4, 2022, this 91-year-old Holocaust survivor died while sheltering in another Mariupol basement—this time to escape Russian military shelling. According to news reports, her daughter Larissa said that during the bombardment, Vanda repeated a single question: "Why is this happening?"
Vanda, who shared her testimony with USC Shoah Foundation in 1998, reminds us of the long reach of history, unfortunate parallels between past and present, and the need to affirm our duty to help one another by standing up against violence.
The war in Ukraine has re-surfaced all-too-many haunting memories. The streams of refugees once again crisscrossing the continent recalls the movement of millions of displaced people during World War II. The recent bomb damage to the Babyn Yar memorial near Kyiv reminded us of the 33,000 Jews killed in a ravine by the Nazis and their collaborators in 1941, as did the bombing of other World War II-era atrocity sites across Ukraine. And, of course, the Putin regime's use of the rhetoric of "denazification" to justify this war is a deliberate attempt to distort history and an insult to the memories of the victims and the survivors of the Holocaust.
At the same time, the Russian invasion also re-surfaces accounts and memories of the role many Ukrainian partisans played in collaborating with the Nazis during World War II. Antisemitism has deep, centuries-old roots across Eastern and Western Europe, including in Ukraine, and successive generations of Ukrainians were beginning to come to terms with this troubled past in the years before the escalation of Russian aggression. Indeed, in 2021, the Ukrainian parliament passed legislation criminalizing antisemitism, a move the International Holocaust Remembrance Alliance called "an amazing and significant step towards concretely addressing anti-Jewish bigotry."
USC Shoah Foundation Finci-Viterbi Executive Director Dr. Robert Williams said that hearing from survivors like Vanda Obiedkova enables us to view the human experience through the lens of those who lived it, and, in turn, work towards a better future.
"Eyewitness testimony can certainly allow us to see the world through the lenses of those individuals who suffered often-unimaginable ordeals. Survivors like Vanda demonstrate the humanity that we all share and can teach us to be resilient to the many challenges we face today. Vanda and others also show that we cannot be complacent. That we must stand up in the face of aggression, and live lives in service to one another; particularly in moments of peril," Dr. Williams said. "Sadly, although they are different, disparate events like the Holocaust and Russia's invasion of Ukraine are not as far apart as they might seem."
USC Shoah Foundation has strong roots in Ukraine, having conducted 3,432 interviews in the country—including with Vanda—that form the basis for a collection of testimony-based educational programs that have since reached tens of thousands of Ukrainian teachers and students.
Working closely with longstanding partners EdCamp Ukraine and Tolerspace, we published a suite of educational resources for teachers working directly with students in Ukraine and in areas in Europe welcoming refugees.  Accessible, relevant and conscientious testimony-based resources, which are available in Ukrainian, Hungarian, Polish, Czech and English, are designed to help students process and cope.
On the anniversary of the Ukraine military invasion, we have launched a new program for non-residential scholars that enables researchers worldwide who are not at our Visual History Archive (VHA) Access Sites to have limited, year-long access to the archive in order to advance their research. The first cohort associated with the new program is a group of Ukrainian scholars identified through a survey conducted by the United States Holocaust Memorial Museum.
As part of an initiative through The Willesden Project, we also began working with The Polish Migration Forum and Ukrainian House, two Polish organizations that provide psychological and other supports to Ukrainian refugees living in Poland.  While we continue to support educators, scholars and students, USC Shoah Foundation leadership teams are key advisors with international organizations and are working on new initiatives in Ukraine and across the region.
Like this article? Get our e-newsletter.
Be the first to learn about new articles and personal stories like the one you've just read.