Betty Grebenschikoff, 93, Holocaust Survivor Who Reunited with Childhood Friend
Mon, 02/27/2023 - 1:48pm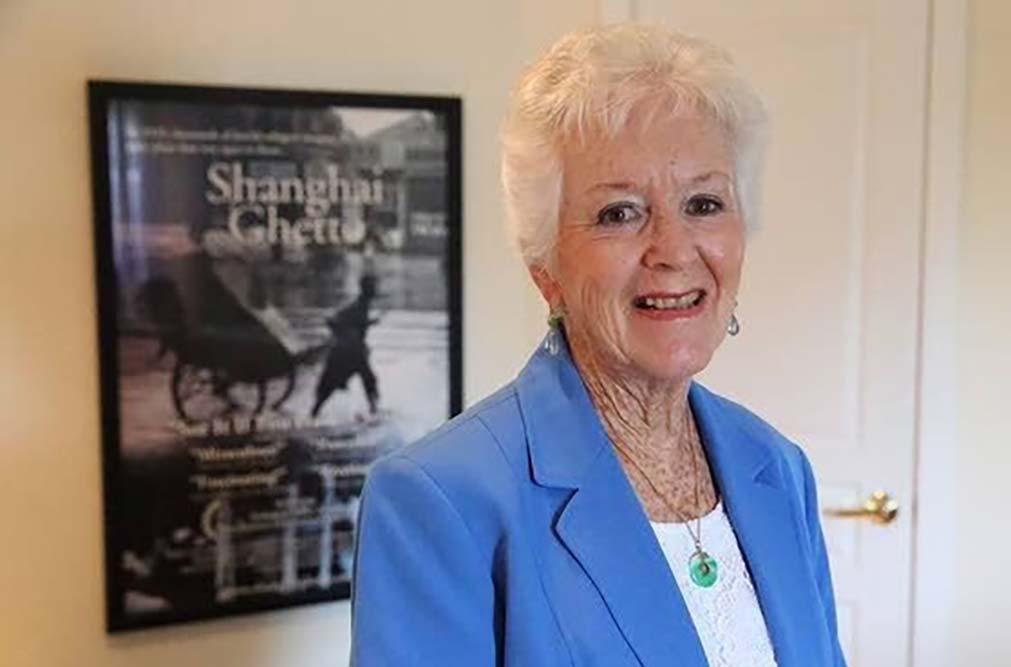 USC Shoah Foundation mourns the passing of Betty Grebenschikoff, a Jewish Holocaust survivor, author, and speaker, who was reunited with a childhood friend in February 2021, 81 years after the pair had last seen one other in a Berlin schoolyard. The reunion, made possible by a longtime researcher at USC Shoah Foundation, touched hearts across the world.  
In her testimony, recorded for USC Shoah Foundation's Visual History Archive in 1997, Betty had mentioned a childhood friend she had to say goodbye to in 1939, when, at the age of nine,  she fled Germany for Shanghai, along with her parents, sister, and extended family.  
"I had one particular girlfriend, whose name I always mention...Her name was Annemarie Wahrenberg, and I never knew what happened to her. And I'm always wondering if maybe she's somewhere and if she can hear this. She was my girlfriend when I was very young, and we went to school together. And we played together and all this. And when we left for China, in 1939, we said goodbye to one another...it was very difficult then because we were best friends." 
In November 2020, Ita Gordon, a researcher at USC Shoah Foundation for the past 28 years, heard Ana Maria Wahrenberg, a Holocaust survivor living in Chile, tell her story at a virtual Kristallnacht event held during the COVID-19 lockdown. The story Ana Maria told of bidding farewell to her best friend in Berlin tugged at Gordon's memory. Gordon searched the Visual History Archive and found Annemarie's name (with a different spelling) listed with the names linked to Betty's testimony. Further inquiries with Museo Interactivo Judio de Chile confirmed that this was the same Ana Maria. USC Shoah Foundation located Betty, who was living in St. Petersburg, Florida, and connected with her through The Florida Holocaust Museum, where Betty was a regular speaker. 
When Betty found out that Ana María was still alive, she was beyond ecstatic: She referred to the event as a "miracle" and "bashert," Yiddish for "destiny." With the help of USC Shoah Foundation and the museums in Chile and Florida, the two women reunited on a Zoom call, as the pandemic had made travel all but impossible. They quickly picked up their friendship where they left off, with warmth and camaraderie, and their heartwarming story was covered by news outlets around the world.  
After their initial meeting, Betty and Ana Maria scheduled a standing phone call every Sunday so that they could remain present in each other's lives, And in November, 2021, during a lull in the pandemic, Ana Maria flew with her son and daughter-in-law from Chile to St. Petersburg, Florida, to spend four days with Betty. Both women were 91 when they hugged again for the first time in 82 years.  
"We're not the girls we used to be when we were nine, that's for sure, but we kept giggling like we were little kids," Betty told The Washington Post at the time. "It was such a joy for both of us." 
Plus, she added, "we took care of a few bottles of champagne together," because, after all, "this was something to celebrate." 
Betty and Ana participated in a reunion event hosted by the Florida Holocaust Museum in February 2022. The two women stayed in touch until the end of Betty's life. 
Betty was born Ilse Margot Kohn on December 23, 1929, in Berlin, Germany, the second daughter to Max Kohn and Olga Mueller, who settled in Germany after the end of World War I. The family led a Conservative Jewish life in a religiously integrated community.  
Betty and her sister Edith were involved in the youth activities of the local synagogue and attended a private Jewish school.
"We were very happy children," she said in her testimony.  
Betty remembered her family being pressured out of their home by local Nazi supporters in 1938, and in 1939, that her school was seized and shut down by the German government. Betty also recalled that all the Jewish women in her community were forced to adopt the middle-name "Sara." Likewise, the men were forced to assume the middle-name "Israel." 
Betty's family began to search for a possible escape route. Her father was born in Czechoslovakia, and though he lived in Germany for most of his life, he never possessed any documentation proving his German citizenship. Without a proper visa, no country would accept them as refugees. However, the family then got word that Shanghai would accept refugees without papers. 
The Gestapo had already sent out a summons for Betty's father when the family was finally able to depart in the late spring of 1939. Betty, her parents, sister, aunt, and uncle, left Berlin and set sail on a Japanese luxury liner from the port of Naples, Italy, to Shanghai.  
They arrived in Shanghai on June 23, 1939, and settled in the Hongkew district, a poor section of the city in which all the refugees from Europe had been confined. Betty attended school with other refugee children, and although it was a difficult time for her family, the community rallied together to support one another and maintain Jewish traditions.  
"Religious observances were kept up all this time, also. The Jewish community would rent theaters for the High Holy Days...and they would conduct services there," Betty recounted.  
Shortly after the attack on Pearl Harbor in 1941, the Japanese military, which occupied Shanghai at the time, forced all the city's Jewish refugees into a segregated area which became known colloquially as the "Shanghai Ghetto." Life became increasingly difficult. Disease was rampant and virtually no medicine was available. Food was scarce and cleanliness was nearly impossible to achieve.  
Betty studied at the Seymour Road School until the age of 15, when her mother fell ill. She was then dedicated to nursing her mother back to health and taking care of the family's living space.  
It was only after U.S troops liberated the Shanghai Ghetto in August 1945 that the Jewish refugees began to learn about the horrors that had occurred in Europe. Betty found out that much of her extended family had either been killed or were unaccounted for.  
With the war over, Betty found work at an American post exchange in Shanghai. In 1948 she met and married Oleg Grebenschikoff, a Russian emigre who had grown up in the city.  
"By 1950 our lives again began to unravel," Betty said in her testimony. "Foreigners were beginning to leave China, actively encouraged by the new Chinese government that had taken over. Having found refuge in China 11 years earlier, again I had no place to go. After many difficulties we managed to relocate to Sydney, Australia just barely in time for my first child to be born there. Three years later we were finally able to realize our dream to emigrate to America along with our two little daughters." 
In 1953, after years of travelling the globe, the couple arrived in New York where Betty was reunited with her parents and sister. Betty and Oleg settled in Atlantic City, New Jersey, and had three more children. Betty worked as a secretary in multiple hospitals and pharmacies throughout her career. Her greatest joy, she said, came from her time spent with her family. 
In 1993, Betty wrote and published Once My Name Was Sara, a memoir that chronicled her experience during the war. The book has become an indispensable resource on Holocaust refugee's experience in Shanghai. Additionally, she was featured in the documentaries Shanghai Ghetto and Survival in Shanghai. She spoke at school, synagogues, and community gatherings, and was a regular speaker at The Florida Holocaust Museum.  
In 2021, USC Shoah Foundation, in partnership with The Florida Holocaust Museum, recorded Betty answering hundreds of questions for a Dimensions In Testimony interactive biography. The museum plans to exhibit Betty's Dimensions in Testimony interview, which invites visitors to ask questions and prompt real-time answers from Betty's recorded interview.  
In 2022, Betty was featured on USC Shoah Foundation's Memory Generation Podcast, in conversation with host Rachael Cerrottti.   
In her 1997 testimony for the Visual History Archive, Betty described why she continued to educate others about her experiences during the Holocaust: "I find myself, now, going out and speaking to people about what had happened in those years… and I find that I get some sense of liberation out of that and some sense of satisfaction that I can do something to remember those people that don't have any tombstones, that don't have any voices, that were lost for no reason other than they were Jewish."  
Betty's husband, Oleg, died in 2002, and their daughter, Nina, died in 1984. Betty is survived by her children, Jennifer (and David Kirschman), Elizabeth (also known as Sandy), Irene (and Stephan Broburg), and Peter (and Susanna Cellini), as well as eight grandchildren, six great-grandchildren, and a loving extended family.  
Like this article? Get our e-newsletter.
Be the first to learn about new articles and personal stories like the one you've just read.