We Remember Damas Gisimba, 61, Savior of More than 400 Rwandans During Genocide
Thu, 06/29/2023 - 7:18am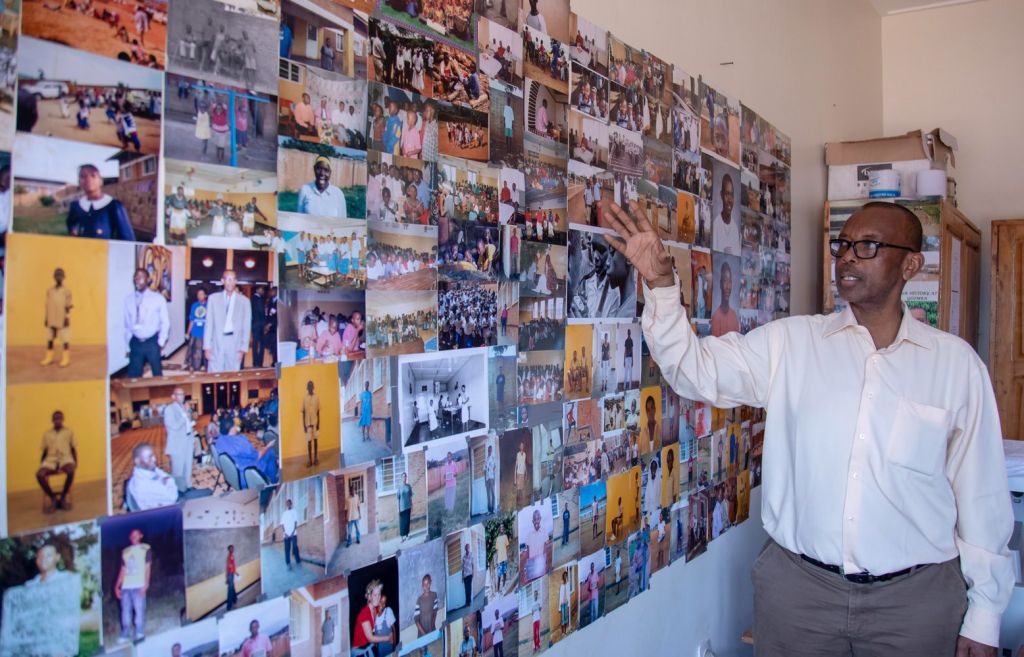 The USC Shoah Foundation mourns the passing of Damas Gisimba, the director of a Kigali orphanage who sheltered and saved the lives of over 400 people, mostly children, during the 1994 Genocide against the Tutsi in Rwanda. Later in life, he headed the Gisimba Memorial Center, a charitable organization that provided after-school programs for disadvantaged children and served as a place of remembrance for victims of the genocide.
Damas and his family were already well-known before the genocide for running a 65-child orphanage on the outskirts of the Rwandan capital. Edith Umugiraneza, an indexer at the USC Shoah Foundation and herself a Tutsi survivor, grew up nearby.
"Gisimba's orphanage was within walking distance of my home," Edith said. "I knew of that orphanage since I was young. Gisimba's father, who founded the orphanage, passed away when I was in elementary school, and from what I remember, it was saddening news to the entire community. We were all crying over his death and wondering what would happen to the orphans. Thank God his son Damas took over and continued his father's legacy. Both Damas and his father were kind people, respected and loved by the whole community."
When Hutu mobs began attacking and killing Tutsis and moderate Hutus in April 1994, Damas transformed the family orphanage into a safe haven that eventually housed more than 400 people. Perpetually running low on food, water, and medical supplies, Damas somehow managed to keep the marauding militia members at bay.
Edith recalls the word on the street once the genocide was underway.
"We heard that many people were taking refuge at the orphanage, so my mother sent my two nephews and two cousins there—and they all survived. Damas fought and negotiated with the perpetrators for the survival of the people there and was willing to lose his own life for them. [After the genocide] he received an award from our President—the Presidential Order of Umurinzi, meaning protector— for saving people's lives. His passing is very sad news, especially for me as I've known him since I was young. And it's a big loss for survivors, the community, and the country."
In a 2003 interview with the United States Holocaust Memorial Museum (USHMM), Gisimba described his motivation for expanding the orphanage far beyond its capacity.
"I could not abandon my neighbors, I could not abandon my children, children I had raised and who had grown up before my eyes. I see all people in my own image. They have the same blood that I have, and they can suffer as I can suffer. If we had to die, it was necessary for us to die together."
The USC Shoah Foundation's Visual History Archive currently contains 135 indexed and searchable interviews related to the 1994 Genocide against the Tutsi in Rwanda, a series of events that culminated in the death of an estimated one million people over the course of approximately 100 days.
One of these testimonies was given by Carl Wilkens, an American aid worker who provided Damas and those sheltering at the orphanage with critical assistance during the genocide. Wilkens had managed to broker a deal with the prefect of Kigali, Colonel Tharcisse Renzaho, that allowed him to visit the orphanage daily with water, food, and other essential supplies.
Now a pastor in Oregon, Carl memorialized his good friend Damas in an interview with the USC Shoah Foundation.
"I can't ever think of a time that Damas was not calm. There was just this confidence. He wasn't at all cocky. He just had this calm, centered confidence, which created a sense that we're going to make it through this, and that's how he guided everybody, including his team at the orphanage.
He had this kind of authentic compassion, whether he was dealing with the little kids who would have seen their parents killed or with the guys who were doing the killing.
To honor his philosophy or his way of living is to remind people of the good they can do, and that revenge killing is not going to heal anything [or] break the cycle of violence."
Damas had said much the same thing in his USHMM interview two decades ago.
"I think in order not to abandon someone, someone like yourself, someone in trouble, you must above all have love. And we must teach our children only good. Give them a good education. And finally, we must banish hatred. That's all."
Damas is survived by his wife, Beatrice, his sons Patrick, Cedrick, and Bertrand, and his daughter, Benita.
In this clip from the Visual History Archive, Antoine Mugesera describes the role that Damas played in saving his family during the genocide.
Like this article? Get our e-newsletter.
Be the first to learn about new articles and personal stories like the one you've just read.