USC Shoah Foundation Recording, Preserving October 7 Survivor Testimony
Thu, 11/09/2023 - 2:23pm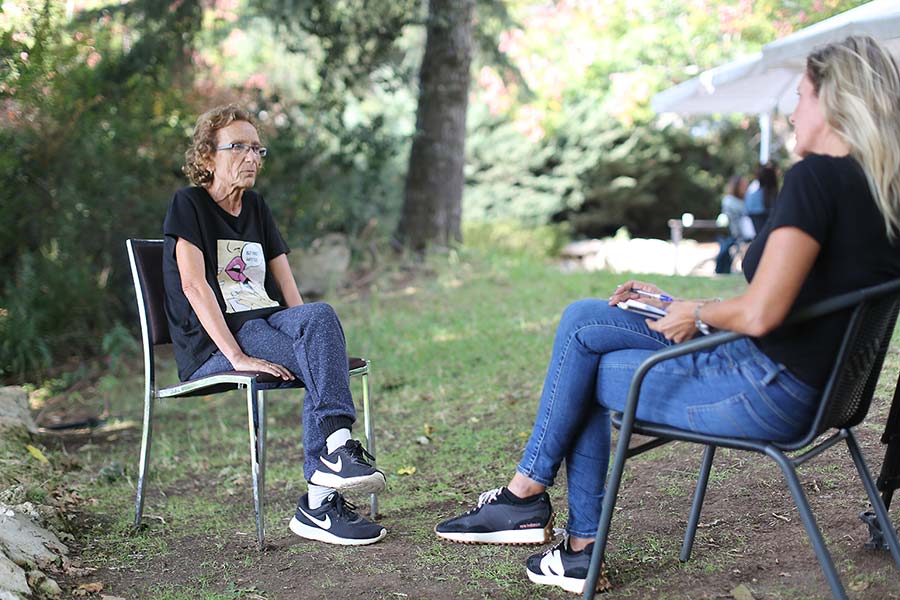 The USC Shoah Foundation is recording testimonies of survivors of the Hamas terror attacks in Israel as part of a major initiative launched days after October 7, when 1,400 people were massacred and some 250 taken hostage.
Close to 100 testimonies have already been recorded with media and organizational partners in Israel. The testimonies will become part of the USC Shoah Foundation's Countering Antisemitism Through Testimony Collection, which documents incidents of antisemitism after 1945.
Production teams, researchers, and interviewers on the ground are meeting with survivors of the brutal attacks at evacuation centers and other locations in Israel. The interviews are being recorded in Hebrew and English, and will be indexed and preserved in the Visual History Archive™ alongside the oral histories of 56,000 survivors and witnesses of the Holocaust and other genocides.
Dr. Robert J. Williams, Finci-Viterbi Executive Director Chair of the USC Shoah Foundation, said collecting testimonies in Israel now will not only document the experiences, but help combat misinformation and aid in efforts to counter antisemitism.
"The testimony coming from Israel is raw and unfiltered, and it is painful to know that the atrocities that the Jewish people have suffered for generations continue to happen," Dr. Wiliams said. "But these testimonies are essential for us to live up to our obligation to document antisemitic crimes to build awareness and resilience. We know from our work that seeing and hearing from survivors can profoundly affect audiences in ways that encourage mutual respect and understanding." 
Amid a global rise in anti-Jewish violence, the USC Shoah Foundation had been planning to expand the Countering Antisemitism Through Testimony Collection even before the attacks in Israel.
"Holocaust survivors who entrusted their memories to us hoped that their words would help create a world without antisemitism, and certainly without the kind of antisemitic violence we just witnessed in Israel," Williams said. "Clearly, there is still work to do. This expansion of the archive not only creates opportunities for millions of people to learn about and remember the Shoah but also to understand the experiences of today's victims of the same persistent hatred that led to the Holocaust."
Several testimonies from the October 7 attacks are available for viewing on the USC Shoah Foundation's website and YouTube Channel, and more will be added in the weeks to come. 
Among the survivors who recorded testimony are:
Amit Ades, who, along with her husband and their three children under the age of 7, spent 35 hours in a safe room in their home on Kibbutz Kfar Aza.

Avi Shamriz, who stood guard in his living room while his wife and daughter sheltered in a safe room in their Kibbutz Kfar Aza home. His son, a young adult living in nearby community housing, was kidnapped by Hamas and is presumed to be held hostage in Gaza.

Nir Shani, who managed to hold the door of his safe room shut while terrorists shot up his Kibbutz Be'eri house and then set it on fire. His son was kidnapped and is being held hostage in Gaza.

Maor Moravia, his wife, and their two children barricaded themselves in the safe room of their Kibbutz Kfar Aza home as gunshots blazed outside their windows and they exchanged frantic text messages with their neighbors.
These testimonies will be preserved in the institute's archive, which is accessible at more than 190 institutions around the world, including museums, libraries, and universities, and available to policymakers, NGO's, researchers, and content creators. 
The voices of victims of antisemitism will serve as a critical tool in an upcoming USC Shoah Foundation research-oriented initiative that will work in partnership with scholars, journalists, university students, and policymakers to address antisemitism in all its forms.
Like this article? Get our e-newsletter.
Be the first to learn about new articles and personal stories like the one you've just read.